Roundup: Lady Eagles basketball team unable to hold onto lead
January 10, 2018 - 3:43 pm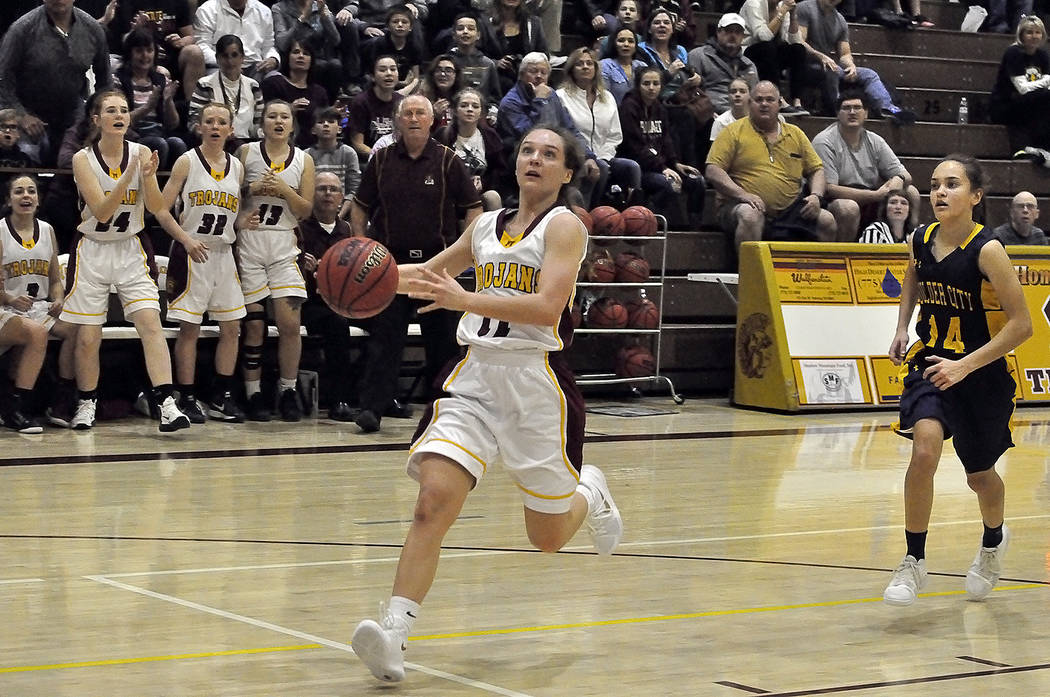 Boulder City High School girls basketball jumped out to a 8-0 lead Monday, Jan. 8, against Pahrump Valley, but weren't able to hang on in a crushing 26-24 defeat.
Holding the Trojans scoreless in the first and second quarters, Pahrump Valley used an 11-1 second-quarter run to get back into the game, before a dramatic 15-12 in the fourth quarter sealed the victory.
Misfiring on several shots from the field, the Lady Eagles let Monday's contest slip away at the free-throw line, connecting on only 6-of-13 attempts.
Struggling offensively as a unit, junior forward Hannah Estes had a solid outing with 11 points, while sophomore guards Madison Manns and Keely Alexander each scored 5 points.
Sophomore forward Ellie Howard concluded the effort with 3 points.
Hoping to get back on track the Lady Eagles will head to Moapa Valley on Friday, before hosting Del Sol on Tuesday.
Results from Wednesday's contest against Southeast Career Technical Academy will appear in next week's issue.
Bowling
Looking to make a big second-half push, Boulder City High School boys bowling team routed Somerset Academy-Sky Pointe on Monday, Jan. 8, 1,569-969 in their first match back from holiday break.
"It was really nice to see the boys jump out to a great start and not show a holiday hangover," head coach Rodney Ball said. "We're getting better after each match and I honestly think we're building a competitive team for the future. Look for the boys to maybe surprise some teams in the back half of our schedule."
Leading the way for the Eagles at Boulder Bowl, freshman Jamison Kaboli bowled a game-high 577 on the day, breaking a score of 200 (209, 200) in his first two matches.
"Jamison is really turning into something special for us," Ball said. "Being just a freshman his ceiling is so high. I really feel like he can not only do some damage for us this season, but he's going to have a great career."
Rounding out the Eagles' efforts, junior Sam Holt bowled a 370, while sophomores Justin Jolly and Connor Dykstra added scores of 314 and 308, respectively.
With Sky Pointe unable to field a girls team, the Lady Eagles had a practice round, highlighted by senior Bailey Bennett-Jordan and sophomore Christine Smith, who bowled 386 and 379, respectively.
Senior Camille Torgesen bowled a 357.
Hoping to continue to make a push toward the postseason, the Eagles will travel to Wildfire today to face Del Sol, followed by a home match on Wednesday, Jan. 17, against Somerset Academy-Sky Pointe.
Flag Football
Tuesday's flag football against Virgin Valley was canceled because of rain. A make-up date has yet to be announced.
Contact Robert Vendettoli at BCRsports@gmail.com.
Flag Football
Today, Jan. 11, vs. Southeast Career Technical Academy, 3:30 p.m. junior varsity; 4:30 p.m. varsity
Wednesday, Jan. 17, at Del Sol, 3:30 p.m. junior varsity; 4:30 p.m. varsity
Girls Basketball
Friday, Jan. 12, at Moapa, 3:30 p.m junior varsity; 5 p.m. varsity
Tuesday, Jan. 16, vs. Del Sol, 3:30 p.m junior varsity; 5 p.m. varsity
Bowling
Today, Jan. 11, vs. Del Sol at Wildfire, 3 p.m.
Wednesday, Jan. 17, vs. Sky Pointe at Boulder Bowl, 3 p.m.