Roundup: Lady Eagles basketball team heads to playoffs
February 15, 2017 - 2:31 pm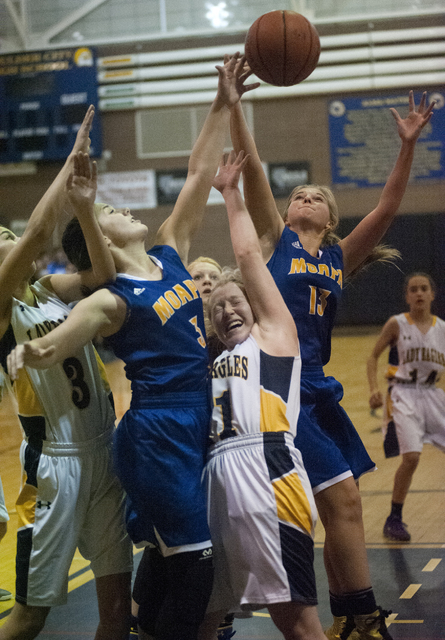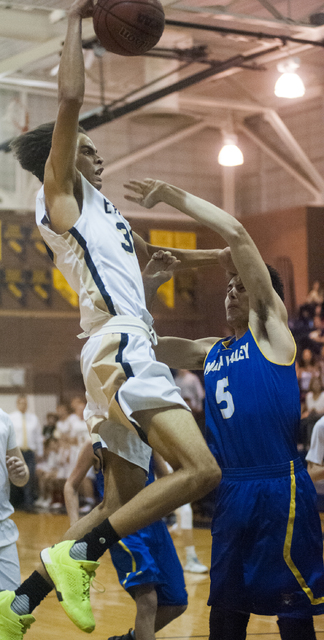 Securing a playoff berth after a one-season hiatus, the Boulder City High School girls basketball program split its final two games of the regular season, defeating Chaparral on Feb. 8 and losing to Moapa Valley on Friday.
Defeating Chaparral 35-25, the Lady Eagles used an all-out effort from their starting rotation, led by nine points from freshman guard Madison Manns.
Slashing her way to the basket, freshman guard Keely Alexander scored 7 points, including a second-half layup on which she was fouled and converted to a three-point play.
Senior forward Julia Worrall and sophomore guard Setia Cox each scored 6 points, while junior forward Jerra Hinson added 4.
The Lady Eagles were unable to duplicate the result against conference rival Moapa Valley, as the Pirates cruised to a 53-32 victory behind double-digit efforts from Kaitlyn Anderson (14 points) and Lainey Cornwall (13 points).
Alexander led the way for Boulder City with 10 points, while Cox scored 7. Worrall and Manns scored 6 and 5 points, respectively.
Finishing third in the 3A Sunrise League standings, the Lady Eagles traveled to Desert Pines on Wednesday for the first round of postseason play. Results will appear in next week's issue.
Boys Basketball
Despite ending the season with a 61-55 victory over rival Moapa Valley, the Boulder City High School boys basketball program missed the postseason for the third consecutive season.
Edging out the Pirates in their last home game, the Eagles rallied from a 35-25 halftime deficit behind strong second-half efforts from sophomore guard Karson Bailey and junior forward Clayton Pendleton.
Hitting on six of his eight 3-point attempts, Bailey led all scorers with 24 points. Serving as a specialist on defense as well, he also grabbed a pair of steals.
Pendleton was also clutch toward the end, scoring 9 points, including making three of his four free-throw attempts in the second half.
Finishing what was a brilliant senior season, senior forward Justus Green was crucial down the stretch, scoring 8 points with nine rebounds, four assists and three steals.
Although they were unable to obtain a victory against undefeated conference leader Chaparral on Feb. 8, the Eagles gave the Cowboys everything they could handle, losing 63-60.
Bailey, who blossomed into a star during the final week, led the way in scoring against the Cowboys as well, connecting on 6-of-9 from 3-point range and finishing with 26 points, three assists and three steals.
Junior guard Carson Balistere also had a solid outing from 3-point range, connecting on 4-of-9 to finish with 12 points and adding four rebounds.
Bailey led the Eagles in scoring for the season with 12.2 points per game, while Balistere averaged 11.2 points and Green chipped in 10.4.
Boys bowling
Time ran out on the Boulder City High School boys bowling program Feb. 8 at The Orleans, as the Eagles fell 2,124-2,116 to 3A state runner-up Chaparral.
"If we had just a few more frames, I believe we would have pulled it out," head coach Rodney Ball said. "We had them on the ropes late; momentum was really turning to our side."
Trailing by 12 pins heading into the final game, senior Connor Armstrong bowled his best in crunch time, cracking the 600 mark for the second consecutive game with a 602 against the Cowboys.
"I have never seen someone play so above themselves when it mattered most," Ball said. "To his credit, Connor did everything we needed him to. He bowled like a champion for us."
Also at his best, senior Ed Rassuchine led all bowlers with a high-game of 212 in the second match and totaled 595 pins on the day.
Senior Samu Jancuk bowled 492, while sophomore Sam Holt bowled 427.
"It was a great season," Ball said. "Graduating three seniors, the future of our program looks uncertain right now, but somehow we always manage to bounce back. We'll try to continue the dynasty next season."
Contact Robert Vendettoli at BCRsports@gmail.com.