Roundup: Injuries plague football team; golfers on a roll
September 28, 2016 - 1:58 pm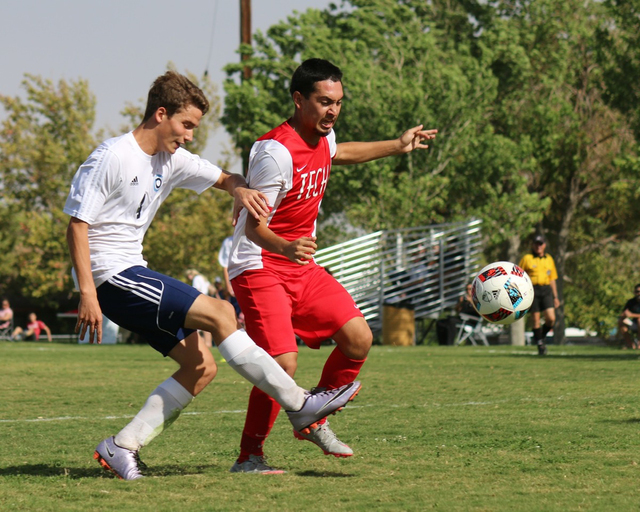 Personnel issues were the main cause in Boulder City High School's football team's setback Friday against Moapa Valley, suiting up only 22 of the 27 players on its roster for the bus ride to Overton, Nevada, during its 37-0 defeat.
"Plain and simple our roster is depleted with injuries," head coach Chris Morelli said. "We had six sophomores play heavy minutes for us, which is a positive for the future, but when you play a team of Moapa's caliber, you want your upperclassman out there. You want to be at your best."
Missing a pair of starting offensive lineman against the Pirates, the Eagles were without their best blockers, senior Chase Cowley and junior Bailey Gossard, along with junior tight end Isaiah Moore and junior wide receiver Rhett Armstrong.
"Top to bottom we're just depleted," Morelli said. "We have five available lineman for both sides of the line. It's hard to win ball games like that. I'm proud of the kids for the effort they put in."
Trying to focus on positives, the Eagles' passing attack came alive under senior Michael Martinelli, who completed 5 of 17 against the Pirates for 73 yards, the most the team has produced this season.
Senior Dillon Viera caught a pass for 30 yards and sophomore Travis Hungerford caught a pair of passes for 15 yards.
"I thought we did a decent job getting the passing game going," Martinelli said. "We need to be better though in order to win games. We're working on it."
Switching their offensive scheme to a pistol offense, the Eagles will rely on crossing routes against Del Sol during Friday's homecoming game in hopes of opening up more holes.
"We're going to be looking to put points on the board," Morelli said. "We're going to try and open up the offense more and have some fun. We're hoping it will be productive."
Cross-country
Competing in a pair of division races in Henderson on Sept. 21 at Cornerstone Park and Saturday at Foothill High School for the Falcon Invitational, both Boulder City High School cross-country programs had nice showings against higher-ranked competition.
Proving to be one of the best boys runner in the state, senior Tyler Campbell led his team with a sixth-place finish at Cornerstone Park to give the Eagles an overall score of 120, trailing Green Valley (22), Southeast Career Technical Academy (63), Valley (91) and Lake Mead Christian Academy (91).
Coming up even bigger on a larger scale for the Eagles in the Falcon Invitational, where the Eagles overall finished in 10th place with a score of 253, Campbell finished 19th in the 4A-laden race with a season-best time of 17:35.8, finishing as the third 3A finisher behind Pahrump Valley's Bryce Odegard (third place, time of 16:34.6) and Desert Pine's Jovan Ibarra (sixth place, time of 17:07).
"It feels really good to know that I can compete regardless of who I'm facing," Campbell said. "When I face runners from larger schools, it really pushes me to do my best."
Having a positive overall showing at Cornerstone Park for the Eagles as well, seniors Caleb Shamo and James Embro finished 27th and 29th, respectively, with times of 20:33.6 and 20:38.6, while junior Dawson Goodfellow finished 33rd with a time of 20:57.4.
The Lady Eagles finished in fourth place on Sept. 21 with an overall score of 89 without star junior runner Sierra Selinger in the lineup, falling behind Southeast Career Technical Academy (28), Valley (52) and Green Valley (69). Selinger has been sidelined by injuries.
"The girls have handled her absence very well," head coach Canaan Petersen said. "We have a lot of runners stepping up. We're going to be in good shape moving forward."
Finishing on a high note for the second consecutive week, senior Italian exchange student Camilla Sartor finished in sixth place with a time of 22:42. Sartor would later finish 29th at the Falcon Invitational with a time of 22:33.3 for the Lady Eagles, which finished in 10th place with a team score of 244.
At the Sept. 21 meet, junior Camille Torgesen placed 15th with a time of 24:03.7, while freshman Audrey Selinger finished 16th with a time of 24:07.4. Junior Lauren Stewart and sophomore Brynlee Campbell rounded out the Lady Eagles' efforts, placing 25th and 32nd, respectively.
Girls Golf
The Boulder City High School girls golf program is on a roll this season after sweeping its way through its past three matchups.
Playing in a pair of league matches at Wildhorse on Sept. 21 and at Casablanca Golf Club on Tuesday, the Lady Eagles topped their closest 3A Sunrise competitors, Southeast Career Technical Academy and Chaparral, during the matches, while also beating Southeast Career Technical Academy and Las Vegas in a cross division match at Boulder Creek on Sept. 22.
Topping the Roadrunners (405) and Cowboys (509) at Wildhorse, the Lady Eagles shot a team score of 367, while later shooting a 371 at Casablanca Golf Club, with Southeast Career Technical Academy shooting a 416 and Chaparral shooting a 562.
Junior Lani Potter placed first in both contests, shooting a 75 on the par-70 course at Wildhorse and a 73 on the par-72 course at Casablanca.
At Wildhorse, senior Lauryn Norris and sophomore Madisan Walker both scored a 96 to seal Boulder City's victory, placing fourth in the league contest, while sophomore Ryann Reese rounded out the top five with a score of 100.
Walker placed second at Casablanca with a score of 92, while Norris placed fifth with a score of 99. Reese finished in eighth place after shooting a 107, while freshman Makaela Perkins finished 10th with a score of 109.
Putting together a strong performance on their home course against the Roadrunners as well, the Lady Eagles shot a 195 on the front nine at Boulder Creek, beating Southeast Career Technical Academy (223) and Las Vegas (0).
Potter once again placed first with a score of 39 on the par-36 course, while Norris, Walker and Reese all finished third with a score of 52.
Girls Soccer
Dropping to 1-5 on the season, the Boulder City High School girls soccer program dropped its second league contest Sept. 22, losing 2-0 to Southeast Career Technical Academy.
Hanging tough with the league-leading Roadrunners (5-3, 2-0), which held a pair of victories over 4A opponents coming into the contest, the girls played well overall, despite giving up goals in each half to SECTA fielders Adriana Guzman and Leslie Santos.
Looking well improved upon last season's performance despite their recent shutout, the Lady Eagles tried to get back on the right track Wednesday when they travelled to Chaparral. Results of the game were too late to be included in this week's edition.
Boys Soccer
The Boulder City High School boys soccer program dropped to 0-6 for the season, after losing a pair of league contests Sept. 22 to Southeast Career Technical Academy and on Monday to Del Sol.
After losing to the fourth-seeded Roadrunners in the 3A Sunrise League 4-0, the Eagles fell victim to the division-leading Dragons 7-1.
Providing a highlight for the Eagles against the Dragons, junior midfielder Alex Krausman scored on an assisted goal from senior midfielder Hunter Dale in the second half. It was Krausman's second goal of the season.
Hoping to grab their first victory, the Eagles hosted Chaparral Wednesday. Results of the game were too late to be included in this week's edition.
Contact Robert Vendettoli at BCRsports@gmail.com.
Upcoming Games
Football
Friday, vs. Del Sol, 7 p.m. varsity, homecoming
Girls Golf
Wednesday, vs. Chaparral at Las Vegas National, 12:30 p.m.
Boys Soccer
Wednesday, vs. Chaparral, 3 p.m. junior varsity, 4:30 p.m. varsity
Girls Soccer
Wednesday, at Chaparral, 3 p.m. junior varsity, 4:30 p.m. varsity