Roundup: Golfers place four in top four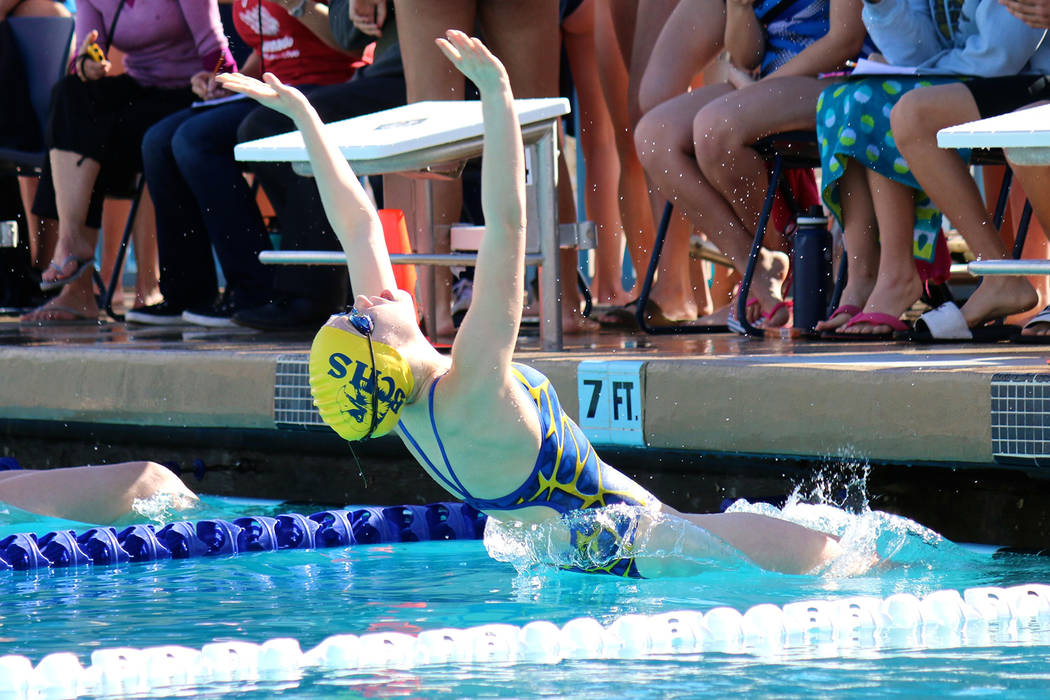 Boulder City High School's boys golf team kicked off league play with a bang Tuesday, with all four starters placing in the top four at Wildhorse.
Winning the meet with an overall score of 329, the Eagles outlasted rivals Virgin Valley (401) and Moapa Valley (431).
Freshman Blake Schaper continues his hot start to the season, placing first with a score of 75 on the par-70 course.
Senior Jackson Wright and junior Kevin Phelps finished second and third, respectively, with scores of 80 and 83, while freshman Kyle Carducci finished tied for fourth with a score of 91.
Showing off their depth, sophomore reserve Dustin Landerman finished tied for sixth with a score of 93.
"We played great today," head coach Andy Schaper said. "We're off to a great start. We're currently moving in the right direction and I'm excited to see where things go."
Volleyball
Boulder City High School boys volleyball team suffered a three-game skid since its 3-0 victory over Clark on March 13, falling to Coronado 3-0 on Tuesday.
Unable to hang with the 4A Cougars, 4-25, 17-25, 15-25, the Eagles played better as the game went on, showing signs of growth.
Playing unselfishly, sophomore Boen Huxford led the Eagles with seven assists, while sophomores Preston Jorgensen and Dylan Mullins each tallied six assists.
Jorgensen also added nine kills against the Cougars.
Proving they're capable of playing at the varsity level despite being an inexperienced program, the Eagles hung tough with 4A Spring Valley on March 14 despite a 3-0 loss, while taking 3A Somerset Academy-Sky Pointe to a fourth set on March 19.
"The boys have a lot of heart," head coach Rachelle Huxford said. "I keep reminding them that they are playing teams where the players have played for four years or more including club. They are all only sophomores and one first-year junior. I'd say we are doing pretty well. A lot of our mistakes are coming from inexperience and nervousness about opponents. When we work out those issues they will be a force to be reckoned with."
Falling to the Grizzlies 24-26, 23-25, 14-25, Boen Huxford supplied 22 assists with four kills, while Jorgensen added 18 kills and five blocks. Junior Karson Bailey added eight digs and seven kills.
Jorgensen added a season-high 29 kills against Sky Pointe in the Eagles' 14-25, 26-24, 22-25, 16-25 loss, while Boen Huxford added a season-high 32 assists. Freshman Cameron Lemon added three kills.
Continuing their tough regular season schedule, the Eagles will travel to 4A Basic today.
Track
Racing in the 4A-laden Arbor View Invitational on March 16, both Boulder City High School track and field programs came away with strong outings.
Finishing in fifth place out of 14 programs with an overall team score of 52 points, the Lady Eagles were led by senior Sierra Selinger, who finished first in the 1600-meter run (5:45.15) and 3200-meter run (12:50.54) and freshman Kamry Bailey, who placed first in the triple jump with a leap of 32-1.5.
Bailey also garnered a pair of second-place finishes in the high jump (4-8) and long jump (14-6.5).
Senior Maggie Roe finished fifth in the discus with a heave of 84-2, while junior Geri Wachtel placed sixth in the 100-meter hurdles (18.85 seconds) to round out the Lady Eagles' efforts.
Placing sixth out of 13 programs with an overall score of 55, senior Zach Trone led the boys with three top seven finishes.
Placing as high as second in the triple jump with a leap of 40 feet, Trone also placed fourth in the 100-meter dash (11.91 seconds) and seventh in the long jump (18-9.5).
Gaining points from their top hurdlers, senior Buddy Boggs placed third in the 110-meter hurdles (19.94 seconds) and fifth in the 300-meter hurdles (45.96 seconds), while junior Justice Tilman finished fourth in the 110-meter hurdles (20.72 seconds) and sixth in the 300-meter hurdles (46.24 seconds)
Freshman Sonny Peck finished seventh in the 110-meter hurdles with a time of 21.64 seconds.
In the pole vault, senior Briggs Huxford and Boggs each placed second with a leap of 10-6.
Huxford also finished fifth in the long jump (19-3.75), while freshman Jake Trone finished ninth in the triple jump (35 feet).
Off until April 7, results from the Eagles' March 21 meet at Eldorado will appear in next week's issue.
Contact Robert Vendettoli at BCRsports@gmail.com.
Swimming
Saturday, April 7, vs. Las Vegas at Heritage Park, 1:30 p.m.
Boys Volleyball
Thursday, March 22, at Basic, 6 p.m. varsity.
Boys Golf
Today, March 22, vs. Coronado at Reflection Bay, 3 p.m.
Track and Field
Saturday, April 7, Ocean View Invitational in Huntington Beach, California, 9 a.m.