Roundup: Golfers end season undefeated in league play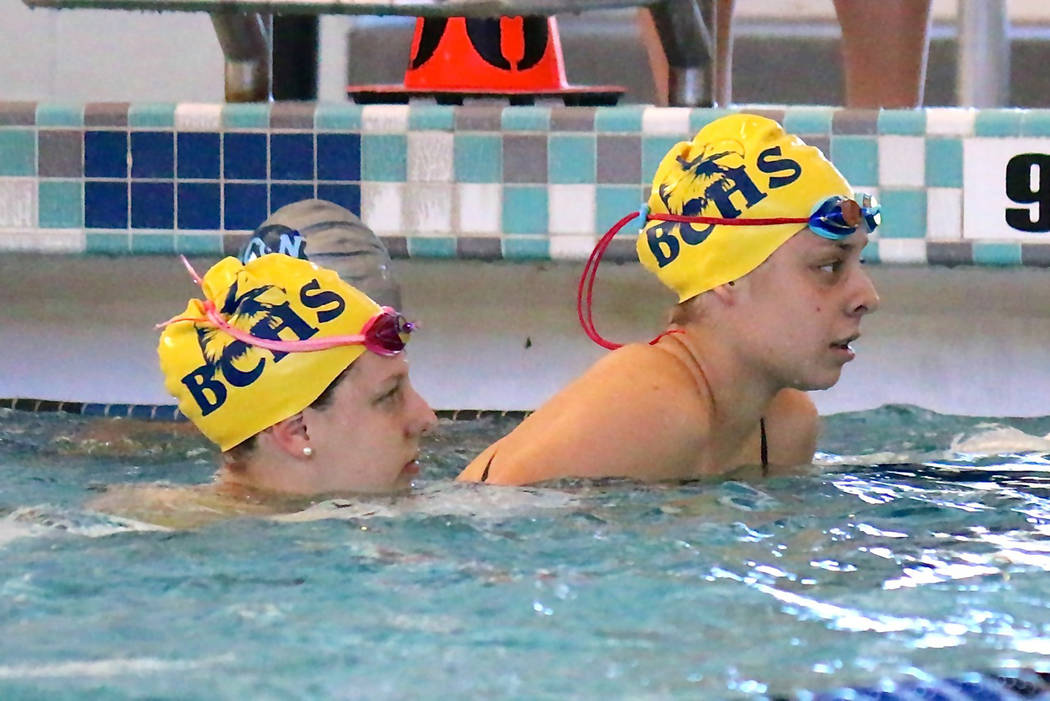 Wrapping up its regular season with an undefeated record in league play, Boulder City High School's golf program is primed for state contention.
Winning their sixth and final 3A Sunrise League match of the season on May 3 at Falcon Ridge, the Eagles ousted rival Moapa Valley (548) and Del Sol (624) with an overall team score of 431.
Regaining his place at the top of the pack, senior Kyler Atkinson finished first, shooting a 76 on the par-72 course. Senior Cade Neilson, who's been at his best as of late, finished second with a score of 77.
Featuring one of the Southern region's deepest rosters, sophomore Kevin Phelps and junior Jackson Wright each placed fourth with a score of 88, while freshman Dustin Landerman placed seventh after shooting a 102.
Traveling to Boulder Creek on Wednesday for the 3A Southern Region tournament, results will be posted in next week's issue.
Track
Participating in the Grant Bushman Invitational at Moapa Valley on Friday, multiple Boulder City High School track athletes look ready for the upcoming regional meet, to be held Friday and Saturday at Moapa.
Contributing all around for the fifth place Lady Eagles, senior Kenadee Bailey was the team's top point earner, finishing first in the triple jump, second in the long jump, third in 100-meter hurdles and fourth in the 300-meter hurdles.
"I'm really excited for regionals," Bailey said. "Each week I just keep pushing myself to be better. I'm hopeful for the best outcome."
Staking her claim as the best distance runner in the 3A classification, junior Sierra Selinger finished first in the 3200-meter run with a time of 13:01.32, while placing second in the 1600-meter run with a time of 5:57.31.
Senior Sara Stepherson and junior Taylor Tenney also look great at the Grant Bushman Invitational.
Taking first in the pole vault with a personal best vault of 10-7 Stepherson placed first along with a fifth-place finish in the long jump. Placing sixth in the triple jump with a personal record of 31-7, Tenney also finished 14th in the 200-meter dash.
Senior Kate Stepherson also set a personal record in the pole vault competition with a leap of 8 feet.
Primed for a big regional meet, junior Zach Trone finished second in the long jump and third in the triple jump, helping guide the Eagles to a fifth-place finish.
Junior Briggs Huxford finished second in the pole vault and ninth in the long jump, while junior Buddy Boggs finished third in the pole vault and 12th in the 300-meter hurdles.
Junior Alex Krausman finished fourth in the 800-meter run with a personal best of 2:06.94.
Boys volleyball
Picking up a dominant victory of Bonanza on May 2, Boulder City High School's boys volleyball program clicked on all cylinders after a 2-2 slate at the Las Vegas High School freshman tournament April 29.
Usually one of the strongest programs in the 4A, the Eagles disposed of the Bengals early and often, sweeping their way to a 25-18, 25-14 victory.
"Coach (Rachelle) Huxford and I were impressed with the leadership of Dylan Mullins against Bonanza," head coach Joshua Fisher said. "We put in different players and he instantly made defensive adjustments with them so they could play to their strengths."
More than just a one-man show, the Eagles' offense was powered by Zach Jimenez, who had two kills, and Zach Shapiro and Noah Hanson, who each added a kill.
Hanging tough in the Wildcats' 4A laden freshman tournament, the Eagles picked up victories over Legacy and Gorman, while losing to Foothill and champion runner-up Shadow Ridge.
"We are continually improving as we keep the program heading in the right direction," Fisher said. "A lot of coaches and people are taking notice of our team and constantly being wowed and congratulating us on our success. At the end of the day, coach Huxford and I have supplied the tools, but the kids are doing the building."
During the tournament, Preston Jorgensen led the way offensively with 19 kills and nine serving aces, while Boen Huxford recorded 16 assists and 12 serving aces.
Mullins had 17 assists and kills, while Braeden Soileau tallied eight serving aces and seven kills.
Contact Robert Vendettoli at BCRsports@gmail.com.
Boys golf
Monday and Tuesday, at Spring Creek Golf Course, TBA
Track
3A championship
Friday and Saturday, at Moapa Valley High School
State
May 19 and 20, Foothill High School in Henderson
Swimming
3A championship
Friday, at Buchanan Natatorium on the campus of UNLV
State
May 20 at Carson Aquatic Facility, Carson City