Roundup: Girls open tennis season with win streak
August 29, 2018 - 4:22 pm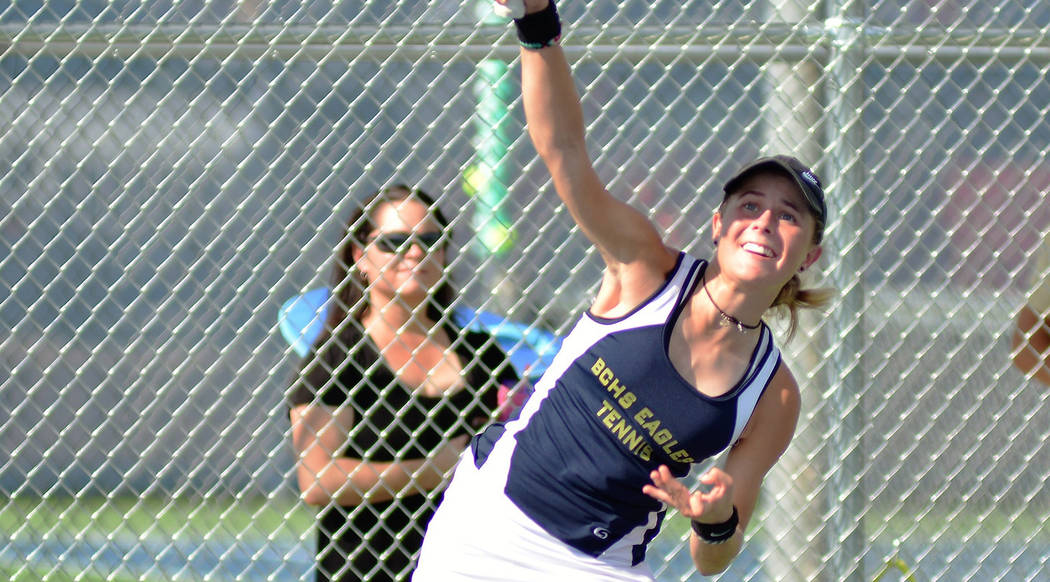 Opening their season with a 3-1 start, Boulder City High School's girls tennis team is clicking well early.
"I'm very proud of the way the girls have played up to this point," head coach Jami Pappas said. "We played a few of the larger schools and we're right there with (The) Meadows in our season opener. I feel like the girls really believe this is the year they can win it all. It's exciting to see them go out there and play."
Despite losing their season opener Aug. 23 to defending 3A state champions The Meadows 11-7, the Lady Eagles bounced back defeating 4A programs Basic 11-7 on Friday, Aug. 24, and Foothill on Tuesday, Aug 28.
The Lady Eagles also defeated Western 12-0 on Monday, Aug 27.
Leading the way for the Lady Eagles, the doubles pairing of juniors Tegan Pappas and Eugenia Kryshchuk are undefeated for the season, claiming 3-0 victories in each match.
"We knew coming into the season that they could make a great pairing together, but I didn't expect them to click this well so soon," Jami Pappas said. "They're exciting to watch and play together. I have all the confidence in the world in them to continue to go out there and win matches."
Senior Natalie Bowman and junior Katelyn Fox finished 2-0 against Basic and 2-1 against Foothill.
In singles play, junior Olivia Mikkelson finished 3-0 against Foothill and 2-1 against The Meadows. Senior Olivia Goodfellow finished 2-1 against Basic and Foothill.
The Lady Eagles will travel to Pahrump Valley today, Aug. 30, followed by a road match at Adelson School on Tuesday, Sept. 4.
Football
Boulder City High School's football team dropped its season opener to Cheyenne 24-7 on Friday, Aug. 24.
Cheyenne opened with a 12-7 lead at halftime, followed by an 82-yard kickoff return to open the third quarter from Rayvion Brown to seal the win.
Unable to avoid big plays from the Desert Shield, the Eagles allowed a solid 248 yards of total offense. Brown scored on a 41-yard first-quarter touchdown from quarterback Josh Rose, while Majae Madison scored on a 44-yard run toward the end of the third quarter.
Finding instant offense of their own, senior running back Thorsten Balmer scored on an 8-yard run midway through the second quarter. Expected to carry the load offensively for the Eagles this season, Balmer carried 28 times for 126 yards.
First-year junior starting quarterback Parker Reynolds completed only 6-of-21 passing for 60 yards and an interception.
Senior Shaun Jones caught three passes for 49 yards on the night.
Showcasing a solid defensive effort and strong running game, the Eagles will travel to Democracy Prep on Friday, Aug. 31, in search of their first victory of the season.
Cross-country
Competing in the 4A-laden Red Rock Running Invitational at Floyd Lamb Park on Saturday, Aug. 25, juniors Sophie Dickerman and Audrey Selinger churned out positive performances for Boulder City High School's girls cross-country team.
Competing among 68 of the top 4A runners in a 3-mile race, Dickerman (22:20) and Selinger (22:27) finished in the top half of the pack, placing 32nd and 34th, respectively.
For the boys, sophomore Ethan Porter placed 28th out of 118 competitors, finishing with an overall time of 18:21, while senior Justice Tillman finished 54th with a time of 19:39.
Senior Noah Calvert (88th, 21:16) junior Rome Peregrino (96th, 21:48) and sophomore Joseph Hardy (109th, 24:33) rounded out the boys' core.
In the newcomer race (1.9 miles), freshman Mary Henderson finished 13th for the Lady Eagles out of 80 competitors with a time of 13:25, while junior Sarah Oberweis finished 19th with a time of 13:57.
For the boys, sophomore Sean White finished 24th out of 123 challengers with a time of 11:51, while freshman Kiefer Reinhart finished 52nd with a time of 12:29.
Off for the week, the Eagles will resume their season Sept. 8 in the Larry Burgess Invitational at Sunset Park.
Girls soccer
Running out of gas in the second half, Boulder City High School's girls soccer team dropped its season opener 7-4 to 4A Eldorado.
Keeping pace with the Sun Devils after the first half 4-3, Eldorado outscored Boulder City 3-1 in the second half due to lack of subs on the Lady Eagles' bench.
"The girls showed a lot of grit out there," head coach Arnold Oeland said. "The lack of subs killed us in the second half, but we expect to have a full roster for our next game. It's going to be tough for our girls to play a majority of the game, but as the season goes on the endurance of the game will grow exponentially."
The Lady Eagles had a positive opening day, showcasing their offensive talents. Leading the way with two goals, junior Makenna Arboreen delivered a scorcher of a penalty kick to open the game, followed by a 40-yard streamer from midfield at the 26-minute mark.
Arboreen also assisted junior Madison Manns on her goal at the 73-minute mark, delivering a corner kick for a 7-yard shot.
Moving the ball well consistently against the Sun Devils, junior Trinity Oeland assisted a junior Keely Alexander goal at 4:36, putting a nice spin on the ball with a curving kick.
"I thought this was a fantastic showcase of what we'll be like this season," Arnold Oeland. "I was really pleased with their ball movement and the passion they showed for the game."
Isabella Sama scored five goals for Eldorado in the victory.
Boys soccer
Opening the regular season on a high note, Boulder City High School's boys soccer team routed Adelson School 10-0 on Tuesday, Aug. 28.
Recording a hat trick, junior Benson Deml scored three goals, while sophomore Julian Balmer scored two goals.
Senior Caden Mendiola, juniors Adam Romanov, Mason Hood and Noah Dent and sophomore Adam Leavitt goal each scored a goal.
The Eagles will host Pahrump Valley today, Aug. 30, followed by a road matchup against 4A Coronado on Tuesday, Sept. 4.
Contact Robert Vendettoli at BCRsports@gmail.com.
Football
Friday, Aug. 31, vs. Democracy Prep at Rancho, 7 p.m., varsity
Girls Tennis
Today, Aug. 30, at Pahrump, 3 p.m., varsity
Tuesday, Sept. 4, at Adelson, 4 p.m. varsity
Wednesday, Sept. 5, vs. Valley, 3 p.m. varsity
Boys Soccer
Today, Aug. 30, vs. Pahrump, 3 p.m. varsity; 4:30 p.m. junior varsity
Tuesday, Sept. 4, at Coronado, 3 p.m. varsity; 4:30 p.m. junior varsity
Girls Golf
Wednesday, Sept. 5, League match at Painted Desert, 1 p.m. varsity