Roundup: Girls golf team wins regional title
October 11, 2017 - 3:15 pm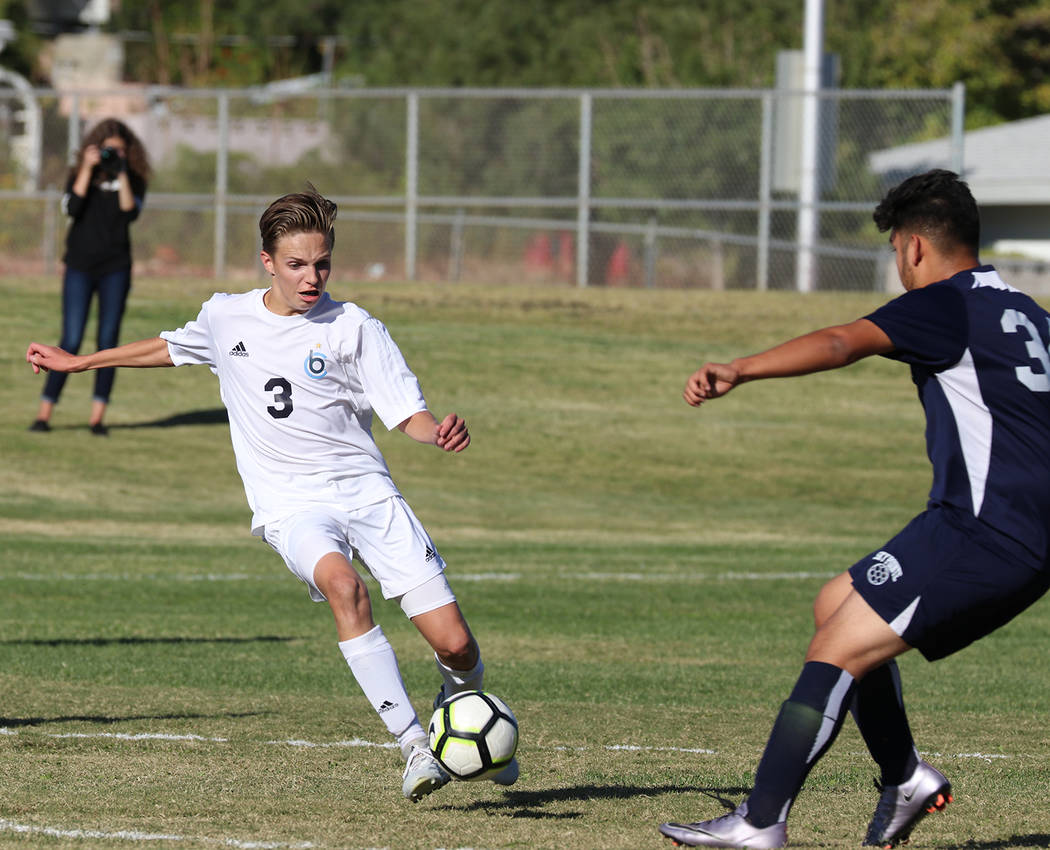 Playing to the best of their abilities Tuesday, Boulder City High School girls golf is heading back to the 3A state tournament.
Completing their quest for a second consecutive Sunrise Regional championship, the Lady Eagles (704) edged out Southeast Career Technical Academy (744) and Pahrump Valley (767) at Las Vegas Municipal, placing five golfers in the top 10.
"The girls played amazing, I could not be more proud of every single one of them," senior Lani Potter said. "We had so many personal bests and everybody is extremely determined now to win the team title at state this year."
Leading the pack as usual, Potter finished as the individual regional champion with a score of 147, with her closest competition coming from Cassidy Phelan from Southeast Career Technical Academy, who shot a 157 over the two-day meet.
Looking to repeat as the 3A individual state champion, Potter looks focused heading into state play.
"This year at state I expect to put together two solid days of golf," she said. "I've been working hard to prepare for state, and I'm going to do my best to win the individual title again."
Finishing in the top five, junior Ryann Reese shot a 178 at regionals, while junior Madisan Walker finished seventh with a score of 186.
Rounding out the Lady Eagles' core, freshman Riley Shuman finished ninth with a score of 192, while sophomore Sydney Krumm finished 10th with a score of 196.
"We are playing our best golf right now," Reese said. "Having five girls under 100 and three under 90 is big for us and we're very excited for next week."
The Lady Eagles resume play Wednesday at Mountain Falls.
"Looking ahead we need to continue play with confidence and have fun," head coach Andy Schaper said. "It is very important that they girls stay loose and let it go next week. We can't play tight or scared. If they play with confidence and patience, it is going to be a successful state tournament for us."
Boys soccer
Controlling the ball from the opening kick, Boulder City High School boys soccer picked up a 3-1 victory over Somerset-Sky Pointe on Tuesday.
"We possessed the ball well against Somerset," head coach Chad Smith said. "We controlled the ball for about 65 to 70 percent of the game, staying active and getting shots on the goal. It was a good win for our team."
Senior Robbie Leavitt scored the Eagles' first goal 10 minutes into the half, with an assist from freshman Julian Balmer.
Taking a 2-1 first-half lead, sophomore Benson Deml scored the second goal with a beautiful header assisted from Balmer.
Creating distance in the second half, Balmer, who displayed his playing ability throughout the game, scored the Eagles' third goal from the left corner.
Staying active on defense, senior Jackson Wright and Caden Mendiola each had seven steals to conclude the winning effort.
The Eagles (4-6-1) will travel to rival Virgin Valley today, before hosting Southeast Career Technical Academy on Monday.
Girls soccer
Unable to overcome a 3-0 first-half deficit Tuesday on the road, Boulder City High School girls soccer team dropped a crucial league game to Somerset-Sky Pointe 4-1.
Dropping from fourth to fifth in the 3A Sunrise League standing, the Lady Eagles (4-5-1) couldn't match Sky Pointe's offensive production led by two goals from Isabella Robins.
Attempting to claw their way back in the second half, sophomore Makenna Arboreen brought the score within 3-1 with a goal, before Sky Pointe scored its fourth and final goal.
The Lady Eagles will host rival Virgin Valley today, before traveling to Southeast Career Technical Academy on Monday.
Cross-Country
Competing in a pair of showcase events, Boulder City High School's cross-country team had a few standouts this past week.
Lady Eagles senior Sierra Selinger led the way in the 4A-laden Falcon Invitational at Foothill High School on Saturday with a seventh-place finish in the junior-senior race out of 98 competitors with a time of 21:08.
In the freshman-sophomore race, sophomore Audrey Selinger finished 14th out of 86 competitors with a time of 22:36, while freshman Sophie Dickerman finished 37th with a time of 24:32.
For the boys, freshman Ethan Porter finished 30th out of 126 competitors with a time of 19:20 in the freshman-sophomore race, while sophomore Rome Peregrino finished 79th with a time of 21:55.
In the junior-senior race, juniors Elias Woodbury and Justice Tillman finished 56th and 57th with times of 19:55 and 19:56, respectively.
Competing in the underclassman Bud O'Dea Classic on Tuesday at Desert Breeze Park, Porter stepped up his performance with a third-place finish in the freshman race out of 99 competitors with a time 14:42.
Also competing in the freshman race for the boys, Seth Woodbury finished 45th with a time of 17:32, while Joe Hardy finished 86th with a time of 20:27.
In the sophomore race, Peregrino finished 100th out of 144 competitors with a time of 17:40.
Competing for the girls, Dickerman finished 21st out of 75 competitors with a time of 19:32.
With one final race before the Southern Division final, Boulder City will host the Lake Mead Invitational on Saturday at Veterans' Memorial Park.
Volleyball
Staying steady in league play, Boulder City High School girls volleyball dismantled Chaparral on Oct. 5, completing a 3-0 sweep.
Dominating in every facet of the game, the Lady Eagles (19-14) cruised to a 25-4, 25-3, 25-20 victory over the Cowboys behind dominant serving.
Totaling a season-high 16 serving aces, senior Maggie Roe led the Lady Eagles' effort, successfully completing 34 serves on the day.
Also finding success serving, freshman Ava Wright and Kamry Bailey each had six aces.
Wright also led the way with eight assists, while Roe had seven.
Roe had five digs defensively and four kills, while Bailey garnered five kills. Sophomore Raegan Herr led the way with six kills.
Splitting their two-game slate over the week, the Lady Eagles were outclassed by 4A opponent Green Valley 3-0 on Friday, but put forth a hard-fought effort despite the 25-27, 22-25, 20-25 loss.
Bailey tallied 20 kills and 11 digs, while Roe tallied 14 kills and nine digs. Wright, the Lady Eagles' primary ball handler, fueled the effort with 26 assists.
Looking to stay dominant in league play, the Lady Eagles will travel to rival Virgin Valley on Tuesday.
Contact Robert Vendettoli at BCRsports@gmail.com.
Upcoming events
■ Volleyball
Tuesday, Oct. 17, at Virgin Valley, 5 p.m. junior varsity, 6 p.m. varsity
■ Cross-Country
Saturday, Oct. 14, Lake Mead Invitational at Veterans Memorial Park, 8 a.m.
■ Girls Soccer
Today, Oct. 12, vs. Virgin Valley, 3 p.m. junior varsity, 4:30 p.m. varsity
Monday, Oct. 16, at Southeast Career Technical Academy, 3 p.m. varsity, 4:30 p.m. junior varsity
Wednesday, Oct. 18, vs. Moapa, 3 p.m. varsity, 4:30 p.m. junior varsity
■ Boys Soccer
Today, Oct. 12, at Virgin Valley, 3 p.m. junior varsity, 4:30 p.m. varsity
Monday, Oct. 16, vs. Southeast Career Technical Academy, 3 p.m. varsity, 4:30 p.m. junior varsity
Wednesday, Oct. 18, at Moapa, 3 p.m. varsity, 4:30 p.m. junior varsity