Roundup: Girls bowlers best Chaparral
November 29, 2017 - 3:40 pm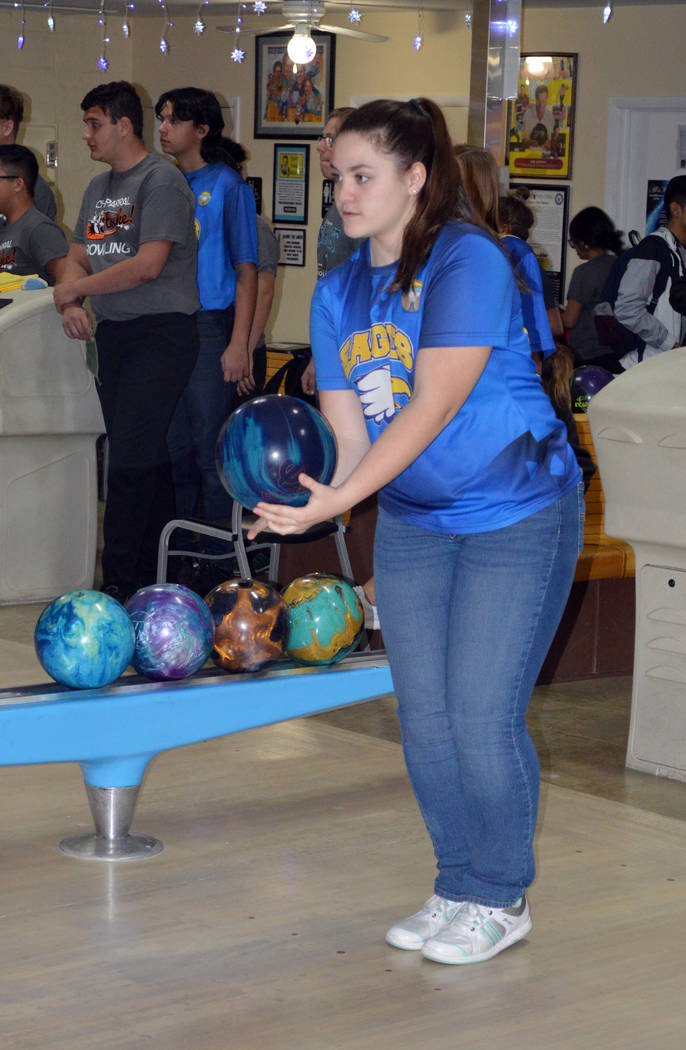 Starting their season off with a bang, defending 3A state champion Boulder City High School girls bowling took down rival Chaparral 1,366-859 Monday at Boulder Bowl.
"I thought the girls did a good job for our first match of the season," girls head coach Garth Schulz said. "Our two returning anchors Bailey (Bennett-Jordan) and Christine (Smith) led the way Monday, while Camille (Torgesen) and Samantha (Wagner) played well for their first varsity outings."
Leading all bowlers with a score of 435, Smith started her sophomore campaign above her usual average, while Bennett-Jordan bowled a 425.
Looking to step up as a senior this season in hopes of making a return trip to state, Bennett-Jordan bowled a match-high 169 in her second game.
"I thought I bowled well today," Bennett-Jordan said. "The team as a whole I thought did really well for our first match. We just have to keep working and stepping up our game if we want to defend our championship."
Putting together three solid games, Torgesen bowled 295, while Wagner rounded out the Lady Eagles' efforts with a score of 211.
Boys bowling
Unable to join the girls in the win column Monday, the boys suffered a defeat to the Cowboys 1,890-1,588.
Leading the way for the Eagles, freshman Jamison Kaboli started his career with a great game, bowling 487.
Junior Sam Holt followed closely with a score of 447, while sophomore Connor Dykstra and senior Joseph McColery added scores of 345 and 314, respectively.
Upcoming games
Wrestling
■ Saturday, Dec. 2, Boulder City Duals: at home, 9 a.m.
■ Wednesday, Dec. 6, vs. Durango: 4 p.m. varsity
■ Wednesday, Dec. 6, vs. Chaparral, 6 p.m. varsity
Bowling
■ Today, Nov. 30, vs. Sky Pointe: at Texas Station, 3 p.m.
■ Monday, Dec. 4, vs. Del Sol: at Boulder Bowl, 3 p.m.