Roundup: Football season opens with close win against Clark
August 30, 2017 - 2:31 pm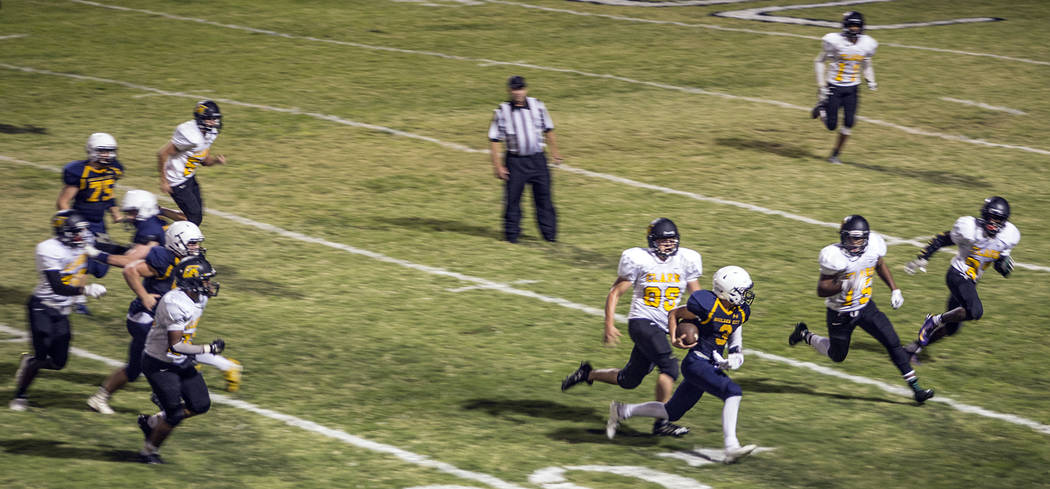 Winning their first season-opener since 2012, Boulder City High School's football players provided a good showing for their hometown fans Friday night, defeating 4A opponent Clark 34-33.
"I can't share how excited I am to open the season with a win," head coach Chris Morelli said. "Our guys came out at home and played a good game. Although we picked up the win, I know we still haven't clicked on all cylinders yet. I know this team will only get better and we'll surprise a few people with a couple more wins this season."
Using a balanced style of offense against the Chargers, the Eagles racked up 330 yards of offense, leaning heavily on their junior backfield tandem of running back Thorston Balmer and quarterback Shaun Jones.
Running wild Friday, Balmer was unstoppable as a downhill runner, leading all backs with 150 yards and three touchdowns on 21 carries.
Supporting his powerback, Jones used his dual-threat quarterback play-making abilities to overshadow his two interceptions during his first career varsity start, rushing for 73 yards and a touchdown on 17 carries.
Through the air, Jones completed 6-of-10 for 60 yards.
"Both of them played really well Friday," Morelli said. "Shaun definitely added a presence with his running ability and Thorston just quietly went about his business and had a great game."
Senior backup quarterback Austin Langley also got an opportunity to run the offense, connecting on both his pass attempts for 47 yards, including a touchdown pass to senior Briggs Huxford.
Huxford led all pass catchers with three catches for 75 yards, while junior Travis Hungerford caught two passes for 38 yards. Balmer caught two passes for 31 yards.
Winning the defensive battle as well, the Eagles picked off a pair of passes, one by Hungerford and another by junior Jimmy Dunagan.
Playing an all-around game defensively, Dunagan provided three tackles and a sack, while junior Ryan Vanario led the way defensively with four tackle and 2.5 sacks. Senior Zach Trone garnered two tackles and 1.5 sacks in the Eagles' first victory over a 4A opponent since they defeated Rancho on Sept. 12, 2014.
"It's great to be on top for a change," Trone said. "After Friday we're all just looking forward to getting back out on the field to play Western."
Generating 1-8 records the past two seasons under Morelli, the Eagles look to benefit greatly from their newly incorporated independent schedule when they face 3A Western at home Friday. Just snapping a 43-game losing streak, the Warriors come into Boulder City with momentum on their side in what should be a hard-fought matchup for both teams.
Cross-country
Getting off to a strong start Saturday at the Red Rock Invitational at Floyd Lamb Park, Boulder City High School girls cross-country team placed two runners in the top 10 in a field that consisted mainly of 4A opponents.
Running against 4A programs Basic, Coronado, Green Valley and Liberty, senior Sierra Selinger placed fifth out of 45 runners with an overall time of 21:08, followed by sophomore Audrey Selinger, who finished ninth with a time of 21:23.
Finishing in 19th place with a time of 23:45, senior Camille Torgesen gave the Lady Eagles a solid core to rely on while junior Brynlee Campbell finished 39th with a time of 27:53.
"Those three ran really well, especially for being the last race of the day in the heat," head coach Staci Selinger said. "Audrey had a surprising performance and was nipping on Sierra's heels throughout the whole race. She got her best time ever for that distance and I'm excited to see what she can do over the season. The three of them will be a powerful combo."
Following the Lady Eagles' core three, the highest placing non 4A runner was Lake Mead Academy senior Aaliyahjean Villalba, who finished in 35th place with a time of 26:58, proving that the Lady Eagles can handle themselves in any field of competition.
Sophie Dickerman, running in the 3-mile newcomer race for the Lady Eagles, placed 62nd out of 78 runners with a time of 28:29. Senior Agnese Palpacelli finished 64th with a time of 29:09, while junior Clarise Murray finished 76th with a time of 34:52.
For the boys, four runners competed in the newcomer race, highlighted by freshman Ethan Porter, who finished in 13th place with a time of 18:30.
Still learning the sport during preseason trials, senior Kevin Trygstad (60th, time of 22:09), sophomore Rome Peregrino (73rd, time of 23:59) and senior Bryce Rogers (83rd, time of 27:40) rounded out the Eagles' four-man core.
Traveling to Palo Verde this Saturday with hopefully a full roster intact, the Eagles will compete in the 4A-laden Labor Day Classic.
"We had quite a few boys unable to make it on Saturday, including our returners," Selinger said. "We should have the full team competing on Saturday."
Boys soccer
Putting on an offensive clinic Monday at home against The Meadows, Boulder City High School boys soccer erupted with a 13-0 victory.
"While it is good to have a game like this once in a while, we need to remind ourselves that we have also been on the losing side of the same score line," head coach Chad Smith said. "We need to stay focus and keep working hard to better our game."
Hanging their postseason hopes on a solid mixture of returners and newcomers, freshman striker Julian Balmer stole the show Monday, scoring three goals for the Eagles, while freshman Adam Leavitt added a pair of goals.
Pouring on nine goals in the opening half against the Mustangs, senior Alex Krausman scored two goals while seniors Jackson Wright and Robbie Leavitt, junior Michael Traasdahl and sophomores Benson Deml, Alejandro Garcia and Dayton Smith each added a goal.
"They proved to themselves that they could play well as a team," Smith said. "The boys spent a lot of time passing the ball Monday and working on plays that will prove useful in tougher matches throughout the coming season."
Leading their pass-happy offense, Leavitt also added two assists, while sophomores Noah Dent and Mason Hood each added four assists.
In the net, senior goalie Parker Johnson (one save) and freshman Brett Stewart (two saves) combined for a shutout.
Looking to capitalize on their season-opening victory, the Eagles will open league play at 3 p.m. Tuesday at home against Chaparral.
Results from Wednesday's match against Desert Pines will appear in next week's issue.
Girls soccer
Challenging themselves early this season, Boulder City High School girls soccer team hosted 4A Legacy on Friday losing 7-2.
Unable to adjust to the Longhorns' pace, the Lady Eagles were outscored 5-1 in the first half before settling down in a 2-1 second half.
Picking up where she left off from a season ago, sophomore Madison Manns, who was a 3A All-Southern Region first team selection, scored the Lady Eagles' pair of unassisted goals. Tallying eight goals last season, many expect Manns to reach double digits this season.
Off for the weekend, the Lady Eagles will travel to Chaparral for their first league contest of the season at 3 p.m. Tuesday.
Looking for a second consecutive postseason appearance after four-year drought, the Lady Eagles split last season's series with the Cowboys 1-1.
Results from Wednesday's match against Desert Pines will appear in next week's issue.
Contact Robert Vendettoli at BCRsports@gmail.com.
Football
Today, Aug. 31, vs. Western, 6:30 p.m. junior varsity
Friday, Sept. 1, vs. Western, 7 p.m. varsity
Cross-Country
Saturday, Sept. 2, Labor Day Classic at Palo Verde, 8 a.m.
Girls Soccer
Tuesday, Sept. 5, at Chaparral, 3 p.m. varsity, 4:30 p.m. junior varsity
Boys Soccer
Tuesday, Sept. 5, vs. Chaparral, 3 p.m. varsity; 4:30 p.m. junior varsity