Roundup: Flag football team rallies for win
January 24, 2018 - 4:25 pm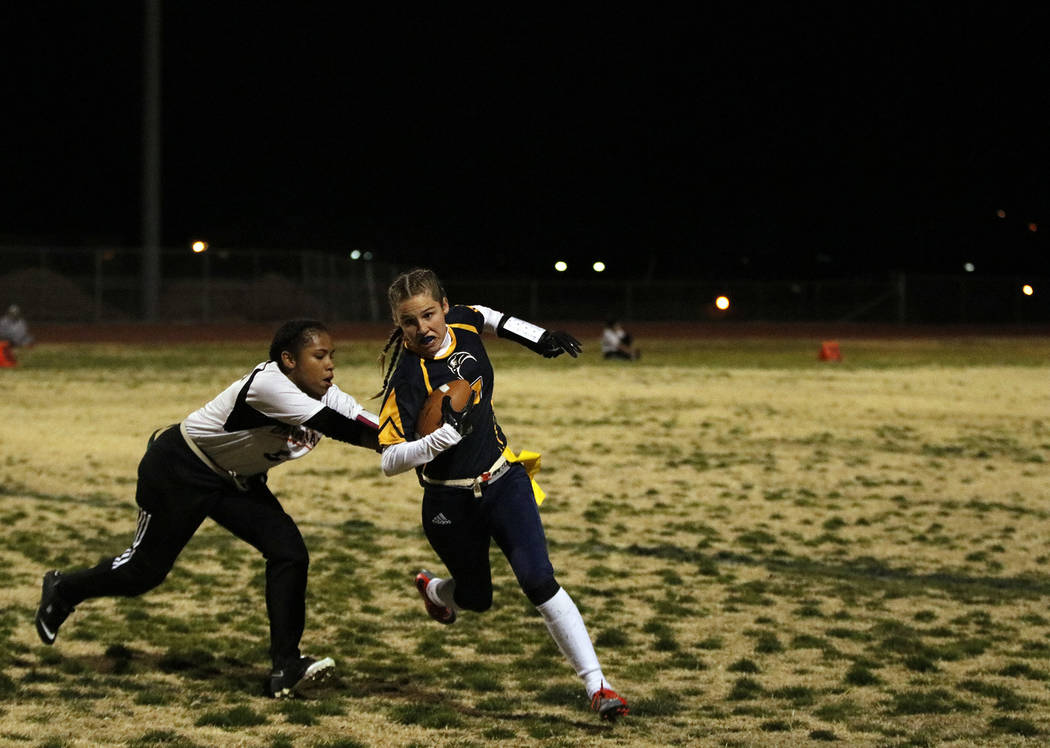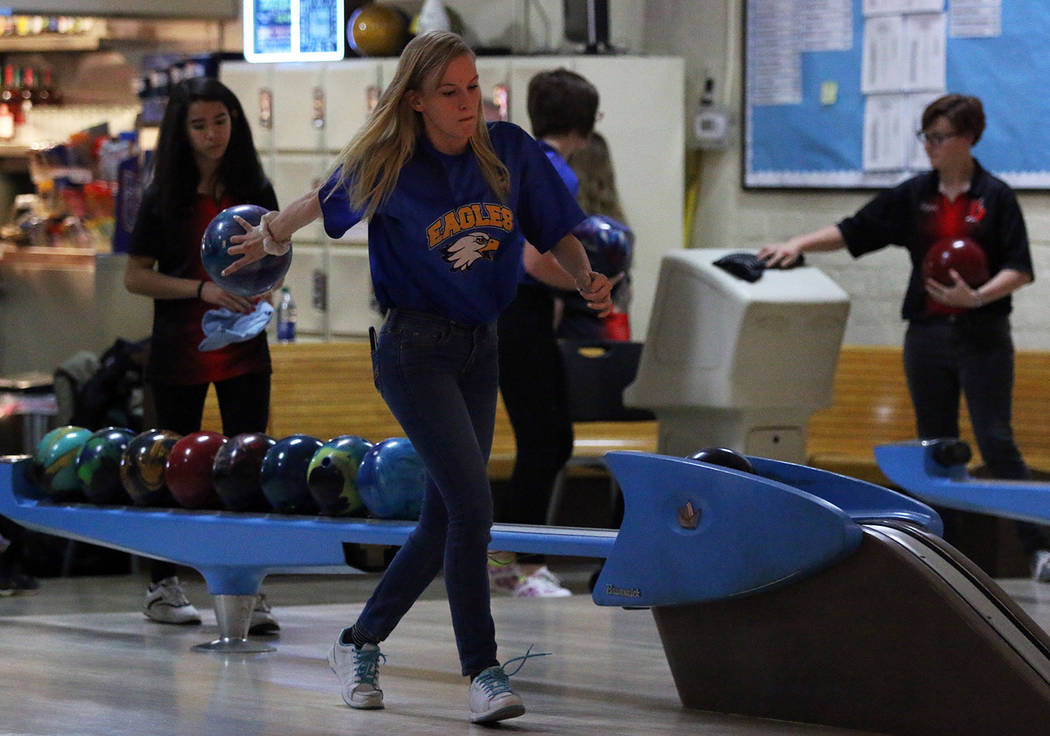 Despite falling behind 13-0 early to Chaparral on Tuesday, Boulder City High School flag football rallied during the second half for a crucial 15-13 victory.
Also grabbing a come-from-behind victory against Moapa Valley 7-6 on Jan. 19, the Lady Eagles are currently riding a two-game winning streak in league play.
"Honestly, these last two games have been huge for us," head coach Kevin Ruth said. "We know right now Virgin Valley and Del Sol are the two powers in our league, so everyone's trying to fight for positioning right now in the league standings. Every victory is important."
Backed by a solid defensive effort, the Lady Eagles pulled down three interceptions against Chaparral, one each by senior Elizabeth Taggard, junior Ryann Reese and freshman Kamry Bailey.
Bailey led the team with six tackles, while senior Hannah Barth generated five tackles.
Trying to catch their offense up to the production of the defense, the Lady Eagles switched to sophomore Makaela Perkins at quarterback against Chaparral, finishing 8-of-19 for 107 yards and with a touchdown pass to Taggard.
"We like what Makaela gives us at quarterback," Ruth said. "She's making good decisions with the ball right now and deserves the start."
Also throwing a touchdown pass in her lone attempt, senior Nicole Valle connected with Reese for a 37-yard touchdown pass.
Taggard finished with four catches for 39 yards, while Reese finished with two catches for 54 yards.
Reese led the Lady Eagles in rushing with 102 yards on 12 carries, while senior Nikki Meleo provided 91 yards on 11 carries.
Against Moapa Valley, Perkins came in relief for Valle, throwing a game-winning extra point pass to junior Erin Cowley in the third quarter.
Perkins completed 7-of-13 for 74 yards, while Valle completed 2-of-5 for 17 yards.
Meleo led the team in rushing with 64 yards and a touchdown on nine carries.
Hoping for a positive showing today, the Lady Eagles will host league leader Virgin Valley, before traveling to Southeast Career Technical Academy on Monday. The Lady Eagles will also host Del Sol on Wednesday.
Bowling
Boulder City High School bowling was no match for league power Southeast Career Technical Academy on Monday at Boulder Bowl, with both programs falling to the Roadrunners.
Unable to keep pace, the girls fell 1,755-1,493, despite strong performances from senior Bailey Bennett-Jordan and sophomore Christine Smith, who bowled 445 and 426, respectively.
In her third game, Bennett-Jordan rolled a team best of 172, just four pins off the lead for the best game of the day.
Seniors Camille Torgesen and Samantha Wagner bowled 326 and 296, respectively.
For the boys, freshman Jamison Kaboli and junior Sam Holt bowled 498 and 449, respectively, despite suffering a 1,959-1,505 loss.
On a tear this week, Bennett-Jordan also bowled a 480 against Somerset Academy-Sky Pointe in a forfeit victory on Jan. 17, while Kaboli and Holt bowled 544 and 498, respectively.
Results from the Eagles' regular season-ending matchup against Chaparral on Wednesday will appear in next week's issue.
Contact Robert Vendettoli at BCRsports@gmail.com.
Flag Football
Today, Jan. 25, vs. Virgin Valley, 3:30 p.m. junior varsity; 4:30 p.m. varsity
Monday, Jan. 29, at Southeast Career Technical Academy, 2:30 p.m. junior varsity, 3:30 p.m. varsity
Wednesday, Jan. 31, vs. Del Sol, 3:30 p.m. junior varsity; 4:30 p.m. varsity
Bowling
Wednesday-Friday, Jan. 31-Feb. 2, individual finals at the Gold Coast