Roundup: Eagles tennis teams upset Foothill
September 7, 2017 - 11:53 am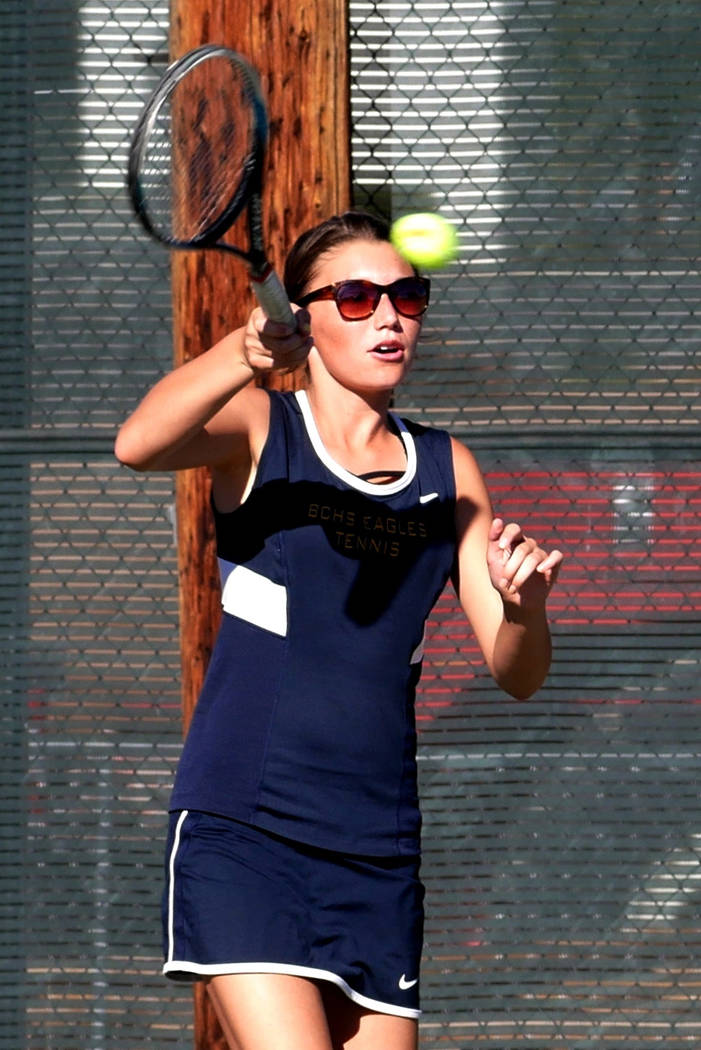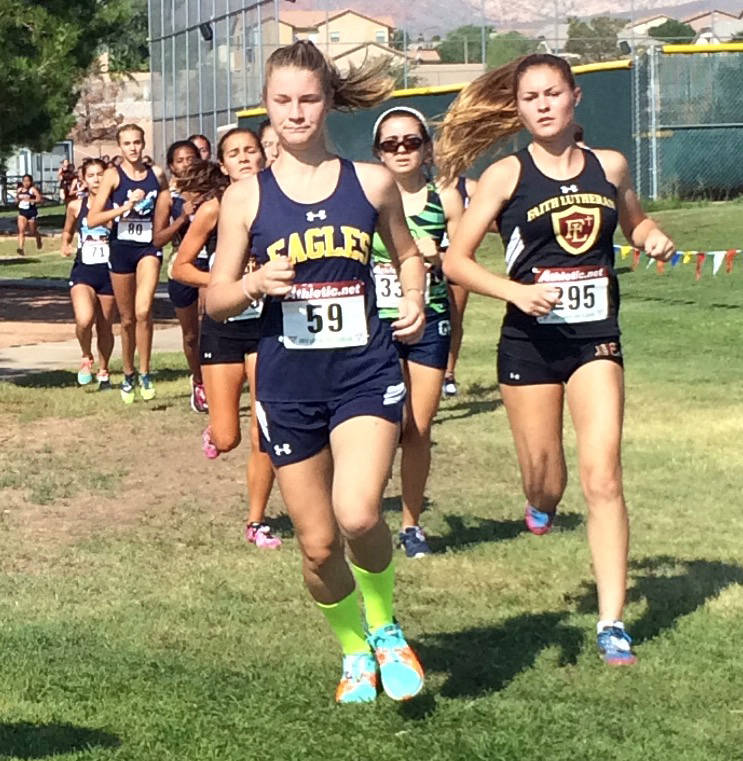 Both Boulder City High School tennis programs picked up a big victory against 4A Foothill on the road Tuesday, giving them confidence heading into league play.
Winning a 9-9 tiebreaker following a Foothill forfeit, the Lady Eagles were able to pull off the upset 10-9 behind the strong singles play of sophomores Olivia Mikkelson and Tegan Pappas.
Mikkelson, who is a new addition to the starting lineup, went 3-0 on the day, while Pappas finished 2-1. Junior Olivia Goodfellow finished 1-1, with her third singles competitor forfeiting their match.
In singles competition, sophomores Katelyn Fox and Olivia Leavitt finished 1-2, while new doubles competitor junior Natalie Bowman teamed with sophomore Sophia Morris for a 1-2 finish.
"I did some shuffling around today and made some major adjustments in the lineup," girls head coach Jami Pappas said. "I was pleased with the way the girls bought into my lineup. Adding Olivia Mikkelson was big for us and Natalie Bowman stepped up in doubles and played very well. This was a very competitive match and the girls came ready to play."
Hanging on for a 10-9 upset as well, the boys doubles tandems got the better of the Falcons on Tuesday, led by the sophomore pairing of Boen Huxford and Preston Jorgenson, who finished 3-0.
Claiming 2-1 records in doubles play were the pairing of senior Tanner Montgomery and junior Karson Bailey and senior Clayton Pendleton and sophomore Ty Pendleton, while sophomore Connor Mikkelson finished 2-1 in singles play.
Heading into the heart of league play, the Eagles will host rival Moapa Valley on Friday, followed by home league matches against Chaparral and Virgin Valley on Monday and Tuesday.
Cross-Country
Finishing in 13th place in the junior-senior race at the Labor Day Classic on Saturday, senior Boulder City High School girls cross-country runner Sierra Selinger looks ready to lead the way in the 3A classification.
Competing in the 2A-laden race at Palo Verde High School, Selinger finished as the first 3A competitor with a time of 22:20.
Equally as impressive for her age bracket, sophomore Audrey Selinger finished 23rd in the freshman-sophomore race with a time of 23:53, finishing as the second 3A competitor.
"They both raced really well once again," head coach Staci Selinger said. "Sierra got off to a great start and really picked up on the last mile. Audrey started great and then made up a lot of ground on the last mile after overcoming some side cramps. Both of them medaled in very competitive races and I'm proud of both."
Looking strong overall as a unit, freshman Sophie Dickerman finished 62nd out of 105 competitors with a time of 27:18, while junior Geri Wachtel finished 85th out of 108 competitors with a time of 29:53.
Finishing strong for the boys in the freshman-sophomore race, freshman Ethan Porter led the way with a 66th-place finish out of 155 competitors with a time of 21:09. Freshman Seth Woodbury finished 119th with a time of 23:41, while freshman Joseph Hardy finished 154th with a time of 28:02.
In the junior-senior race, junior Elias Woodbury led the way with a 70th-place finish out of 192 competitors with a time of 20:13.
Junior Justice Tillman (125th place, time of 22:09), senior Kevin Trygstad (142nd place, time of 22:46) and senior Bryce Rogers (188th place, time of 27:39) rounded out the Eagles' core.
Pleased with the boys progression throughout the preseason, coach Selinger offered optimism moving forward.
"Now that all the boys have a race under their belts, we can get to work and focus on learning how to race," Staci Selinger said.
Off for the remainder of the week, the Eagles will compete Saturday at Sunset Park in the 48th annual Larry Burgess-Las Vegas Invitational.
Girls Soccer
Sophomore Makenna Arboreen had the breakout performance the Boulder City High School girls soccer program knew she was capable of on Tuesday, leading the Lady Eagles past Chaparral in their league opener 3-0.
Expected to be an offensive threat this season, Araboreen scored her first two goals of the season against the Cowboys, while dishing out an assist.
Pairing with lethal goal scorer sophomore Madison Manns and senior captain Sydney Manns, the trio put together their best performance to date.
Scoring her team-leading fourth goal of the season, Madison Manns dished two assists along with a first-half goal, while Sydney Manns assisted on one of Araboreen's goals.
Riding a two-game winning streak after dropping their season opener to Legacy, the Lady Eagles defeated Desert Pines 2-1 on Aug. 30, behind a goal each from Madison Manns and senior Jaydin Darling.
Madison Manns assisted Darling's goal.
Looking to continue their winning streak, the Lady Eagles host a trio of home games this week, facing 4A Basic today and rival Pahrump Valley at 3 p.m. Friday, before their league contest against Somerset-Sky Pointe at 3:30 p.m. Tuesday.
Boys Soccer
Following a 13-0 season opening victory against The Meadows, the boys Boulder City High School soccer program has fallen back to earth following a pair of 9-1 defeats.
Dropping their league opener to Chaparral on Tuesday, the Eagles followed up their offensive showcase against the Mustangs with a 9-1 loss to Desert Pines last Wednesday, as well.
Providing the Eagles with their lone highlight Tuesday against the Cowboys, freshman striker Julian Balmer scored a first-half goal on an assist from freshman forward Jacob Legat.
Youthful and gaining experience following each match, the Eagles resume play today at 4A Basic, followed by a league match at Somerset-Sky Pointe on Tuesday.
Contact Robert Vendettoli at BCRsports@gmail.com.
Upcoming Games
■ Boys and Girls Tennis
Friday, Sept. 8, vs. Moapa, 3 p.m.
Monday, Sept. 11, vs. Chaparral, 3 p.m.
Tuesday, Sept. 12, vs. Virgin Valley, 3 p.m.
■ Girls Golf
Today, Sept. 7, league match at Falcon Ridge, 9:30 a.m.
■ Cross-Country
Saturday, Sept. 9, Las Vegas Invitational at Sunset Park, 9 a.m.
Tuesday, Sept. 12, Coronado meet at Sonata Park, 4:30 p.m.
■ Girls Soccer
Today, Sept. 7, vs. Basic, 3 p.m. varsity, 4:30 p.m. junior varsity
Friday, Sept. 8, vs. Pahrump, 3 p.m. varsity, 4:30 p.m. junior varsity
Tuesday, Sept. 12, vs. Somerset-Sky Pointe, 3:30 p.m. varsity, 5 p.m. junior varsity
■ Boys Soccer
Today, Sept. 7, at Basic, 3 p.m. varsity, 4:30 p.m. junior varsity
Tuesday, Sept. 12, at Somerset-Sky Pointe, 3:30 p.m. varsity, 5 p.m. junior varsity