Roundup: Coach academy at BCHS attracts top names in basketball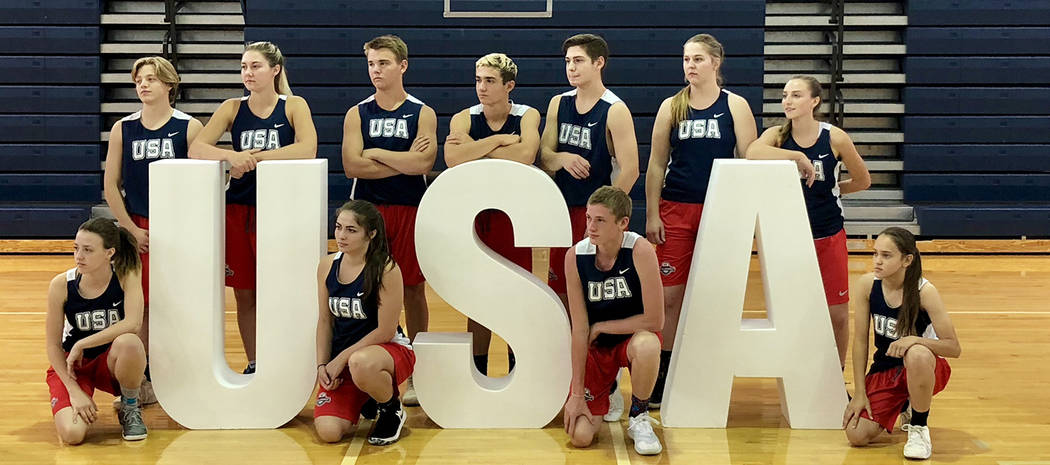 Coaches from the NCAA and gold-medal winning USA Basketball team, along with those affiliated with the NBA, converged on Boulder City High School July 25-27 as it hosted the 2018 USA Basketball Las Vegas Coach Academy presented by Nike.
"When you look at the lineup where we had guys and girls from the college ranks, the NBA, you get a combined 100 years of experience," Eagles head coach John Balistere said. "Certainly anybody at any level could have gotten something out of this experience. It was very beneficial, especially for our kids who got to be the demonstrators."
Eagles players past and present learned firsthand from headliners Jay Wright (Villanova University), Frank Martin (University of South Carolina) and Chris Holtmann (Ohio State University).
"It was a great experience," sophomore Matt Morton said. "Knowing that most of these coaches are from the Division I level really made me focus more on every detail they gave. These are the coaches that can teach you a lot about the game and make you a better player because they have been around the game for so long."
"The camp was honestly amazing," junior Gavin Balistere said. "It was a great experience getting to do drills in front of thousands of people and be able to listen to the great mentors of basketball."
Gavin Balistere and Morton were joined by sophomores Toby Schaeffer and Matt Felsenfeld, who performed on-court drills, while senior Hannah Estes and juniors Madison Manns and Keely Alexander performed drills representing the girls.
Boulder City graduates Katlyn Daly (class of 2015) and Megan Morton (class of 2016) also joined the action, hoping to apply what they learned to their games in college this season.
"I learned a lot of new drills that simulate real, gamelike scenarios that I will take back to school with me to help my team get better," Megan Morton said. "I also learned a lot of footwork and one-on-one moves during certain situations that I can utilize in my personal play."
Coach Balistere said he also learned a few things, relishing the opportunity to use the lessons to help guide the Eagles' program toward success.
"I was thankful to get the opportunity to soak up a ton of stuff," John Balistere said. "I'm going to try to implement some of the things I learned into what we do with our program. … When you have such a great group of basketball minds, it doesn't matter how long you've been coaching, you're going to learn something."
Soccer camp returns Aug. 6 for weeklong session at Pratte fields
Making its way to Boulder City for its ninth year, Great Britain's Challenger Sports will hold its annual British Soccer Camp on Aug. 6-10 at Pratte Soccer Fields, 1650 Buchanan Blvd.
The camp, designed for children ages 3 to 16, will teach a variety of foot skills, technical drills and tactical practices, and campers will play in coached scrimmages at the end of each day.
Each child will receive a soccer ball, T-shirt, poster and certificate.
First kicks for beginning 3- to 4-year-olds will last one hour per day starting at 3 p.m. and will cost $105 for the four-day camp.
Half-day camps for advanced 5- to 16-year-olds will last three hours each day starting at 4 p.m. and will cost $150.
There is an additional $10 fee for those registering within 10 days of the camp's start.
To register or for more information, visit www.challengersports.com.
Contact Robert Vendettoli at BCRsports@gmail.com.