Roundup: Bowlers see big victories
January 25, 2017 - 3:22 pm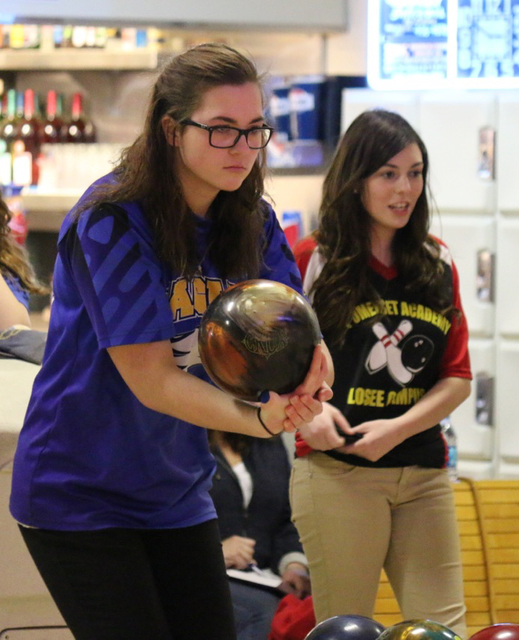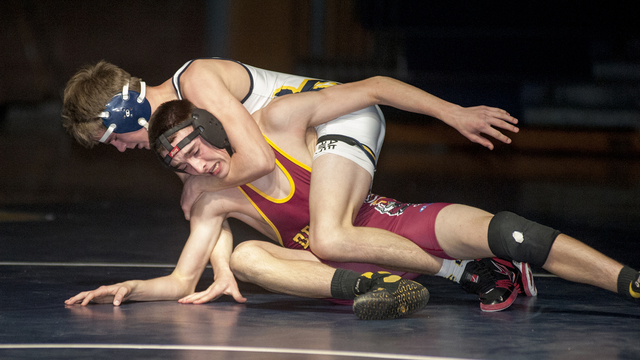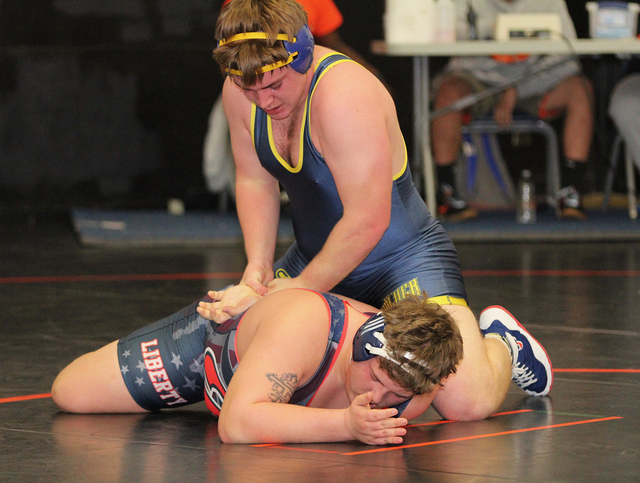 The boys and girls bowling teams from Boulder City High School were at their best Monday at Boulder Bowl against Somerset Academy-Losee, each claiming large victories.
Routing Somerset 2,083-1,123, the boys were led by senior Ed Rassuchine, who totaled 582 pins, while senior Connor Armstrong had a big day with a score of 548.
Turning in a nice outing as well, sophomore Sam Holt bowled a 478, while senior Samu Jancuk bowled 475.
Equally as dominant, the Lady Eagles picked up a 1,772-1,240 victory behind the continued brilliance of senior Abigail Harling. Leading the girls in scoring, Harling bowled a series-high 519, with a 202 high-game in her third match.
Following shortly behind, freshman Christine Smith found her groove with a score of 447, while junior Bailey Bennett-Jordan and senior Alexis Cable bowled a 410 and 396, respectively.
Girls basketball
Executing throughout all four quarters, the Boulder City High School girls basketball program rolled to an easy 47-28 road victory on Monday against Chaparral.
Claiming their third league victory, the Lady Eagles advanced to a 7-11 record on the season behind a game-high 13 points from freshman guard Keely Alexander.
Playing one of their most offensively consistent games, freshman guard Madison Manns and senior forward Julia Worrall each scored seven points, while sophomore guards Setia Cox and Hannah Estes each scored six points.
Junior forward Jerra Hinson and sophomore forward Madisan Walker concluded the scoring effort with five and three points, respectively.
Clinging to third in the 3A Sunrise standings, the Lady Eagles will resume action Friday on the road against Pahrump Valley, followed by a Tuesday road contest against league opponent Southeast Career Technical Academy.
Boys basketball
Playing tough against division leader Chaparral on Monday, the Boulder City High School boys basketball program has shown improvement despite a crushing 58-51 road loss.
Trailing 43-29 to the Cowboys entering the fourth quarter, the Eagles dug deep to make Monday's outing respectable, outscoring Chaparral 22-15 in the final quarter.
Scoring a game-high 19 points senior Justus Green continues to impress this season, despite the losing effort, while junior forward Zach Trone had his best game this season with eight points.
Getting solid production from their guards, sophomore Karson Bailey scored six points, while junior guards Carson Balistere and Clayton Pendleton each scored five points.
Falling to 4A opponent Liberty 65-43 on Friday, Balistere led the team with 11 points, while Green scored nine.
Dropping into a three-way tie for fourth place in the 3A Sunrise standings with Moapa Valley and Southeast Career Technical Academy, the Eagles will get a chance to create some distance when they host the Roadrunners on Tuesday. Prior to their contest with SECTA, the Eagles will travel to Pahrump Valley on Friday.
Wrestling
Despite sitting seven of their top performers, the Boulder City High School wrestling program took fourth at the Chaparral Invitational on Friday and Saturday.
"I thought the boys did very well this weekend," head coach Jim Cox said. "To sit most of our key guys and still compete at a high level not only speaks to the depth of our program, but our future talent."
Featuring a pair of their everyday starters, senior Devin Fox (220 pounds) and junior Garrett Leavitt (113 pounds) were at their best during the tournament, each claiming first-place finishes. Heading toward the final stretch of season, both wrestlers seem poised for breakout performances during the postseason.
Sophomore 152-pound wrestler Jimmy Dunagan also had a great showing, giving the Eagles a building block for the future after a second-place finish, while sophomores Hayden Moore (138 pounds), James Ewell (195 pounds) and Mike Kaposta (275 pounds) each took fifth place.
Rounding out the Eagles' efforts, junior D.J Reese (126 pounds) placed third, while seniors Octavian Trumbo (145 pounds) and Jin Takahashi (160 pounds) each placed fifth.
Picking up a 76-6 victory over Del Sol as well on Tuesday, the Eagles are rolling toward regionals.
Contact Robert Vendettoli at BCRsports@gmail.com.
Upcoming games
Boys Basketball
Friday, at Pahrump, 3:30 p.m. junior varsity; 6:30 p.m. varsity
Tuesday, vs. Southeast Career Technical Academy, 3:30 p.m. junior varsity; 6:30 p.m. varsity
Girls Basketball
Friday, at Pahrump, 3:30 p.m. junior varsity, 5 p.m. varsity
Tuesday, at Southeast Career Technical Academy, 5 p.m. junior varsity, 6:30 p.m. varsity
Bowling
Monday-Wednesday, NIAA individual playoffs, at The Orleans
Wrestling
Today, at Virgin Valley, 5 p.m. junior varsity; 6 p.m. varsity