Roundup: Bailey earns flag football all-state honor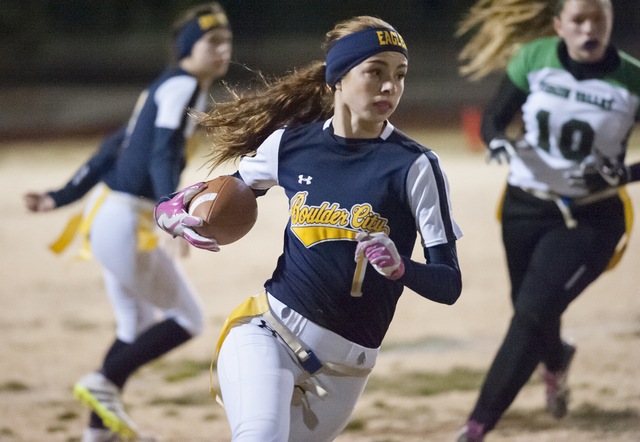 Senior flag football star Kenadee Bailey was named a first-team all-state selection on Tuesday, ending a wonderful three-year tenure at Boulder City High School.
One of only three 3A players selected, Bailey said Tuesday's selection was an honor, knowing how much she's given to the sport the past three seasons.
"I'm super excited to have been voted on the all-state team," Bailey said. "I've put my heart into this game for the past three years and it feels great to receive an honor like this."
One of the most dynamic play makers regardless of classification, Bailey was a do-it-all star for the Lady Eagles, leading the team this past season in rushing, receiving, tackles and interceptions.
"Kenadee is just a freak athlete," head coach Chris Morelli said. "Whatever we ask her to do, she just goes out and does it. She's almost like an extra coach out on the field. (She is) truly one of the best players in the state in my opinion."
A jack of all trades athlete, Bailey tallied 1,541 yards of total offense with 20 touchdowns for the Lady Eagles, while making 168 tackles with eight interceptions.
Softball
Taking care of host Mojave easily on Monday, the Boulder City High School softball program rolled to a 14-1 victory, exploding for nine runs in the first inning.
Coming up big offensively, sophomore Ryann Reese finished 4-for-5 at the plate, knocking in a pair of runs.
Junior Bailey Bennett-Jordan and freshman Ashley Wishard brought their A game as well, each finishing 3-for-4 at the plate with two RBIs apiece, while sophomore Marlena Mills finished 1-for-4 with a three-run home run.
Excellent on the mound, Bennett-Jordan pitched a complete game, allowing one run on five hits, while striking out 11 batters.
Finishing 2-3 over the weekend in Utah, Bennett-Jordan struck out 16 batters, allowing a run against Orem, while junior Jordan Moorhead picked up a victory over Beaver, allowing four runs on eight hits with seven strikeouts.
Wrapping up their preseason schedule, Boulder City will travel to Sunrise a Mountain on Tuesday.
Track
Traveling to Laguna Beach, California, over the weekend for the Laguna Beach Trophy Invitational featuring multiple California powerhouses, several Eagles flashed their talents.
Making a name for himself, junior Zach Trone had perhaps the best weekend out of anyone, placing in the top 10 in three of his four events.
A state meet hopeful, Trone finished eighth out of 44 finalists in the high jump, ninth of out of 28 finalists in the triple jump and 10th out of 46 finalists in the 200-meter dash. Trone also placed 14th in the 100-meter dash out of 53 finalists.
Finding similar success for the Lady Eagles was senior Kenadee Bailey, who placed fourth out of 36 finalists in the long jump, fifth out of 35 finalists in the 100-meter hurdles and eighth out of 23 finalists in the triple jump.
Senior Jordyn Trobiani placed 10th out of 20 finalists in the high jump and 16th out of 31 finalists in the 400-meter dash.
At the Desert Pines event on March 14, both Eagles programs placed first ousting Desert Pines and Western.
First-place finishers for the boys include Trone (100-meter dash and long jump), senior Tyler Campbell (3200-meter run), and juniors Buddy Boggs (110-meter hurdles), Alex Krausman (800-meter run) and Justis Tilman (300-meter hurdles).
First-place finishers for the girls include Bailey (100-meter hurdles, 300-meter hurdles, long jump and triple jump), Trobiani (400-meter dash and high jump), and juniors Sierra Selinger (800-meter and 3200-meter runs) and Taylor Tenney (high jump).
Already off to a strong start, the Eagles will travel to Mojave today to face off against the Rattlers and rival Moapa Valley.
Boys Golf
The Boulder City High School boys golf program won its second match of the season Tuesday, placing first in the Needles Invitational.
Finishing with a team low score of 414, the Eagles ousted rival Pahrump Valley, which finished second with a score of 450.
"I thought the boys did a really nice job today," head coach Andy Schaper said. "Everyone shot really good scores and showed good decision making. It's all about getting better from here and playing well into May."
Backed by returning star Kyler Atkinson, the senior led the Eagles on the day, shooting a 78 on the par-71 course.
Well-rounded as a group, senior Cade Neilson shot an 82, while senior Samu Jancuk and junior Jackson Wright both shot an 83.
Sophomore Kevin Phelps rounded out the day with a score of 87.
The Eagles play Monday in a league match at Wildhorse Golf Club.
"We have a great group of guys this season," Schaper said. "They all have experience and are capable of making a push toward state. It's my job to help guide them and help them get the best of out their games. We have some work to do, but we're on the right path."
Volleyball
Defeating Southeast Career Technical Academy on Tuesday 25-17, 25-12, the Boulder City High School freshman volleyball team advanced to 5-2 on the season.
"The boys have started the season out very strong," head coach Joshua Fisher said. "We put an emphasis on good passing and strong serving and the guys have delivered. They're playing really good ball right now."
Braeden Soileau led the way Tuesday night with five aces, while Boen Huxford had four aces and Preston Jorgensen had three aces.
"The boys are playing hard, but have struggled a little," Fisher said. "We changed 95 percent of our lineup on Monday to put the guys in position to better take advantage of our strength, which is serving. I'm hopeful to lean on that this season."
Playing well this past weekend in the Las Vegas High School freshman tournament, the Eagles went 2-2 defeating Coronado and Sierra Vista, while losing to Centennial and Palo Verde. The Eagles also defeated Del Sol last Friday.
"We beat some pretty good teams," Fisher said. "Coronado is usually a state power and the programs we lost to are really good programs. I'm very happy with our progress."
The Eagles will round out this week's slate at Basic today.
Contact Robert Vendettoli at BCRsports@gmail.com.
Upcoming Events
Softball
Monday, vs. Sunrise Mountain, 3:30 p.m. away varsity, at home junior varsity
Track
Today, vs. Mohave and Moapa Valley, at Mojave, 4:30 p.m.
Saturday, Meadows Invitational, at The Meadows, 9 a.m.
Boys Golf
Monday, vs. Del Sol, at Wildhorse, 12 p.m.
Boys Volleyball
Today, at Basic, 5 p.m. freshman
Monday, vs. Silverado, 5 p.m. freshman