Roe poised to lead Lady Eagles volleyball team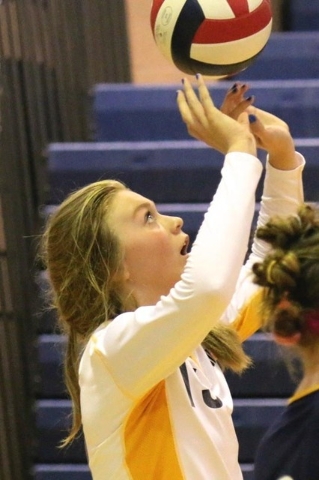 A national standout in her sport, junior Boulder City High School volleyball star Maggie Roe has become accustomed to being one of the youngest players on her team. Now the time has come for Roe to be an upperclassman, to be a leader, like the ones she looked up to for years.
"On every team she's ever played for, she's always been the youngest," said Boulder City volleyball coach Cherise Hinman, who will be entering her 19th season leading the Lady Eagles. "She's had great influences to look up to and see what the right things to do are. These next two years will finally be her turn as an upperclassman to step into a leadership role on the court. She's formed a great relationship the past two seasons with her teammates, and I feel like she's ready to step into this role."
Regarded as one of the premier high school volleyball players not only in Nevada but on the West Coast, Roe has twice been featured as one of the nation's top underclassmen by prepvolleyball.com, gracing its freshman and sophomore elite teams.
Following a sophomore campaign with the Lady Eagles in which she was named a Division I-A All-State selection, Roe was also an American Volleyball Coaches Association Phenom selection, where she earned an invitation to its College Preparatory Program Dec. 17-20 in Omaha, Nebraska, allowing her to showcase her talents in front of 100-plus college coaches.
Last season with the Lady Eagles, Roe led her team with 337 kills, while tallying 259 digs, 92 aces and 41 blocks.
Physically gifted on the volleyball hardwood, Roe will be forced to channel her offensive statistics into more of a team-oriented role this fall, changing her position from outside hitter to opposite hitter, making her more involved with the operation of the team.
"Maggie won't come off the court this season," Hinman said. "Her position will change from last year because we need her to be more involved. She will balance the play this season with our senior returner Alea Lehr. They work well with one another.
"Because Maggie has played in all the hitting roles across the net and a few of the other girls are familiar with some of the other positions, we will now be able to play with our offensive scheme this year."
Set to put her new role with the program in motion, Roe and the Lady Eagles will begin preparing for the upcoming season Monday when coaches from California State University, Stanislaus come to town for a three-day camp.
After several key players from last season's team graduated, a new core headlined by Roe and Lehr will be tasked to repeat the success that the volleyball program has garnered throughout Hinman's tenure, making 18 straight postseason appearances.
"As one of our captains this season, I expected Maggie's role to increase quite a bit," Hinman said. "I'm depending on both her and Alea as my two upperclassmen to be very vocal on the court and make those on-the-court decisions that need to be made as far as plays."
Contact Robert Vendettoli at BCRsports@gmail.com.