Roe named state volleyball MVP
November 22, 2017 - 3:17 pm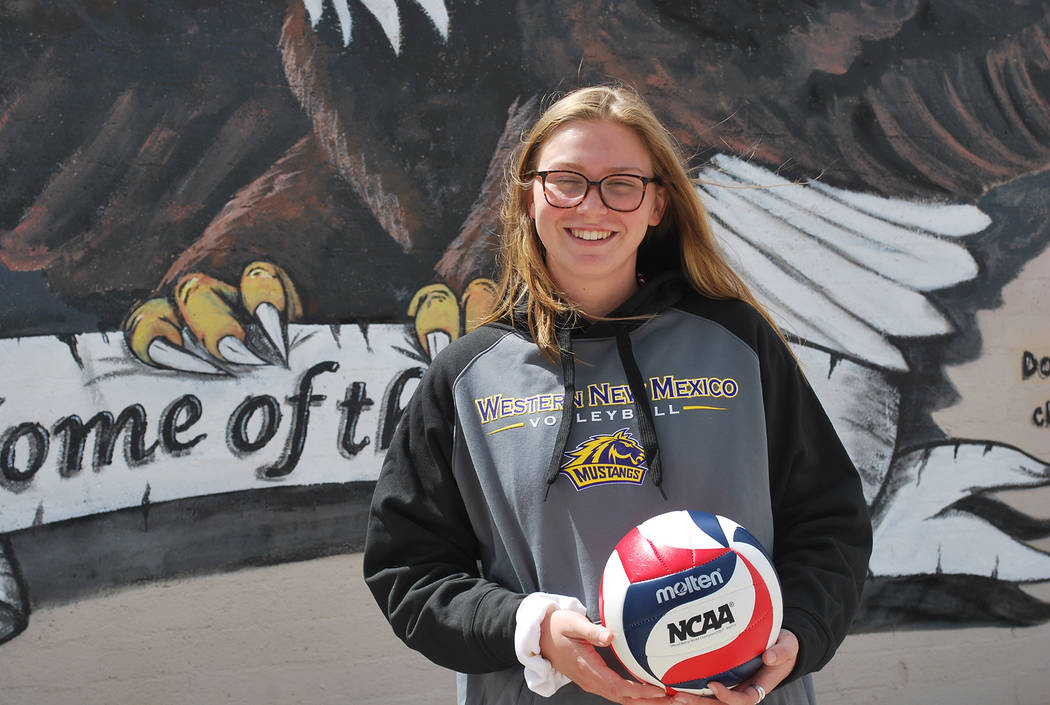 Maggie Roe, Boulder City High School senior star girls volleyball player, was named the 3A All-State Most Valuable Player and All-Southern Player of the Year for her efforts in guiding the Lady Eagles to their first 3A state championship since 1989.
She also was named Co-player of the Year for the All-Sunrise League team.
One of two first-team 3A all-state selections with freshman Kamry Bailey, four Lady Eagles overall earned at least All-Sunrise Conference considerations for their efforts throughout the season, while their head coach, Cherise Hinman, was named 3A All-State Coach of the Year.
"Being named 3A Nevada Player of the Year is so surreal," Roe said. "It makes me feel like every extra hour of practice in the gym since fifth grade was truly worth it. Those many hours spent have led up to this moment. It helped me win a 3A state championship."
An all-around threat for the Lady Eagles, the Western New Mexico commit led the team in kills (494), digs (276) serving aces (139) and blocked shots (77). Finishing second on the team in assists with 273 to primary ball handler freshman Ava Wright (657), who was named a second-team All-Sunrise selection, Roe's impact went well beyond the box score.
"Having Maggie on my team gave me reassurance," Wright said. "She helped make me a better player. Even if my set was too far off the net or too tight she would still make an amazing play."
Roe ended her four-year tenure with the Lady Eagles with 1,442 kills, 887 digs, 320 serving aces, 299 assists and 283 blocks.
Having an impact on the Lady Eagles' other all-state performer Bailey, Roe not only helped the rising freshman have a breakout season, but helped mold the team's next potential star.
"Playing with Maggie has been very beneficial for me," Bailey said. "Her skills and knowledge of the game made me and all my teammates better players. She was always there for me on and off the court. She believed in me, which helped me have confidence on the court."
Breaking out as a freshman like Roe did in her first year with the Lady Eagles, Bailey was one of nine first-team selections after tallying 350 kills and 276 digs defensively.
Playing like a star when the Lady Eagles needed it most, Bailey stepped up her game in the 3A state tournament, generating 49 kills and 21 digs during victories against Truckee and Moapa Valley.
"It was a huge accomplishment to make the all-state team," Bailey said. "I came into the season with some goals and that was one of them that I knew was going to be difficult to achieve."
Bailey and Roe also were named to the All-Southern first-team.
Senior Jerra Hinson was named to the All-Sunrise first-team. Hinson recorded 77 kills, 67 blocks and 60 digs this season.
Claiming her first state championship after 21 seasons with the Lady Eagles, Hinman guided the team to back-to-back state tournament appearances.
The Lady Eagles finished the league season with a 28-15 season.
Contact Robert Vendettoli at BCRsports@gmail.com.