Rewards of slot canyon sights worth effort to get there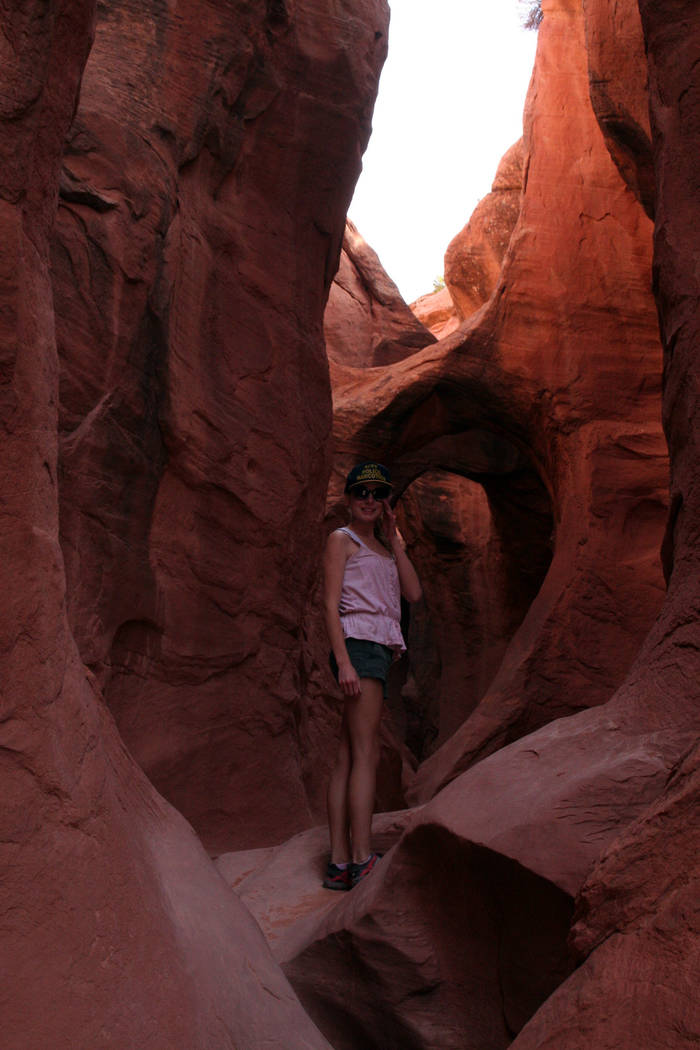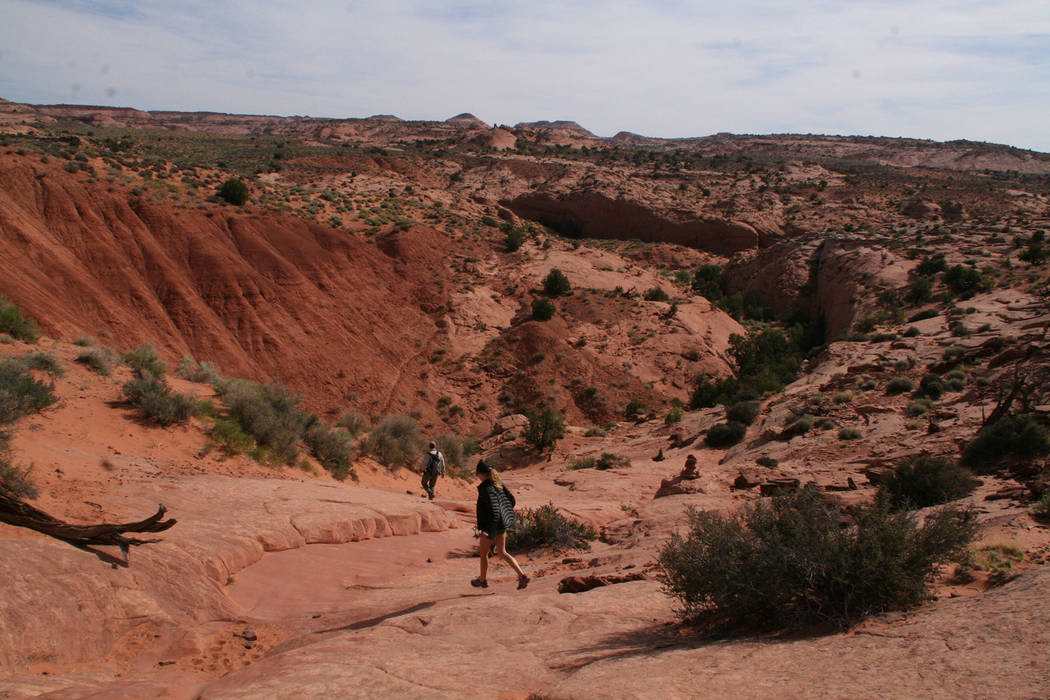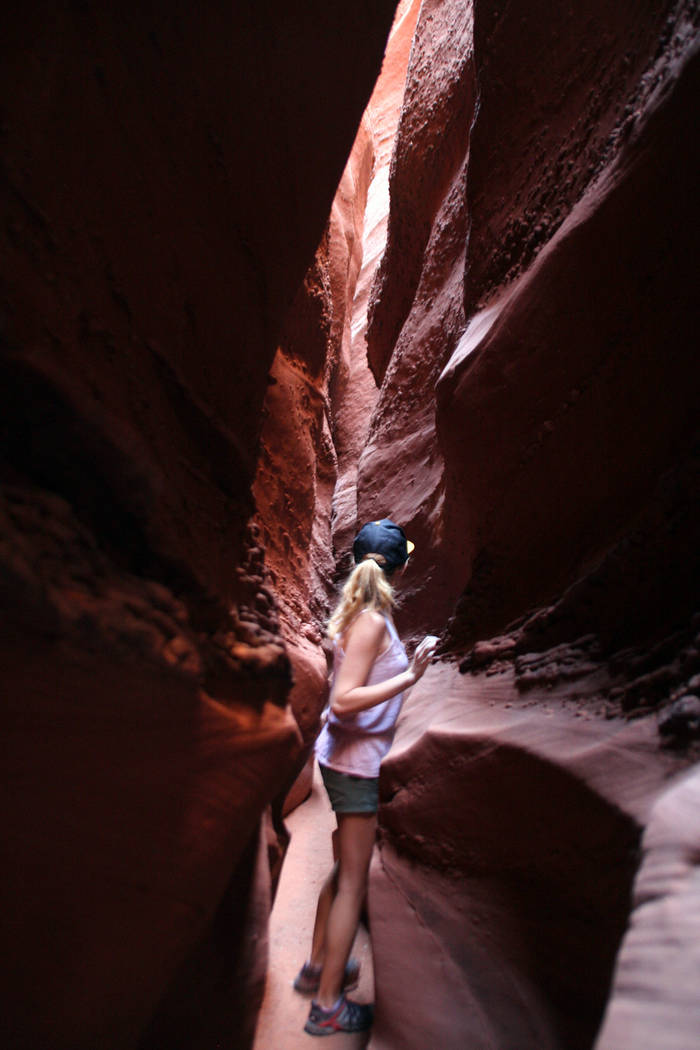 There are hundreds of slot canyons in Utah's Grand Staircase-Escalante National Monument, but most are hard to find, and it may take days afoot to reach them. A few, however, are accessed fairly easily on a day trip, as long as you are up to driving rough gravel roads and able to hike a round-trip of a few moderate miles.
The park, established in 1996, is a large one, about 1.9 million acres stretching from just east of Bryce Canyon to the south, just north of the Arizona Strip and extending south/southeast all the way to Glen Canyon National Recreation Area in Arizona. There are visitor centers in different areas of the park, but for this excursion, you would start at the Escalante Interagency Visitor Center on Utah Route 12 in the town of Escalante.
Not only can the center provide a variety of topographic and road maps for your visit, but its staff is also very knowledgeable on the park and on the changing weather and road conditions, especially pertinent for this trip.
From Escalante, you will head east and then go right onto Hole-in-the-Rock Road. The road can be a rough one and can't be traveled safely if it is wet or if rain threatens. To drive to the trailhead from Escalante, you need to allow one to one-and-a-half hours.
The trailhead is at about 4,950 feet, so expect temperatures 10-15 degrees lower than in Las Vegas, ideal for hiking this time of year. From the parking area, just head on the well-worn path down the somewhat steep, slick rock area, where you will follow cairns that mark your route when a visible path isn't obvious. Take this route down about 1 mile until it ends in a wide and obvious sandy wash called Dry Fork.
To reach Peek-a-boo Gulch, walk directly across the wash to the other side, and you will be at the base of Peek-a-boo, the first slot canyon. The entrance is about 12 feet above you, and sometimes there is a log there standing endways, and sometimes there is no such convenience. But in the latter case, you will find Moki steps carved into the sandstone to assist you. Children will need help at the bottom and the top of this stage.
Once inside, just make your way up the slot, enjoying the corkscrew twists and turns and even getting a bit wet in the tinajas, which will add excitement to the experience along with a little mud. You will even find a rare double arch in the stone. These are tight quarters, so I advise you to arrive early in the morning, so you don't have to share the space with some other party.
Once you exit the way you came, head downstream in the Dry Fork Wash for about one half-mile and look for the cairns that mark your left hand turn to the path. This route starts immediately before a large sandstone outcropping. Walk this mostly sandy path for about five minutes, and you'll reach the entrance to Spooky Gulch.
As long as you aren't claustrophobic, this is a fun one, and especially so for your kids, who will be able to go farther inside than you can, because they are smaller. Be sure to leave your backpacks at the entrance. Keep a sharp lookout as you enter and immediately before, as I have seen rattlesnakes more than once. Be sure to bring a flashlight or headlamp. The adventure normally takes only five or 10 minutes, but if you fail to bring light, and you think about the rattlesnakes, it will seem like weeks.
Wear long pants and shirts, as these slots will get your skin. Never hike, drive or remain near these slots if it is raining or even threatens to rain. The danger of flash floods is very real in the park's slot canyons and has claimed many lives.
Many of Deborah Wall's columns have been compiled in the book "Base Camp Las Vegas, Hiking the Southwestern States." She is also the author of "Great Hikes, a Cerca Country Guide" and a co-author of the book "Access For All, Seeing the Southwest With Limited Mobility." Wall can be reached at Deborabus@aol.com.
Directions
From the Escalante Interagency Visitor Center, drive east on Utah Route 12 for 6 miles, then turn right onto the well-marked Hole-in-the-Rock Road. Follow this gravel road for 26 miles and go left on Dry Fork Road, staying left at the fork and follow about 1½ miles to the trailhead.