Returning soccer players boost girls, boys rosters
August 23, 2017 - 2:18 pm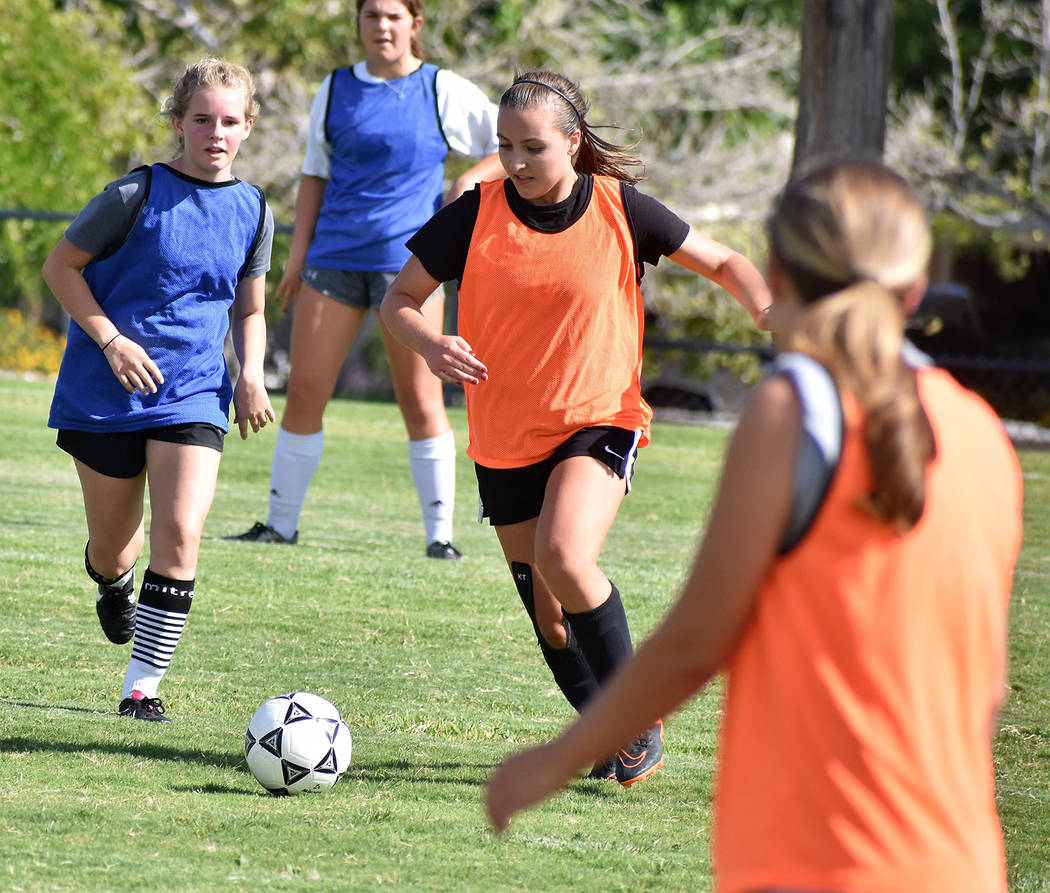 Coach Duncan Stark thinks Boulder City High School's girls soccer team is ready for a return trip after making its first postseason appearance in four years last season.
"Last year we were finally able to put a competitive team on the field," Stark said. "When the recession hit, our program really took a dive. We had to play inexperienced players who finally became experienced players last season. Bringing back a few returners, with some new faces, I like the makeup of this year's team."
Last season's top points earner, sophomore Madison Manns, is poised for a big season after scoring eight goals with three assists as a freshman.
"I learned a lot last season," Manns said. "I'm ready to step it up this season and become more of a leader for my team. I want to lead by example."
Learning from her older sister, senior Sydney Manns, the duo will finally play together for the Lady Eagles after Sydney missed last season with an injury.
"We're really going to benefit from having both of them out there," Stark said. "Sydney's presence on the field will give us an added boost. She's very smart on the field, almost like a player coach. I'm excited to see her out there."
Sophomore Foothill transfer Makenna Araboree also is expected to be a great addition to this year's roster, pairing with sophomore midfielder Trinity Oeland (two goals and two assists) and senior midfielder Nicole Valle (one goal) on offense.
"I'm hoping to just bring an added boost to the offense this season," Araboree said. "Playing club soccer, I feel I can contribute to our team's success."
Junior defenseman Lizzie Taggard (one goal) and sophomore goalkeeper Erin Taggard (two shutouts) also return from last season.
Hoping to match the girls' success from last season, the boys are trying to end their own postseason drought dating back to 2012. Finishing 3-11 a season ago, the program is optimistic this could be the year they put it together on the field.
"We made strides as a program last season," boys head coach Chad Smith said. "Getting better each day is our goal. Last year we won three games, this year we need to win four or five. We're hopeful to fight for a playoff spot."
Bringing back an experienced core centered around senior midfielder Alex Krausman (two goals), sophomore midfielder Patrick Hood (two goals), junior midfielder Robbie Leavitt (one goal) and senior defenseman Jackson Wright, the Eagles feel confident heading into the season.
"We brought back a few key returners, guys I really think can step up and lead the program," Smith said. "Matching their talents with some of our incoming guys, I think we can be much improved."
Of the team's newcomers expected to immediately contribute, freshman striker Julian Balmer is the main addition, drawing high praise from coach Smith.
"Julian's a player we're really high on," Smith said. "He's a very athletic kid, someone who can run the field. We're hopeful he can score some goals for us, like his brother (class of 2017 graduate Sebastian Balmer) did last season."
Starting their season off with a challenge, the Lady Eagles will host 4A opponent Legacy at 3 p.m. Friday.
The Eagles will host The Meadows at 4 p.m. Monday.
Contact Robert Vendettoli at BCRsports@gmail.com.
Girls Soccer
Friday, Aug. 25, vs. Legacy, 3 p.m. varsity, 4:30 p.m. junior varsity
Wednesday, Aug. 30, at Desert Pines, 3 p.m. varsity, 4:30 p.m. junior varsity
Boys Soccer
Monday, Aug. 28, vs. Meadows, 4 p.m. varsity
Wednesday, Aug. 30, vs. Desert Pines, 3 p.m. varsity, 4:30 p.m. junior varsity