Refuge provides sanctuary for wildlife
October 12, 2016 - 1:49 pm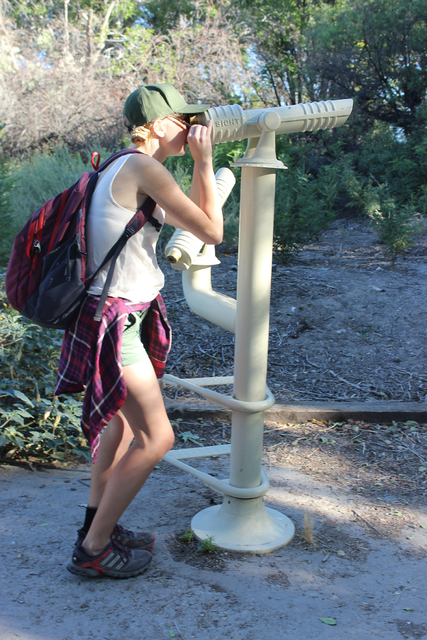 For a short outing from Las Vegas, a trip to Corn Creek at the Desert National Wildlife Refuge is a great choice. Less than 30 miles from the city you can stroll the short nature trails, visit a perennial stream and spring-fed ponds, see lush vegetation and also do some birding in a quiet outdoor environment. And you can do it all in about half a day.
This Sunday is the refuge's Junior Ranger Day. Bring the children along and they could earn a junior refuge ranger badge and Desert National Wildlife Refuge pin. The special family day affords entrance into the Railroad Tie Cabin, bird wing identification and live snake shows. The event takes place from 11 a.m. to 3 p.m.
Established in 1936 to protect the desert bighorn sheep, the wildlife refuge encompasses about 1.6 million acres, although 846,000 is off limits to visitors because it is also part of the military Nellis Test and Training Range.
Corn Creek's elevation is about 2,926 feet, so it might be a few degrees cooler than Las Vegas on any given day.
A visitor center, by definition, is a good place to start a visit. Its job is telling visitors what they are going to see and what it means, and this 10,000-square-foot, state-of-the-art example does the job well. All ages will enjoy the interpretive displays featuring the wildlife and background on the original ranch. The visitor center also sells maps and books.
There is a network of 1½ miles of interconnecting trails at Corn Creek. Starting behind the visitor center you will find five short trails that all interconnect over mostly flat terrain, with three of the trails being ADA accessible. There is no correct way to hike the trails, and you would have a hard time getting lost.
For birders this a top-notch place to spend an early morning, as about 320 species of birds have been recorded at Corn Creek. If your trip here doesn't coincide with the hours of the visitor center, the trails are still open and an outdoor kiosk has trail maps and brochures on what types of birds you might see in any given season. Bring along a field guide to Western birds and a pair of binoculars and you will be well-prepared.
Corn Creek was a private ranch from 1916 until 1939, when the federal government bought the property. As you walk around, seek out the Railroad Tie Cabin, on a side trail off the Coyote Loop. It is estimated to have been built in the 1920s out of railroad ties salvaged from a line that operated from Las Vegas to Beatty from 1906 to 1918. Railroad-tie construction was a fairly common form of folk architecture in early Southern Nevada, but this is one of the few places you can still examine an example.
Near the cabin is the Pahrump poolfish refugium. Here you can look through the viewing windows at the small fish living in a man-made environment much like the spring where they originally lived. That spring ran dry, and this structure holds most of the world's few remaining survivors of this species. The refugium isolates and protects them from nonnative predators such as crayfish and bullfrogs that were illegally introduced here and in other locales in Southern Nevada.
Along the Coyote Loop you also will find mature cottonwood trees, cattails and water-loving plants. You will find a perennial stream, grassy meadow and a fruit orchard that contains pomegranates, almonds and pecans, all making this place especially attractive to our feathered friends.
The refuge is open all year, 24 hours a day. The visitor center is generally open from 8 a.m. to 4:30 p.m. Friday through Sunday. Days and times are subject to change so always call ahead.
For more information, call 702-879-6110 or visit fws.gov/refuge/desert.
Directions
▶ From Boulder City go north on U.S. Highway 95 for 52 miles. Go right onto the paved Corn Creek Road for 3.7 miles to Corn Creek Field Station.
Many of Deborah Wall's columns have been compiled in the book "Base Camp Las Vegas, Hiking the Southwestern States." She is also the author of "Great Hikes, a Cerca Country Guide" and a co-author of the book "Access For All, Seeing the Southwest With Limited Mobility." Wall can be reached at Deborabus@aol.com.