Recent additions, altered rosters benefit Eagles' tennis teams
September 20, 2017 - 3:46 pm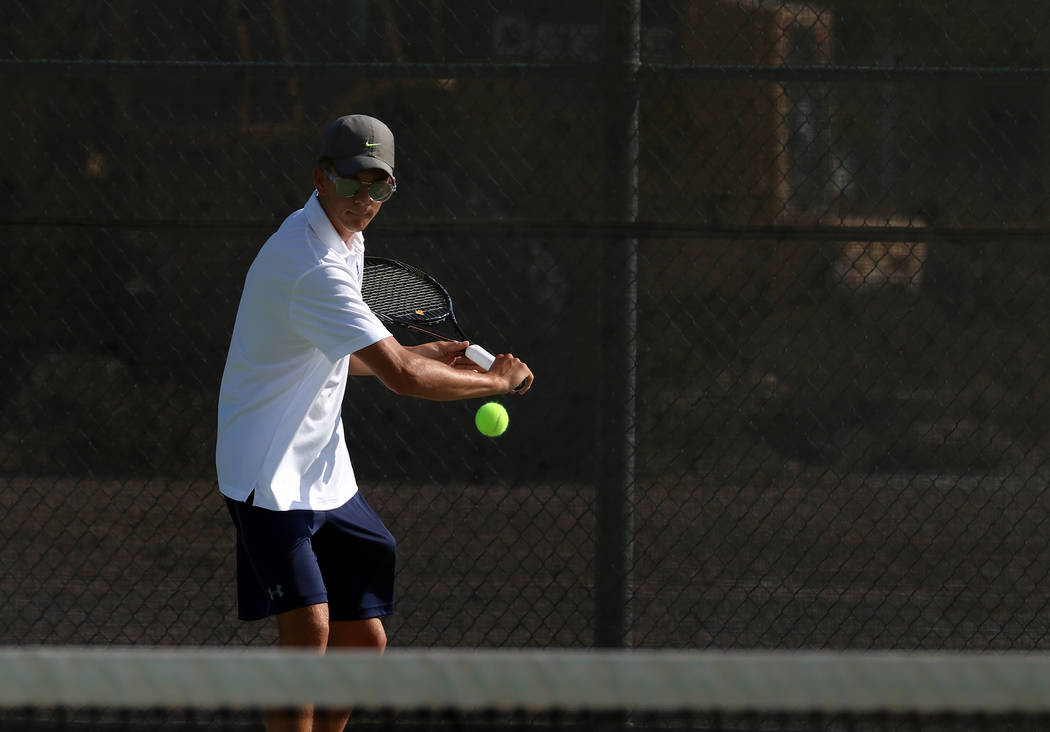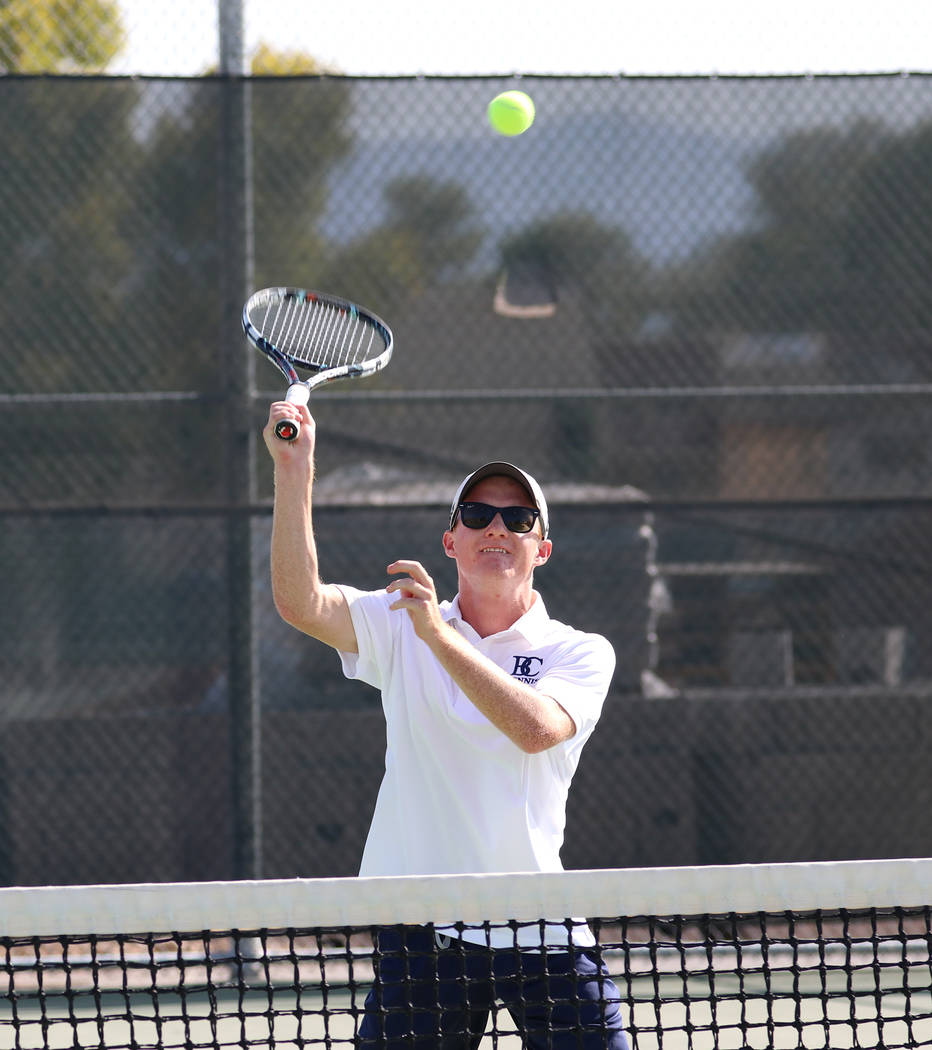 Boulder City High School girls tennis star sophomore Olivia Mikkelson waited patiently on Tuesday at 4A Silverado for her serves to be returned, except the majority of them weren't. Overpowering her opponents with ease, Mikkelson completed a 3-0 sweep on the day, Leading the Lady Eagles past the Skyhawks 14-4.
It's been Mikkelson's usual routine since her addition and a key reason why the Lady Eagles (8-0) remain undefeated in 3A Sunrise League play after defeating Southeast Career Technical Academy 15-3, Moapa Valley 14-4 and Del Sol 12-0 within the past week.
"The addition of Olivia Mikkelson has made a huge difference for our team," sophomore singles competitor Tegan Pappas said. "She's a phenomenal player and we can count on her to win three matches each game."
Teaming with Pappas, who also went 3-0 on Tuesday, the Lady Eagles along with junior Olivia Goodfellow, who went 2-1 have the 3A classification's best singles stable, capable of leading the team toward a state tournament berth.
"The difference in the team this year is we can all see that there's a great chance we can place in state and that pumps everyone up to play their best," Pappas said.
Also helping out doubles play, the addition of Mikkelson has moved former singles competitor junior Natalie Bowman to doubles where she's excelled in recent weeks.
"Natalie did a great job at singles and hasn't missed a beat playing doubles," girls head coach Jami Pappas said. "She has jumped right into that position and held her own. I expect great things in doubles from her."
Teaming with sophomore Olivia Leavitt, the duo dominated the field in a 3-0 sweep, giving the team a solid balance. Also expected to make a difference in the postseason, the duo of junior Heather Patterson and sophomore Katelyn Fox finished 1-1 helping the Lady Eagles knock off their higher-classed opponent.
Knocking off the Skyhawks as well 16-2, the boys have been dominant despite playing a handful of reserve teams this season, sweeping Moapa Valley and Del Sol 18-0, while defeating Southeast Career Technical Academy 17-1 earlier in the week.
"We're super lucky to be so deep in doubles," boys head coach Rachelle Huxford said. "The great thing about that is we get the score we need to win and then I can substitute. We have two reserve teams that step up every time and win. They are undefeated as well. We're fortunate because I know most teams can't do that."
Showing off their depth, the Eagles had five singles competitors Tuesday headlined by senior Andre Pappas, who finished 2-1, and sophomore Connor Mikkelson who has made a great addition in his own right with a 2-0 finish.
Sophomore Breton Erlanger finished 1-1, while fourth and fifth options, senior Sam O'Berto and sophomore Braden Soileau, finished 1-0.
"We're able to substitute players because our team is very deep," Andre Pappas said. "Our backups are just as good and have helped us maintain our winning streak."
Remaining undefeated on the season, the duo of sophomores Boen Huxford and Preston Jorgensen finished 2-0 against Silverado, looking focused toward another extended postseason run.
"We have gotten better since last year and are only getting better by the day," Boen Huxford said. "We know that going into the postseason, it will be tough but Preston and I know we can handle it and will get another shot at a state title. We are not the new kids on the block anymore; we want a shot at redemption."
Also figuring to be seeded highly in individual regionals, the duo of sophomore Karson Bailey and senior Tanner Montgomery finished 3-0, while senior Clayton Pendleton and sophomore Ty Pendleton finished 2-0.
The reserve duos of freshman Ethan Speaker and junior Leaf Kaboli and seniors Kaeden Carver and Adam Clary finished 1-0, giving the Eagles championship-level depth.
Heading into the final stretch of the season, the 8-0 boys have their last pair of league matches this week, traveling to Moapa Valley on Monday and Chaparral on Tuesday before postseason play begins.
Contact Robert Vendettoli at BCRsports@gmail.com.
Upcoming games
Monday, Sept. 25, at Moapa, 3 p.m.
Tuesday, Sept. 19 at Chaparral, 3 p.m.