Price for national basketball camp cut for local athletes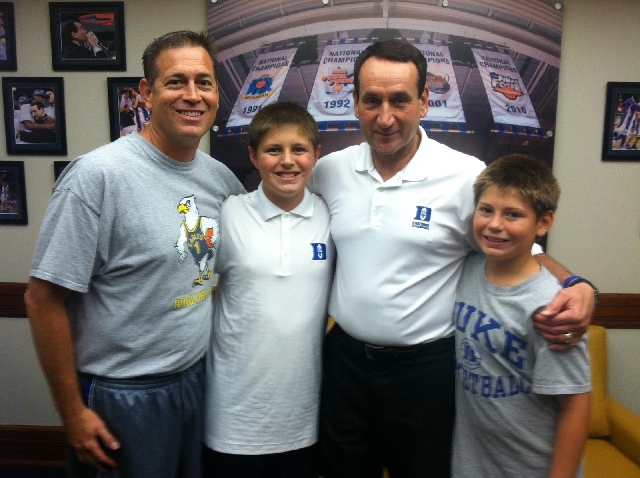 John Balistere has been able to negotiate a price break for an upcoming national basketball academy for players from Boulder City.
Balistere, Boulder City High boys basketball coach for the past two seasons and ambassador for the event, got the price lowered to $100 for local boys and girls wanting to attend the camp. The regular price for the camp for people outside Boulder City is approximately $500.
Basketball training academy Sportek Events of Raleigh, N.C., will bring international talent and pair them up with talent from the United States for the four-day World Championship Cup & Training Camp running July 12-15 in Boulder City.
The camp and tournament are expecting to draw 1,000 middle school and high school boys and girls to the event to be at the gyms at Boulder City High School, Garrett Junior High and the city's Recreation Center.
Balistere said getting the price lowered for the local kids presents a "great opportunity" for athletes to work on conditioning, even if their main sport isn't basketball.
"The strength and conditioning part just doesn't pertain to basketball," he said. "It really pertains to any boy or girl who is an athlete playing any sport. It's about core training and strength. It's about agility and quickness, explosiveness."
The strength training and conditioning will be overseen by Alan Stein, head strength and conditioning coach for the Nike Elite DeMatha Catholic High boys basketball program in Hyattsville, Md. Stein has worked with various NBA players such as LeBron James, Kobe Bryant and Kevin Durant to help improve their conditioning.
Skills training will be 9 a.m. to 4 p.m. during the four days with "some of the best skills coaches in the country," Balistere said.
Other coaches include Mark Adams, who was an assistant coach for Jim Boeheim at Syracuse University and is a skill instructor for the Nike Skills Academy; former 12-year NBA player and current Detroit Piston's assistant coach Dee Brown; and Ganon Baker, a Nike skills trainer whose clients include Chris Paul, Amare Stoudemire and Vince Carter.
Although Balistere is trying to increase interest in the camp for local kids, the response from across the country has been strong.
"We're up to over 500 participants," he said. "We have a couple of teams from the Bahamas that are coming to play. A couple of Brazilian teams and two Chinese teams as well."
A girls team from Atlanta is also making the trip.
The athletes will stay at the MGM Grand in Las Vegas when not in camp.
Camp information is available at www.sportekevents.com.
Balistere is no stranger to working high-profile basketball camps.
He has been going to Durham, N.C., since 2000 to work the annual summer camp of Duke basketball coach Mike Krzyzewski. He has also worked the Sportek camps, traveling to the Bahamas and Florida last year. On the eve of July 15, when the Boulder City camp ends, Balistere will board a plane for Hawaii to work the organization's camp in the Aloha State until July 22.
For Balistere, who is a consultant for MGM Resorts International for its basketball events at MGM Grand and Mandalay Bay, said bringing the camp to town and getting the price lowered for local kids is a way of giving back to the community.
"This is probably one of the bigger basketball events that we have here in town and I think it will be a great opportunity for our kids in the community to experience the best skills, strength and conditioning people in the country," said Balistere, who graduated from Boulder City High in 1984.
Besides strength training and conditioning, attendees will be practicing skill and agility drills, working on footwork, 3-point shooting, and defensive movement. They will be put in a classroom setting where they are going to be analyzing film. Teams will then play against each other in tournament games.
New Boulder City girls varsity coach Paul Dosch will be assisting Balistere at the camp. Dosch was Balistere's assistant at Boulder City the past two seasons.
Junior high and high school boys and girls interested in attending the camp can contact Balistere at 303-8508. Scholarships may be available through the Dan Leach Memorial at dlmf.org.