Pouch tests his mettle at national swim meet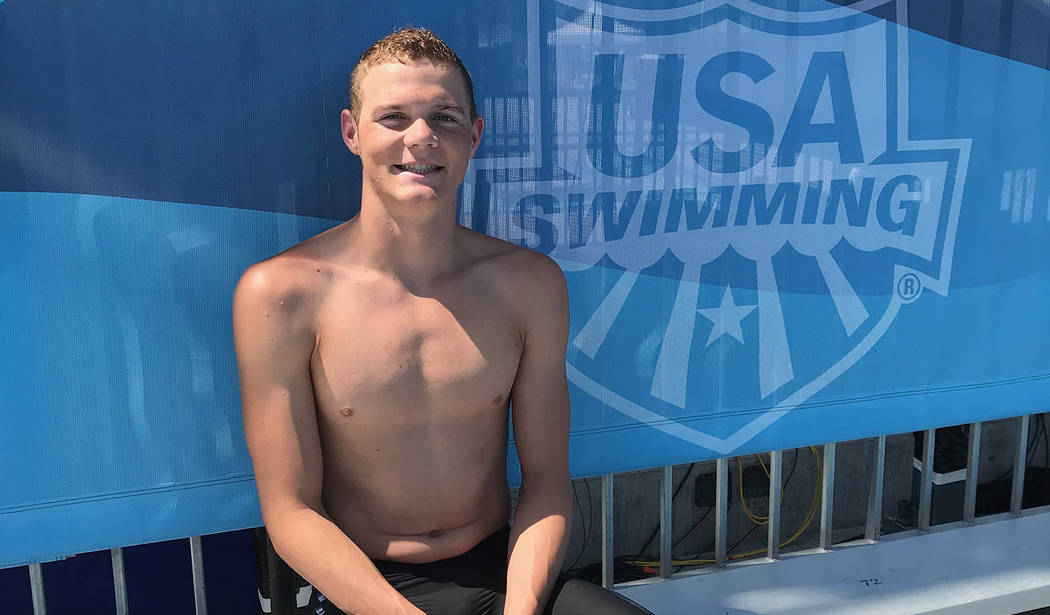 Boulder City High School senior swimmer A.J. Pouch found out that he belongs among the nation's best at the 2018 Phillips 66 National Championships in Irvine, California, July 25-29.
Competing in three events, Pouch, who is heralded as one of the top 10 senior swimmers in the country by Swimswam.com, reached the finals in two, cementing his place as a budding swim star.
"The experience at the Phillips 66 was unreal," Pouch said. "I was racing against guys who I've seen on TV and aspired to be. I was very nervous going into the meet since it was the biggest meet I have ever gone to, but once I raced my first race I knew I belonged here. Overall, I would say I did pretty good for my first nationals."
Experiencing tougher competition than what he is used to with the Eagles and jitters early on, Pouch made it to the finals in the 100- and 200-meter breaststroke races, swimming against a majority of athletes a few years older.
"The competition out here was fierce; trying to win your race didn't mean just swim fast," Pouch said. "It really came down to who wanted it more and who was going to go through the most amount of pain to touch that wall first. That is definitely a lesson I've taken from this meet. This meet was just a stepping stone, and it taught me a lot of lessons as it went on."
Pouch placed 14th in the 200-meter breaststroke and 28th in the 100-meter breaststroke with times of 2:13.42 and 1:02.76, respectively, living up to his recruiting hype.
"I'm pretty happy now that I look back at it," he said. "I wasn't as happy as I should've been at first, only because my whole goal this meet was to place among the top eight and have a chance to compete for a spot on the Pan Pacific Championship team. Placing 14th in my 200 and making another final in my 100 is still more than what a lot of other people got to do though. Just making it to the finals at this meet is a huge accomplishment and a huge honor."
Contact Robert Vendettoli at BCRsports@gmail.com.