Pouch heads to international waters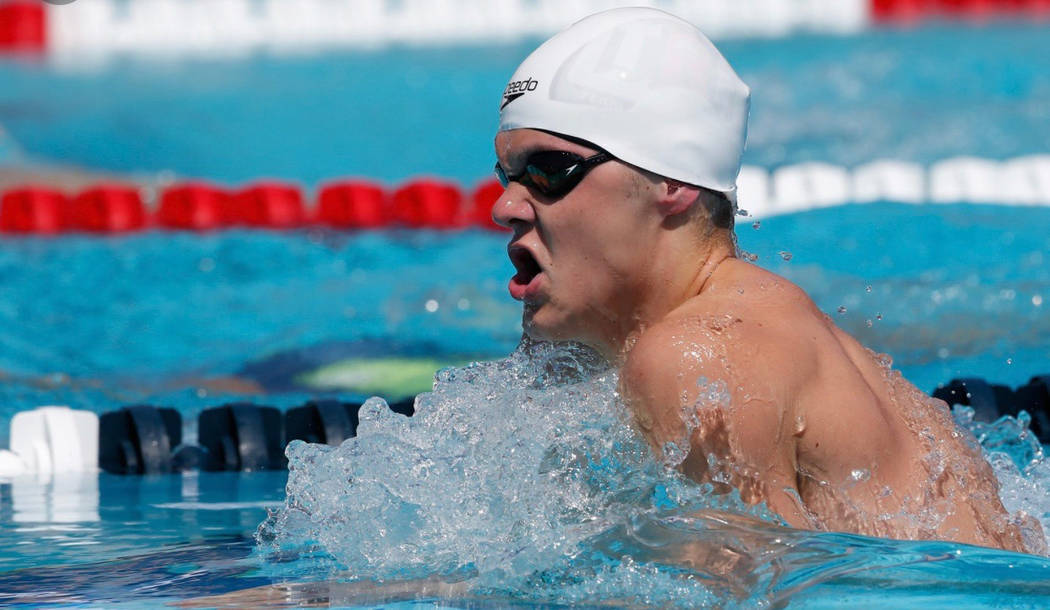 Boulder City High School senior swimmer A.J. Pouch has been selected to represent Team USA at the 2018 Junior Pan Pacific Championships in Suva, Fiji, on Aug. 23-27 after a sensational performance at the 2018 Phillips 66 National Championships in Irvine, California.
Swimming for Team Rebel Aquatics, Pouch will race against the world's top swimmers in the 200-meter breaststroke, after placing 14th at Phillips 66 with a time of 2:13.42.
"I'm very excited and honored to participate in this meet," Pouch said. "Getting to represent Team USA has been one of my goals for as long as I can remember."
Pouch said he is ready for his opportunity to compete in international waters, representing his hometown and country.
"Traveling to another country is going to be extremely exciting," Pouch said. "Knowing that I'm representing something bigger than me miles and miles away is something I won't forget."
Pouch is heralded as a top 10 swimmer in the country by several swimming publications, and his latest achievement is another indication that big things are on the horizon. Still, he prefers to let his times in the pool do the talking.
"In the back of my mind I know that I'm technically one of the top swimmers in the country, but I never like to express that or talk about it very much," he said. "Throughout my swim career I've learned that people who know that they have a higher ranking, and like to boast about it, aren't well-liked. I know that I wouldn't be here or be attending this meet if I weren't as high of a rank as I am now, but it doesn't give me the right to boast about it."
Pouch said it took years of grueling practice and countless sacrifices to get to this moment.
"Each day and practice is brutal," he said. "There are many times when I daydream about hanging out with friends or staying out late, but then I think about my goals and how badly I want to achieve them. Now that I'm at this point, I know that each moment leading up to this was worth it and I wouldn't trade it in for anything. My coaches and I worked hard to be here."
Pouch said he is ready to challenge himself on an international level against the best swimmers in his bracket.
"I'm going into the meet with an open mind," Pouch said. "I'm aware that a lot of these guys have some experience over me, but I'm there for a reason, so anything is possible and everyone is beatable. I know that I've done and currently am doing everything in my power to ensure that I'm training at my maximum potential so I can race with a full heart."
Participating in the 200-meter breaststroke, Pouch is allowed to compete in any event he likes at the Pan Pacific championships. At this time, he is unsure about how many events he'll commit to.
Contact Robert Vendettoli at BCRsports@gmail.com.