Porter betters triathlon results at national tourney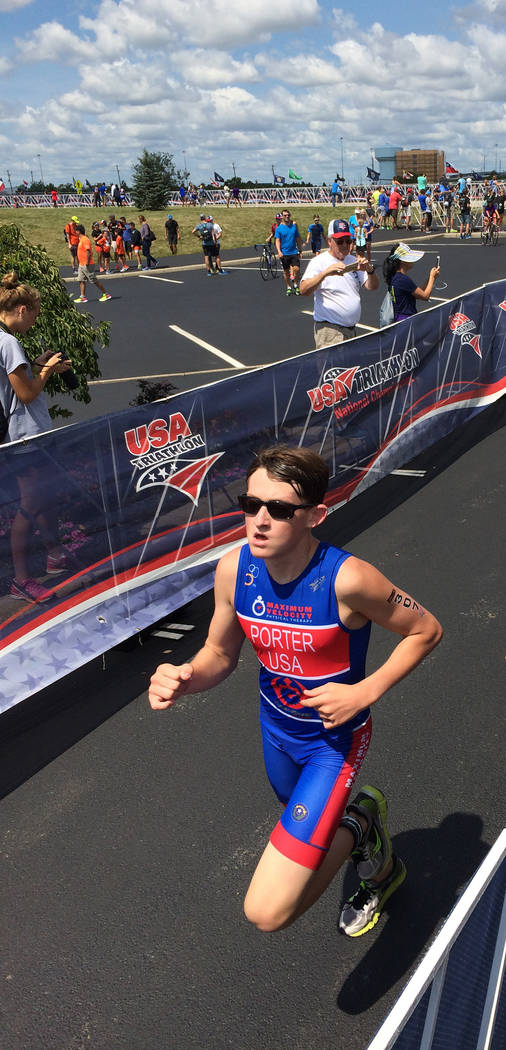 Fourteen-year-old Boulder City resident Ethan Porter took on his toughest challenge yet as a triathlete and placed 35th out of 68 competitors at the Elite National Championship on Saturday, Aug. 5, in West Chester, Ohio.
"I think I did pretty well in Ohio," Porter said. "I posted good times in a few events. It was definitely a learning experience for me moving forward."
Finishing with an overall time of 33:48.52 in the 13-15-year-old age bracket, Porter finished his 375-meter swim split with a time of 5:50.23, followed by a 15:50.45 split in the 10-mile bike ride and a 9:46.53 split in the 2.5-mile run course.
Representing team Hyperspeed of Henderson, Porter improved his time drastically from last year's 43rd-place finish in the regular National Championship event, where he finished with a time of 33:33.75 in the 200-meter swim, 10-mile bike and 2-mile run course.
"Ethan had the race of his life on the biggest stage possible," said Hyperspeed head coach Ron Gallagher. "He was able to fight through a very fast and physical swim in a way he hasn't before. His bike ride was hard but he was able to hold a pace he hasn't been able to before and he was able to kick it up a notch during his run and passed a few competitors in the last quarter mile. I'm so very proud of the work he has done to get to this level of competitions. It's truly an honor to be amongst the top 40 triathletes in the country."
Porter recorded a personal best on the bike, taking off just more than a minute from his usual time.
"I felt like I raced very strong and hard, not just during my bike ride but also pushing myself during the other two events," he said. "I felt overall that I did great compared to where I was a year ago. I have improved a lot from last year's results."
Inexperienced with the Elite course in West Chester, Porter's time splits between events was longer than anticipated, giving him a longer time than his 33:40 qualifying finish June 24 at a regional event in Monroe, Washington.
"The transitions between events were longer than the regional event, but I think I did a good job adjusting," Porter said. "It didn't really put any pressure on me to go faster in the other parts of the race because the transition is so long that it was not just me who had slower times. Thankfully, I was able to keep a good pace and stay comfortable throughout the race."
Starting high school this fall, Porter will run cross-country for Boulder City High School this season, hoping his experience will help him as a triathlete.
"I'm really excited to be starting cross-country," he said. "It's going to help me a lot with my running because I noticed on Saturday that my time was not as fast as I could make it. I'm hoping cross-country will help me condition better and help me improve heading into future events."
Porter's next triathlon event will be the Oct. 21 Pumpkinman 10K Run at Wilbur Square in Boulder City.
Contact Robert Vendettoli at BCRsports@gmail.com.