Playoff loss shifts Lady Eagles' flag football focus to future
February 21, 2018 - 3:11 pm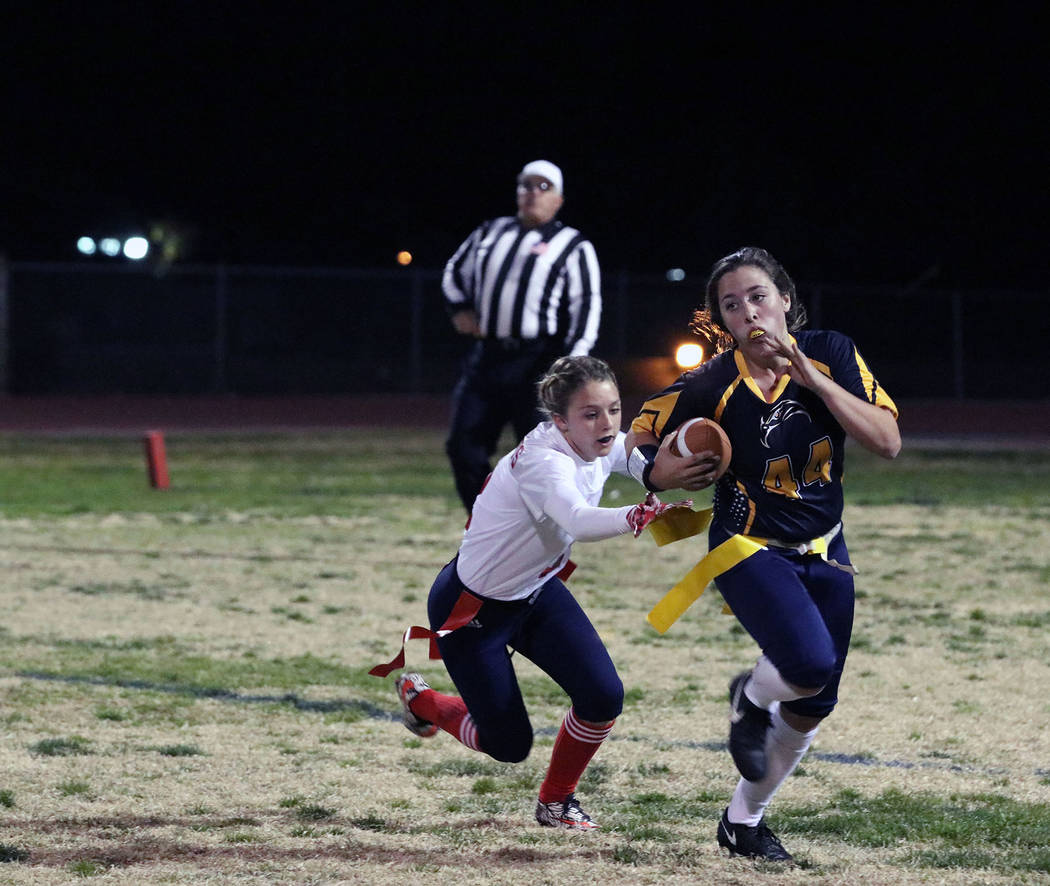 Unable to capitalize on potential scoring drives, Boulder City High School's flag football team concluded its season Feb. 15 with a 24-0 first-round playoff loss to Cheyenne.
"The girls were really disappointed with the outcome," said head coach Kevin Ruth. "We had some scoring drives that didn't end with points. We would move the ball fine to start, but we had a hard time finishing what we started. We felt that the game could have been closer, and finishing drives is definitely something we're going to work on moving forward."
The Lady Eagles finished the year 8-8 after running their playoff streak to five consecutive seasons.
Driving inside the Desert Shield's 20-yard line four times, the Lady Eagles' offense, like it had most of the year, failed to put points on the board. It's an issue Ruth vowed the program would shore up moving forward.
"Coaching for the first time on the varsity level, you don't realize how technical it is," Ruth said. "Offensive play calling is a lot more diverse, the different passing patterns and play calls these coaches come up with. That's something I know I can improve on for myself moving forward and help make us better."
Ending their prep careers on a high note with the Lady Eagles despite the loss, seniors Nikki Meleo and Hannah Barth left it all out on the field.
A two-way star, Meleo led the Lady Eagles with nine tackles, while adding 43 rushing yards on five carries and five catches for 39 yards.
Barth contributed seven tackles defensively and one catch for 10 yards on offense.
Shifting their focus away from their playoff woes and toward the future, Ruth said the program is heading in the right direction, given how many underclassman played this season.
"This playoff run was huge," Ruth said. "We had a lot of underclassman starting for us and playing minutes, so this gets them experience. We're a young group, but we're building. Not just on varsity, but all levels."
Giving the Lady Eagles building blocks for the future, junior playmaker Ryann Reese (three tackles, 15 rushing yards, 11 receiving yards) proved a great addition in her first season. Juniors Elizabeth Taggard (three catches, 23 yards) and Haley Jackson (three catches, 24 yards) are also expected to return.
Showing signs of growth late in the season, sophomore quarterback Makaela Perkins (7-of-14, 54 passing yards, 34 rushing yards) will also return, along with freshman two-way player Kamry Bailey.
"This year's team was young, and most of us were new to the game at this level," Reese said. "As the year went on, we found out how to play the game and play with each other. We made huge improvements late in the season. I think we will show a lot more improvement next year."
Contact Robert Vendettoli at BCRsports@gmail.com.