Pitchers power Eagles baseball team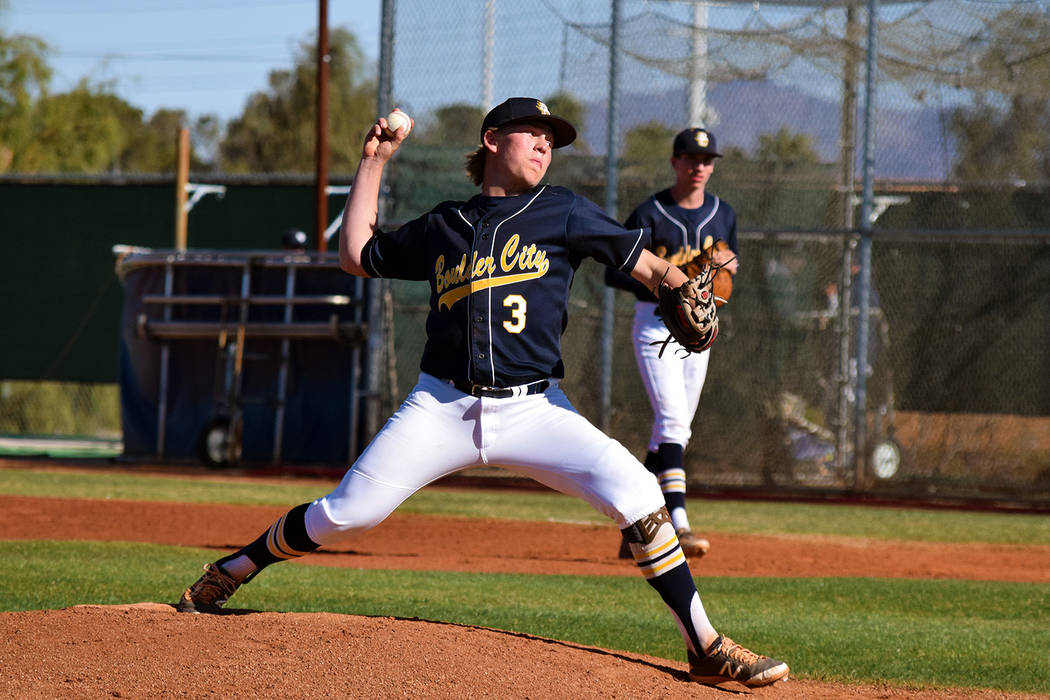 If Boulder City High School baseball team claims its third consecutive 3A state championship, March 26 will be viewed as the turning point in the Eagles' season.
Picking up impressive victories over 4A power Spring Valley and 3A rival Pahrump Valley in a double-header Monday, the Eagles still have miles to improve, but have shown to be a state championship-caliber team when the stage is bright.
"This has been a great week for us," head coach Ed McCann said. "We've played some really good teams and beat some really good teams. I like the way we play baseball when we're ready to go and don't take our opponent lightly. If we can play the game with the type of intensity we've played with this week, then I really like our chances to finish the season as a great team."
Battling through a pitching duel with Spring Valley, the Eagles edged past the Grizzlies 4-3, behind a three-run, sixth-inning offensive explosion.
Coming up clutch in the inning, senior Anthony Pacifico drove home a pair of runners off a breaking hit to left center field to put the Eagles ahead 4-2.
Holding onto the lead, senior pitcher Rhett Armstrong earned the save in the seventh inning despite giving up a run.
Senior Nolan Herr was awarded the victory against Spring Valley, throwing four innings where he allowed two hits and struck out two batters. Senior Chaseton Wagstaff started the game, allowing a pair of runs in the third inning, before being relieved.
"That was a great game to see where we are as a program," McCann said. "I saw a lot of fight out of these guys. I really liked what I saw from our pitching staff, getting the job done. We have a lot of arms that want innings and are capable of stepping up when we need them to. I see a better effort out of these guys every game."
Continuing to build momentum Monday, the Eagles routed the Trojans 12-2 in sixth innings for a premium win against a 3A opponent.
Knocking in four runs in the second inning and five runs in the fifth inning, the Eagles accumulated 16 hits, with four players tallying a pair of run batted in.
Exploding onto the scene, newly eligible senior shortstop Chafton Temple led the way offensively against Pahrump Valley, batting 3-for-5 with two RBIs and two doubles. In three games so far this season, Temple is 5-for-12 at plate, giving the Eagles another capable bat heading into the second half of the season.
"I really think he's going to make a great addition to our club," McCann said. "Our offense has been getting things going lately and this will only help us. This couldn't have come at a better time."
Armstrong (2-for-3), junior Travis Hungerford (2-for-4, one double) and freshman Troy Connell (1-for-1, one double) also tallied two RBIs apiece against the Trojans.
Senior Teddy Lobkowicz picked up his second victory of the season, throwing four innings, striking out five batters while allowing three hits.
Finishing the week 3-2, the Eagles also picked up an 11-1 victory over Cheyenne on March 22, while falling to Mojave 3-1 on March 21 and Foothill 7-0 on March 27.
Wagstaff earned the victory against the Desert Shield, while Hungerford batted 1-for-3 with a two-run triple.
Hoping to build upon their spring break performance, the Eagles (6-8) will travel to Pahrump Valley on Tuesday, April 3.
Contact Robert Vendettoli at BCRsports@gmail.com.
Upcoming games
Friday, March 30, Las Vegas High School JV Invitational, junior varsity
Tuesday, April 3, at Pahrump, 3:30 p.m. varsity; vs. Pahrump, junior varsity