Pappas takes home top tennis honor after undefeated season
November 23, 2016 - 1:57 pm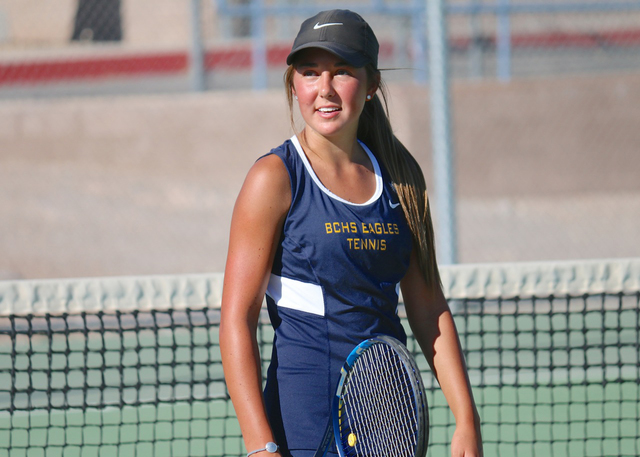 There's going to be some extra hardware in the Pappas household very soon as Lady Eagles freshman tennis star Tegan Pappas earned 3A Sunrise League player of the year honors, following in the footsteps of her brother, junior Andre Pappas, who won the boys award earlier in the month.
"I couldn't be prouder that Tegan won Sunrise player of the year," Boulder City High School coach Katy Dorne said. "Tegan had a very consistent season for us. She was undefeated in regular season and had a tremendous season as a freshman. She always has been a hard worker who came to us as a strong player, who always wanted to better her game."
Finishing her freshman campaign 22-0, Pappas didn't falter during the playoffs, stepping up her game in the 3A Southern Region finals and the 3A state championships, finishing third in each event. Even with all of her early success, Pappas is driven to be even better next season.
"I was very honored to be named first team All-Sunrise and conference player of the year as a freshman," Pappas said. "I had a great tennis season with a great record, and all around it was a very exciting year for me. I am going to be working hard year-round though to better my game for next season. I have a personal coach that I am working with, and I plan on going even further for next season."
Pappas was one of six players from the Lady Eagles' 3A Sunrise league runner-ups to receive all-league honors.
"It is such an amazing accomplishment for the girls who made the all-league teams this year," Dorne said. "We have a young team, and these girls have worked hard to earn such an honorable spot. They are hard workers that don't give up. They always give it their best out on the courts and play hard. I'm very proud of my girls."
Joining Pappas on the All-Sunrise League first team are sophomore singles competitors Natalie Bowman and Olivia Goodfellow, who teamed to give the Lady Eagles the best singles unit in the 3A classification.
Earning the coach's award from Dorne during their team banquet, Bowman was one of the key bright spots this past season, finishing 22-2 as the team's No. 2 player. Also showing great improvement in her second season with the program, Goodfellow gave the team one of the better No. 3 players in the Sunrise, compiling an 18-7 record this season.
"Natalie received the coach's award this year because she had an amazing attitude and showed great drive throughout the season," Dorne said. "She discovered how to control the game and fight for the win. She was always the first to help on the courts and encouraged her team to stay motivated during drills. She's worked hard this year, and it was noticed."
Taking home All-Sunrise League second-team honors was the senior doubles tandem of McKenna Frazier and Kyra Yamamoto, along with freshman Katelyn Fox for her efforts in making each of her doubles teams better.
Finishing 19-4 during their final season with the program, Frazier and Yamamoto ended their prep careers with a seventh-place finish in the Southern Region finals, batting tough with eventual fifth-place finishers and state qualifiers Caroline Liu and Jessica Lelah from The Meadows before falling 6-4, 6-2.
"I think it's really cool that we did that well and earned all-league honors together," Yamamoto said. "It shows that we've improved our game play that much since we started."
Fox was recognized as an individual doubles competitor for her success while teaming up with freshman Sophia Morris for an 11-9 record and with freshman Olivia Leavitt for a 2-1 record.
Contact Robert Vendettoli at BCRsports@gmail.com.