Osman aims for 'big lights;' visit to World Series inspires BCHS junior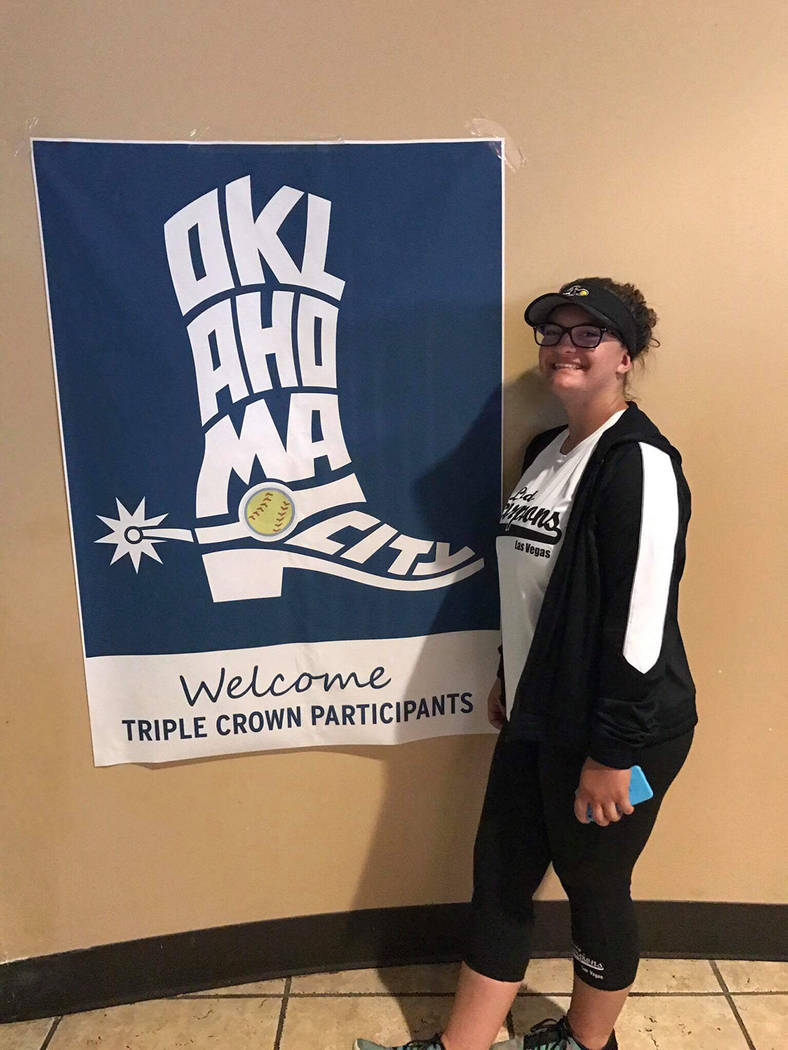 After taking in the NCAA Women's College World Series with her travel team Lady Scorpions in Oklahoma City, Boulder City junior softball star Lily Osman aspires to play under the big lights.
"Being at the World Series was an extremely humbling experience," Osman said. "Seeing it on TV and being there are two totally different things. The atmosphere was electric, especially during the 17-inning championship game. Experiencing that alone has motivated me to work my hardest this summer and improve myself so maybe one day I can make history on that field."
A powerful slugger for the Lady Eagles on the diamond, Osman batted .444 this past season with 26 runs batted in, five home runs and four doubles in only 45 at-bats, half as many as a majority of the team's starters. Translating her high school success to the summer circuit, Osman batted .625 with three doubles and one RBI in three games at the Scorpions' Triple Crown tournament in Oklahoma City during the World Series.
Hoping to continue to make waves on the field this summer, Osman also will play in the USA Preps Stars and Stripes All-Star game during the series tournament June 29-July 2 at Majestic Park in Las Vegas. The event will feature a select group of the country's top travel softball stars.
Division I programs Auburn, Boise State, Oklahoma State, Stanford and UNLV headline an extensive list of more than 100 collegiate programs committed to attend the event for scouting purposes.
"It's an honor to be nominated to play in the Stars and Stripes All-Star game," Osman said. "I'm so excited to be seen by so many collegiate scouts and hopefully build relationships to get me to the next level. I'm a little nervous for it since it's such a huge event, but I'm hopeful to do my best."
Coming off of her last college-exposure camp in Las Vegas, Osman said she feels good about her chances of impressing collegiate scouts at Stars and Stripes after playing well in the Elite Softball Showcase.
"The Elite Softball Showcase was a huge success," Osman said. "I made good connections with some college coaches, and we're hopeful to set up some visits. I got to compete against some great players from all 'round the country and made lots of new friends. The coaches were awesome, and it was an overall amazing experience."
After playing catcher at Triple Crown, Osman is hoping to continue getting used to being behind the plate after injuries kept her from her primary position most of the past three seasons. Listed as a utility player, Osman said she would like to start catching full time this fall after Scorpions teammate and Las Vegas High School slugger Arienn Ackerman departs for college.
Between tournaments, showcases, all-star games and college visits, Osman said she doesn't have much time for anything other than softball this summer, and that's more than fine with the Lady Eagles' slugger.
"I'm motivated to do whatever I can to achieve my dreams," Osman said. "I've been working hard to play at the next level and will continue to put forth my best effort."
Contact Robert Vendettoli at BCRsports@gmail.com.