Organ Pipe park's remote location yields natural beauty
February 9, 2017 - 12:13 pm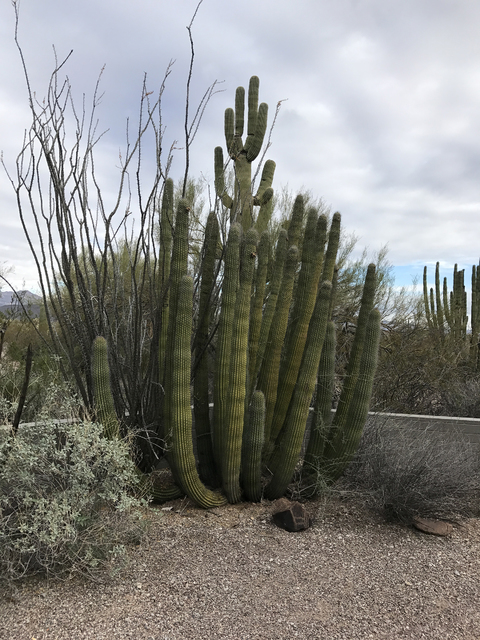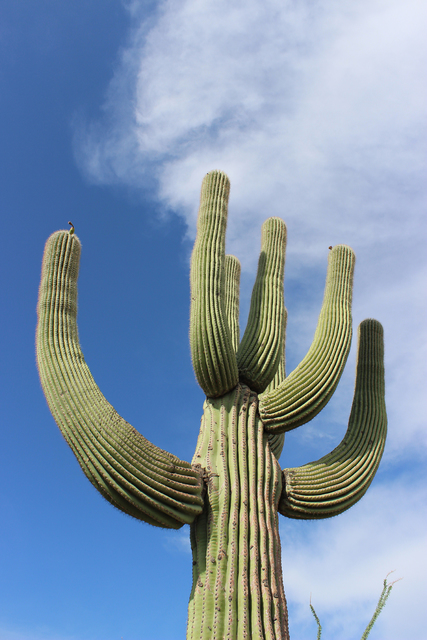 Because of its location on the border between the United States and Mexico about two hours from either Phoenix or Tucson, Arizona, a visit to Organ Pipe Cactus National Monument requires some effort. But the payoff, in addition to seeing unusual cactuses, is the natural beauty of the Sonoran Desert.
Newcomers to the Southwest may not realize that the Sonoran is quite different from the Mojave Desert, and boasts a wider variety of plant life than any other desert in the world. At Organ Pipe that desert is beautifully spread over a landscape of alluvial basins and mountain ranges that vary from 981 feet to 4,800 feet in elevation. Habitats include desert, woodlands/chaparral and riparian.
One of the best ways to see the diversity of the park is by taking one of the two main scenic drives, both mostly along well-maintained gravel roads and therefore suitable for passenger cars. Ajo Mountain Drive is 21 miles and Puerto Blanco Drive is 37 miles, both offering sweeping views as well as access to some of the more popular hiking trails in the monument. Park personnel recommend allowing a minimum of two hours and three hours, respectively, and even more time if it is wildflower season.
That season here lasts from February through April. Even though Mother Nature doesn't present a great show of color every year, something will be blooming, especially on hillsides or in washes. Some flowers you might see include gold Mexican poppies, blue lupine, white Ajo lilies, pink owl clover and orange globe mallow.
There are miles and miles of diverse hiking trails starting from the scenic drives and campgrounds. If you are short on time, at the very minimum take the 250-yard nature trail behind the visitor center, where you will see a representational variety of the park's flora. This trail is flat and good for just about anyone in your group, even those using wheelchairs or electric scooters.
Within the park you will be treated to 28 species of cactus, including its namesake, the organ pipe, rarely seen in the U.S. Though they can be seen thriving farther south in Mexico, this park offers the best growing conditions in our country.
Found most often on rocky, south-facing slopes, the organ pipe cactus (Stenocereus thurberi) can live to more than 150 years and grow as tall as 20 feet. Its creamy-colored flowers appear in May and June, and only at night, closing up before midmorning. Pollination is mostly done by lesser long-nosed bats. The cactus fruit ripens, then splits open and falls to the ground where seedlings may get their start.
White-tailed deer and mule deer live here, as do desert bighorn sheep, javelinas, mountain lions and Sonoran pronghorns. More than 270 bird species have been identified in the park, 36 of which are full-time residents including the ferruginious pygmy owl, gilded flicker, crested caracara and the vermilion flycatcher. The park is also an International Biosphere Reserve, designated in 1976 by the United Nations, protecting the resources of a Sonoran Desert ecosystem.
There is very limited lodging within an hour or two of the park, so camping is usually the best choice. The Twin Peaks Campground is open year-round, and more than 200 campsites are available on a first-come, first-served basis at $16 per night. The campground has water, showers, restrooms, grills, tables and a dump station for recreation vehicles, but no hookups. Fires are allowed in grills only.
Alamo Canyon Campground has only four sites and is open to tent, car or van camping only, on a first-come, first served basis. It is more primitive, but costs only $10 per night.
The park itself is open 24 hours a day and its Chris Eggle Visitor Center is open daily from 8 a.m. to 5 p.m. MST, except Thanksgiving and Christmas. Ranger programs are usually offered daily through March.
One caveat: Because of the park's location on an international border, illegal activities, such as smuggling drugs and humans, sometimes occur here. Although there is an incredibly strong presence of Border Patrol in the area surrounding the park, some personal precautions are in order. Hike only during the day, on established trails only, and never alone. Be vigilant about your surroundings.
For more information, contact the park at www.nps.gov/orpi or 520-387-6849.
Many of Deborah Wall's columns have been compiled in the book "Base Camp Las Vegas, Hiking the Southwestern States." She is also the author of "Great Hikes, a Cerca Country Guide" and a co-author of the book "Access For All, Seeing the Southwest With Limited Mobility." Wall can be reached at Deborabus@aol.com.
Directions
From Boulder City take U.S. Highway 93 south and drive about 70 miles to Kingman, Arizona. Merge onto Interstate 40 East/U.S.-93 South and drive 22 miles. Exit to U.S.-93 South toward Phoenix. Drive about 105 miles and merge for U.S. Route 60 East. Follow for 28 miles and merge onto Arizona 303. Drive 15 miles and merge onto Interstate 10 West and go 12 miles and exit right to Arizona State Route 85 South. Drive south for about 115 miles to the park.