New volleyball coach set to keep team's legacy alive
August 15, 2018 - 4:10 pm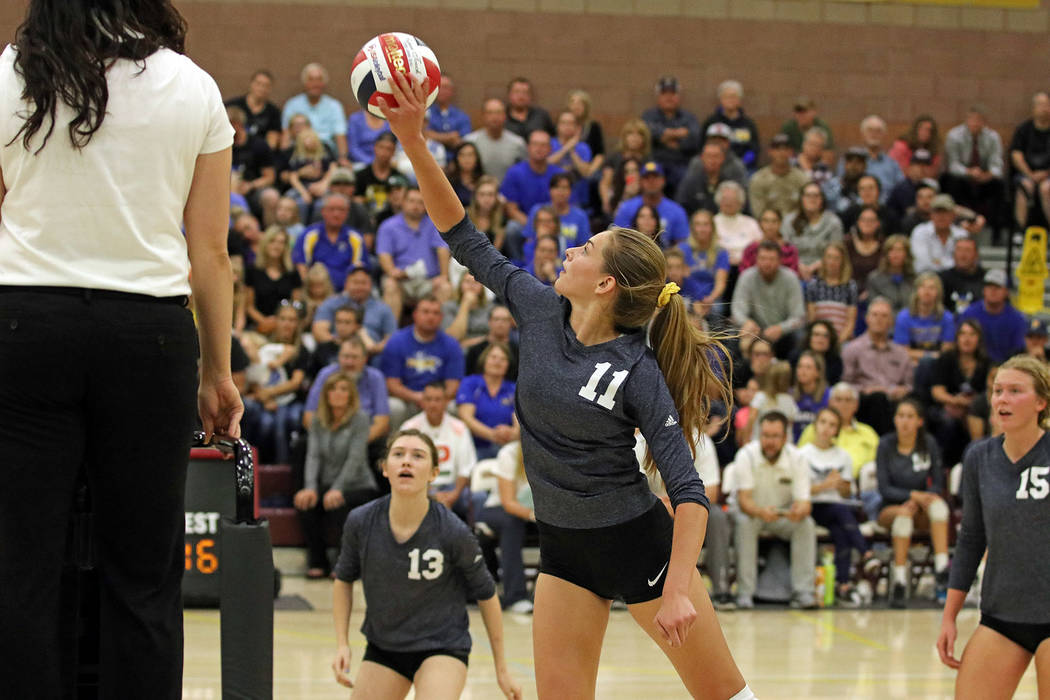 Kurt Bailey, Boulder City High School's new head girls volleyball coach, knows he has a tough task of keeping the Lady Eagles' legacy alive after the team won its first state championship since 1989 last season.
"I definitely think there's pressure on this year's group to go out and have success," he said. "There's pressure on me, too. Taking over for Cherise (Hinman), I believe she made it to the postseason every year she was here. I definitely hope to keep the winning tradition alive and feel like we have a good group to do it."
While replacing the conference's best player from last season, Maggie Roe, and reliable defender Jerra Hinson will be tough, the Lady Eagles do bring back an experienced core ready for the challenge.
"Coming off of winning a state championship, there is always some pressure because there is a target on our backs," sophomore setter Ava Wright said. "Teams are going to push themselves to be better, but so will we. I am confident that our team will rise to the occasion once again."
Breaking out in her first varsity season, sophomore Kamry Bailey gives the Lady Eagles a solid all-around threat to hopefully lessen the blow of Roe's departure. She generated 350 kills offensively while providing 86 serving aces, as well as 276 digs defensively with 17 blocked shots.
"Kamry brings a positive vibe on the court with her and it shows when she plays," Wright said. "She is one of those players who I can rely on in pressure situations."
Setting up Roe and Kamry Bailey for the majority of her 651 assists last season, Wright looks to work returning senior Setia Cox (83 kills) and junior Raegan Herr (76 kills) into the offense this year.
The Lady Eagles bring back several capable defense players, highlighted by senior Ashleigh Wood (199 digs) and sophomore Maddie Wood (90 digs). Herr (49 blocks), Cox (21 blocks) and Kamry Bailey (17) give the group a solid backbone.
Also expected to contribute is sophomore Rachel Krumm, who could be a breakout star after generating 18 digs defensively in the Lady Eagles' state tournament victories against Northern challenger Truckee and rival Moapa Valley.
The team travels to 4A Green Valley, in one of its four matches against higher-classed opponents, to open its season Aug. 23.
"Although some of these games are going to be hard for us, we really want to challenge ourselves this season. I expect us to be better because of these games," Kurt Bailey said.
Contact Robert Vendettoli at BCRsports@gmail.com.