New girls tennis coach sees promise in returning players
August 16, 2017 - 2:52 pm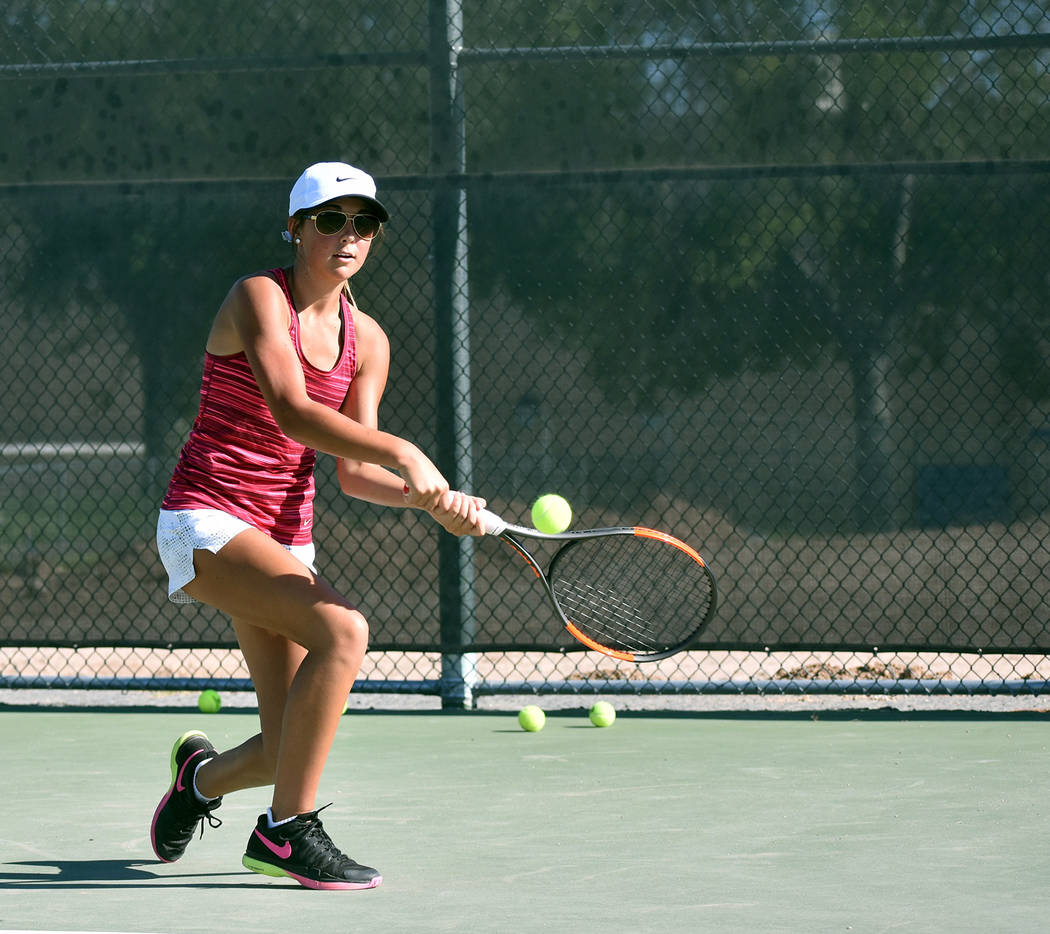 Shaping into one of the best tennis teams in the 3A Southern Region a season ago under former head coach Katy Dorne, newly placed head coach Jami Pappas is hoping to continue to steer Boulder City High School's girls tennis program in the right direction.
"I can't thank coach Dorne enough for all the hard work she put into this team," Pappas said. "As a parent last year who saw my daughter (Tegan Pappas) play, I know she did a great job working with these girls and helping them achieve success. I'm hoping I can come in and continue to do the same."
New to the concept of coaching, Pappas finds herself in a good situation, inheriting a roster that brings back several key returners from last season's 9-2 team that lost in the 3A Southern Region semifinals to eventual state champion The Meadows.
"I definitely got lucky coming into a great situation for my first time," Jami Pappas said. "We have a lot of talented girls on this year's team that I know will contribute at a high level. My only problem as of now is still being new and trying to sort out where they'll all play, but I really like my options."
Losing just two seniors from last season's No. 2 Sunrise seed, the doubles tandem of Kyra Yamamoto and McKenna Frazier, Pappas has a lot to work with this season, bringing back the Lady Eagles' top three singles competitors from a season ago and two top doubles tandems.
Sophomore Tegan Pappas returns after earning the 3A Sunrise top seed during last year's individual tournament and finishing third at state. Teaming with juniors Natalie Bowman and Olivia Goodfellow, who earned No. 3 and 6 seeds, respectively, during regional play, the Lady Eagles have a solid core to lean on.
"I really like the core of this group, I feel we can compete with any team in the state," said Tegan Pappas. "We're all coming back better after last season and are hungry to go deeper in the playoffs. I like our chances to be competitive this season."
Hoping to match the contributions of the singles competitors, the Lady Eagles doubles core returns two experienced tandems headlined by postseason participants junior Heather Patterson and sophomore Kali Martin along with sophomores Sophia Morris and Katelyn Fox.
Patterson and Martin earned a No. 6 seed during regionals, while Morris and Fox earned a No. 7 seed. Sophomore Olivia Leavitt is also expected to be a key doubles player this season.
"What stands out to me about our group is everyone just wants to get better," Morris said. "We're working hard in practice to beat each other, to help each team get better. The competitive spirit so far during practice has been amazing."
Coming one win away last season from winning their first conference title since 2014, the Lady Eagles have the experience to get the job done this season. Bringing back several players with postseason experience, including one of the state's top singles competitors regardless of classification in Pappas, expect the girls to be contenders not only for a conference championship, but a state title as well.
The Lady Eagles will open their season against 4A opponent Basic at home at 3 p.m. Thursday, Aug. 24.
Contact Robert Vendettoli at BCRsports@gmail.com.
Upcoming games
Aug. 24, vs. Basic, 3 p.m.
Aug. 28, at Liberty, 3 p.m.
Aug. 29, at Virgin Valley, 3 p.m.
Aug. 31, vs. Tech, 3 p.m.