New boys tennis coach likes prospects for strong season
August 17, 2016 - 12:39 pm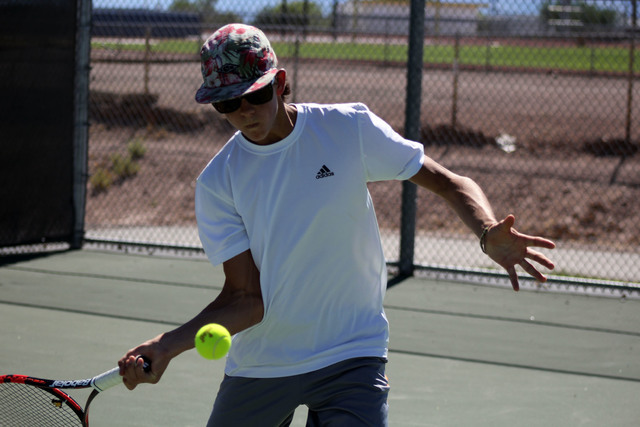 After making it back to the postseason last year for the first time since 2012, the boy's tennis program at Boulder City High School is fired up for a new season to begin.
"I think we proved a bunch of people wrong last year when we made it to the postseason," junior Andre Pappas said. "I feel like we're only going to be better this season."
Coming off a 5-3 campaign in which they were defeated by The Meadows in the Sunrise Division quarterfinals, Pappas said he feels optimistic about the Eagles' chances to surpass last season's record, pointing out that the team's new coaching situation should be one of their main assets this season.
"Our core group stays together from last season, which is only going to make us better with us all being a year older," Pappas said. "Also having coach (Rachelle) Huxford this year, who knows the game well, should also help us because last year coach (Katy) Nash had to keep rotating between both us and the girls."
Coming into her first year with the program, Rachelle Huxford, a long-time assistant with the varsity girls volleyball program, is also optimistic about the boys' chances to play further into the postseason.
"This may only be my first year on the job, but we expect to be highly competitive very early," Huxford said. "I'm inheriting a really deep group of returners along with a lot of newcomers. Right now our summer roster is loaded, so not only will we have great competitions in practice, but we should be able to put out a good player at each position."
Among her returning starters, Pappas will once again anchor the singles unit after establishing himself as one of the division's elite players with a No. 3 seed during last season's individual regional tournament.
"I'm very excited for another season, both as a team and individually," Pappas said. "Last year didn't quite finish how I wanted it to. I've been working hard all summer to not only better our team but to better my game as well for this year's individual regional."
Expected to compete in singles competition as well this season will be junior returner Sam Oberto and freshman Michael Erlanger.
Leading the way for doubles competition this year will be the freshman duo of Boen Huxford and Preston Jorgensen, while junior returner Adam Clary will be paired with freshman Braden Soileau for now. Juniors Tanner Montgomery and Clayton Pendleton also will be in the doubles rotation.
"I think all of our doubles teams are going to be very solid," Clary said. "I expect great things not only from myself, but our unit this season."
Starting their regular season slate Aug. 31 at home against Virgin Valley, the Eagles' primary goal this season is to hang a division banner.
"Honestly, I believe top to bottom that this is a really deep group," coach Huxford said. "We're looking to sweep our region this year and I think we have a great chance of doing it."
Contact Robert Vendettoli at BCRsports@gmail.com.