Moorhead named softball region coach of year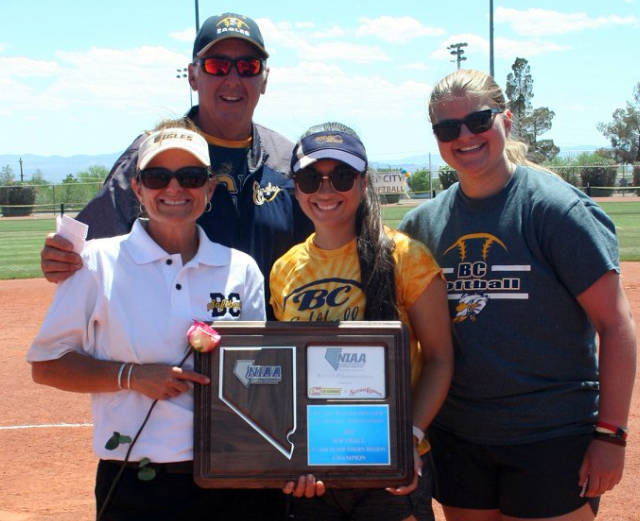 Angelica Moorhead was named Southern Region softball coach of the year after guiding Boulder City High School's team back to the 3A state tournament.
"It's definitely an honor to be named coach of the year, but it takes a village to get the job done," Moorhead said. "I have a phenomenal coaching staff, so we all earned this together."
Crediting her players for leading the Lady Eagles back to the state tournament after a season on hiatus, Moorhead said she was honored to share this award with her girls.
"The kids do all the work; we just help guide them and hope we are doing our job," she said. "Every year it is our goal to make it to the state tournament. Next year will be no different."
Finishing the season with a 25-11 record, the Lady Eagles ended their year a game away from a state championship game berth, leaving Moorhead thirsty for her first state title with the program.
"We really thought this was our year," Moorhead said. "I guess it wasn't in the cards. We are already looking into next year's season and, although it will be different, we are super excited. Boulder City has always been a super program, our goal is to keep it that way."
Continuing the winning tradition left by former state championship-winning coach Bruce Reid, Moorhead has not only led the Lady Eagles to three state tournament appearances but is renowned by her athletes for getting the most out of their potential.
"Coach is all about improving the team as a whole," new graduate Bailey Bennett-Jordan said. "It's not about trying to improve the person individually, it's about doing the small drills that help everyone. During my three years on varsity, I was able to see a different type of coaching that benefited everyone. She made sure everyone got some playing time within the season while improving their skills."
Sad to see her tenure end under Moorhead, Bennett-Jordan was one of five seniors (the others were Micayla Gegan, Jerra Hinson, Jordan Moorhead and Lily Osman) who made a pair of state tournament appearances with coach (2018 and 2016).
Bennett-Jordan, who served as the Lady Eagles' pitching ace the last two seasons, said she is fortunate that the good memories outshine their state tournament woes.
"Honestly, it still upsets me that we weren't able to bring home a championship for coach," Bennett-Jordan said. "Our coaching staff has worked hard to prepare us and deserve just as much credit for all of our success. I'm thankful that I got the opportunity to play with my teammates and under our coaches. I'll never forget this chapter of my life."
Contact Robert Vendettoli at BCRsports@gmail.com.