Memory of last season's loss propels girls tennis team
August 17, 2016 - 12:39 pm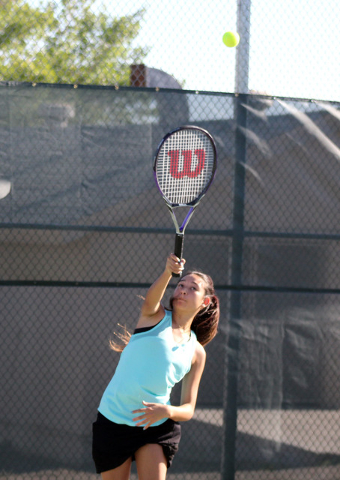 Snapping a string of three consecutive Sunrise League championships last season by missing the postseason entirely, Boulder City High School senior Kyra Yamamoto is determined to use last year's emotions toward making sure the Lady Eagles don't slip up again.
"The end of last season was really emotional for a lot of us," Yamamoto said. "I honestly couldn't help but cry when the regular season was over. We experienced so much winning during my first two years that a lot of girls were crushed when we not only didn't repeat as champions to make it four years in a row, but missed the playoffs. I'm going to do everything I can to make sure I never have to feel like that again."
Expected to be the Lady Eagles' top returner this season, Yamamoto and her teammates will have to overcome their postseason woes without a pair of their top returners: Harley Fullmer and Natalia Fullmer, who recently moved out of the district.
"One minute they were here practicing with the team and the next they weren't," boy's coach Rachelle Huxford said, while filling in for head coach Katy (nee Nash) Dorne. "The girls were really upset about the loss, not only because they were strong competitors, but because they were great teammates to the girls. It's going to be tough because they were all a close-knit group, but Katy and I are hopeful the girls can overcome it this late in the off-season."
Echoing coach Huxford's comment, Yamamoto is choosing to focus on the remaining positives, rather than dwell on the loss of her two friends.
"It's going to be really tough to play my senior year without them, but we have a few returners and a nice group of freshman to focus on," Yamamoto said. "I'm excited for my final season."
Of the incoming freshman, Tegan Pappas, the younger sister of boys junior player Andre Pappas, should be one of the Lady Eagles' top singles players, along with sophomore Natalie Bowman.
"I'm really excited to start my high school career," Pappas said. "I've been watching Andre for the past few years so I'm glad it's my turn to finally play. I'm hopeful to come in and win matches earlier and contribute to my team."
Expecting to have one of the division's best doubles units as well, Yamamoto and senior McKena Frazier will pair together for a fourth and final year, while the duos of sophomores Heather Patterson and Kali Martin and freshmen Katelyn Fox and Sophia Morris should be the second and third starting groups.
Contact Robert Vendettoli at BCRsports@gmail.com.