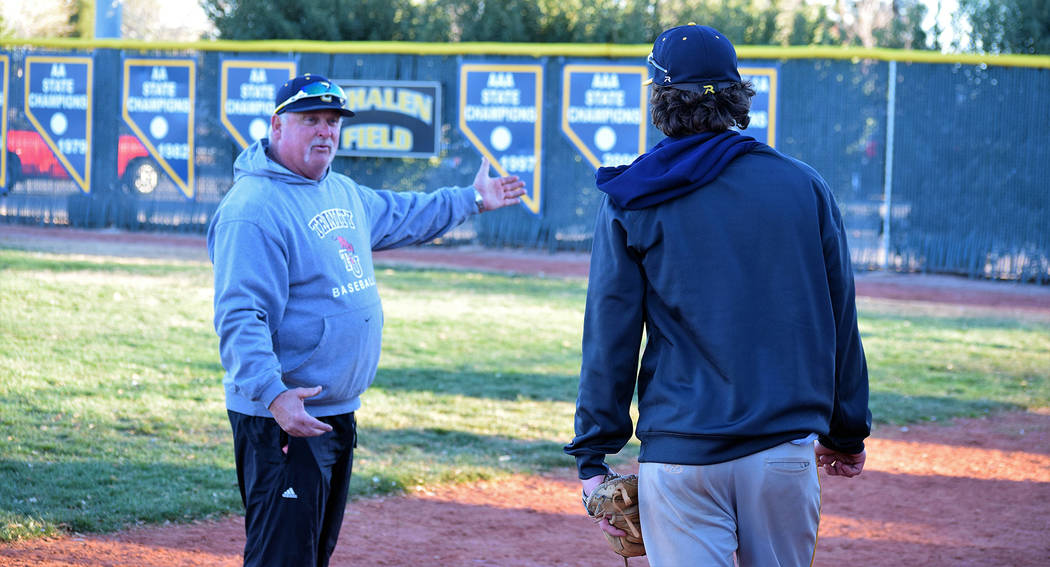 For the second year in a row, Boulder City High School baseball coach Ed McCann was named 3A coach of the year, but this is the first time he'll truly enjoy the award.
"Honestly, I feel like I'm able to sit back and enjoy the honor this year," the first-year Eagles coach said. "Last year, by the end of the season, the game just wasn't fun for me anymore. I was stressed. This year is the complete opposite; it's helped rejuvenate me. I'm proud of our coaching staff for earning this honor."
Coaching at rival Moapa Valley last year, McCann said he felt burnt out at the end of the season after gaining little support during his time with the program. Applauding his coaching staff for carrying the load this year, he said they brought the fun back to the ballpark.
"When I was at Moapa Valley last year, it felt like I had to do everything because I was by myself," McCann said. "This year, I come to the ballpark and I ask myself what do I do because this coaching staff at Boulder City is already getting it done. I honestly couldn't have asked to work with a better group of coaches. In my opinion this is the best staff in the state. They made the game of baseball fun again."
Praising assistants Alex Moore, Chris Morelli, John Nelson and Jimmy Lane individually, McCann said it was their hard work each day that not only made him look good but continued the Eagles' four-year streak of 3A state tournament appearances.
"Honestly, I don't know where I'd be without this coaching staff," he said. "Each and every one of them brings something great to the table, something different to keep us a well-rounded ball club. These guys really know their stuff. I've been coaching for 35 years at several levels, including college. I honestly haven't seen this type of coaching talent all come together before."
Winning the award in part for turning the Eagles' baseball season around, the team started out 3-9 before running the table with a 9-1 3A Sunrise League record.
"We started out the season really poor and, I'm not gonna lie, it had me feeling like I was on the hot seat," McCann said. "The coaches kept telling me though wait it out, stay patient, it will come around. From the beginning they all believed and I think that really helped the players believe and buy into the system. I really think we got the most out of their potential this season."
Completing changing the team's philosophy, McCann installed an aggressive base-running approach that paid dividends.
With 135 stolen bases on the year, the Eagles shattered last season's total of 64 stolen bases, constantly putting pressure on their opponents.
"The improvement in their base running is night and day better than when I first got here," McCann said. "It's all about their approach, their mentality. They became aggressive."
Taking notice of his coach's aggressive style, four-year varsity letter winner D.J. Reese said McCann changed the culture of the program while allowing him to shine individually in his last season.
"He changed the whole way we did practice and he made us work," Reese said. "He came out right where we left off and he meant business. I personally loved playing for coach because he was someone I could shine for. Since my dad was my coach the last three years I always had that looming shadow above my head. Once McCann got the job, I could prove to everyone that I was good enough to be on the field."
McCann said he's proud of his team, despite falling short of its ultimate goal of winning the 3A state championship, and he is eager to get to work for next year.
"We're losing a lot of seniors but we got a lot of really talented underclassman coming up who are hungry," he said. "Our coaching staff is hungry. These guys aren't used to losing. I'm excited for the future."
Contact Robert Vendettoli at BCRsports@gmail.com.