Lundgaard's legacy: Top swimmer, son of coaches helps lead next generation of star athletes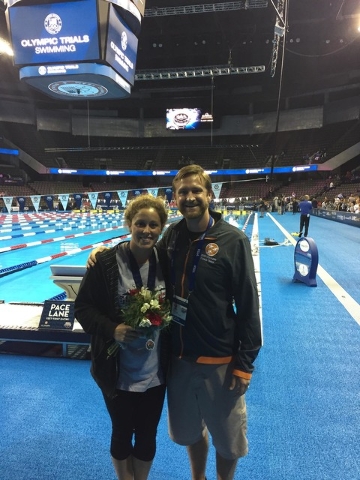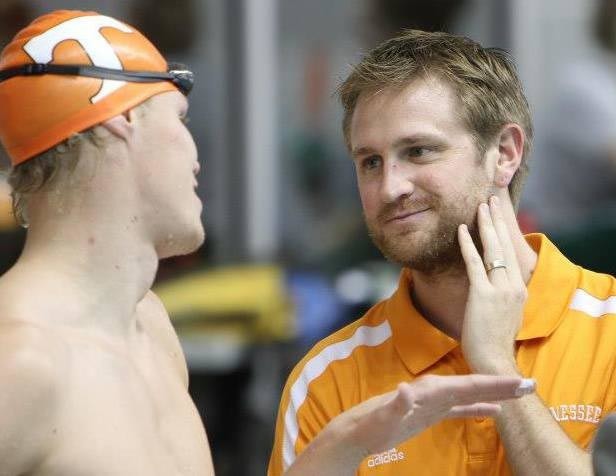 Rising through the collegiate coaching ranks like he did as a collegiate swimmer, Boulder City High alumni Bret Lundgaard finds himself in a good place.
Despite qualifying for the U.S. Olympic Trials in the 100 meter butterfly in 2008, Lundgaard, who swam for the University of Washington from 2004-08 and now coaches for the University of Tennessee, decided against participating for a chance to represent his country, citing personal differences with the sport.
Fast forward eight years and it's those same differences that kept him out of the 2008 Olympics in Beijing that helped him land former University of Tennessee swimmer Molly Hannis in the 2016 games in Rio de Janeiro.
"Obviously it's an understatement to say that everyone's dream growing up is to participate in the Olympics," the member of the class of 2004 said. "I had my opportunity to compete, but at the time I was having a real issue with my passion for the sport. My heart wasn't all the way there. Looking back on that, I believe that's what fuels me today to be the best coach that I can be. I remember what it's like to be a collegiate swimmer pushing for your dreams, which is why I feel like I can relate to my athletes."
Lundgaard said that Hannis, who finished third at the 2016 U.S. Olympic Trials on July 1 in Omaha, Nebraska, in the 200-meter breaststroke with a time of 2:24.39, gaining an Olympic berth is most certainly his greatest coaching achievement to date.
OVERWHELMING FEELING
"It's honestly an overwhelming feeling to know that she made it, and that she'll be making the trip to Rio de Janeiro to represent our country," Lundgaard said. "I've had the privileged to coach Molly in college through many personal accomplishments, but this one is certainly the biggest and the one that makes me the proudest."
And the member of Boulder City High's Sports Hall of Fame has much to be proud of, including helping his team win three state championships during his time at the school from 2001 to 2004. In addition, his record in the 200-meter individual medley still stands.
Recalling a conversation he had with Hannis last year, when the newly announced Olympic swimmer came to him with new personal goals, Lundgaard said that the feeling he got in Omaha was overwhelming once Hannis' Olympic dreams came to fruition.
"Throughout the most of Molly's career, she was very timid about the direction she wanted to go in with the sport," Lundgaard said. "Afraid to fail at times myself, I could relate to her, which is what I feel made our bond as a swimmer-coach stronger this past year. When she came to me last year and said she wanted to become an Olympian, I knew she was serious. We put in the work and it's now been a dream realized for both of us."
REWARDING CAREER
Along with guiding Hannis to the 2016 Olympic Games as her personal coach, Lundgaard has carved out a nice career as an assistant coach during the past decade, originally finding his place at West Point, where he found success with the Black Knights during his three-year tenure from 2009 to 2011, before joining the Volunteers in 2012.
"I've been blessed to have success at both Army and Tennessee up to this point," Lundgaard said. "It's been a rewarding experience getting to coach such amazing athletes. I always said that I was an average swimmer, and I feel that has made me an even better coach. Coming from a family of coaches, it's truly been a blessing to find my niche here in the sport."
The son of Boulder City High School head coach Sara Carroll and stepson of Boulder City Desert Storm head coach Bill Carroll, Lundgaard said that he hopes to rise up the coaching ranks in the coming years and guide his own programs, regardless of division.
Working primarily with the Tennessee breaststroke and butterfly swimmers, as well as the middle-distance groups, Lundgaard also serves as the Volunteers' recruiting coordinator and camp director, where he's landed multiple top five men's and women's recruiting classes during his tenure.
"I believe in time, I have what it takes to run a program," Lundgaard said. "It's a personal goal of mine that I've set and I'm driven to accomplish it one day. Opportunities at the Division I level are very scarce, so for now I'm comfortable being an assistant and getting better at my craft each day. When the opportunity hopefully presents itself, I'll be ready."
Contact Robert Vendettoli at BCRsports@gmail.com.