Longtime softball coach announces retirement
August 15, 2013 - 1:03 am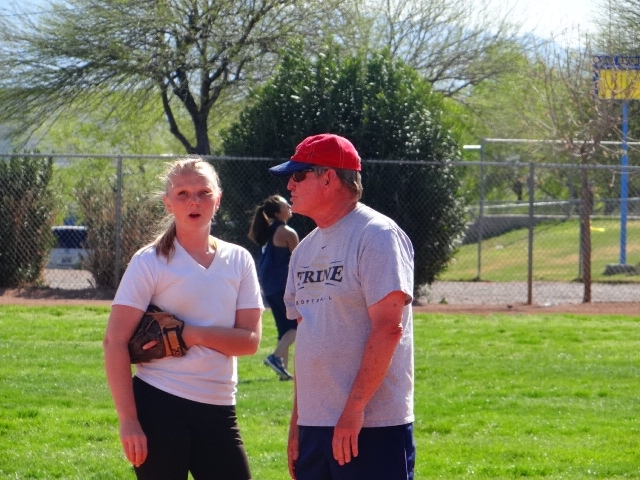 It took Bruce Reid three months of soul-searching to finally decide.
On Aug. 10 he reached the decision that saddened the Boulder City softball community : After 19 seasons, the past 11 as head coach, he has retired as coach of the Lady Eagles.
"I still love the game, and I have been blessed with so many great kids in the past, and, judging from what I see coming up in the program, it still looks strong for another seven years," Reid said. "But I just felt it was time to retire.
"When the season ended in May, I was still unsure if it was my final year or not. But I have been really thinking about it since then, and I want to leave the game while I still love it. I never wanted it to become a 'job.' In recent years it was hard at times to get up and go out there.
"I am not totally gone. I will still attend games as a fan and will likely work with a few individuals. But as far as the day-to-day operations of the program, as far as head coach, I am done."
The position will be opened for hire in September once school begins, Boulder City High Athletic Director Regina Quintero said.
"Bruce is a great person and a great coach," said Quintero, who was the previous head coach for the eight seasons that Reid was an assistant. "He was a very hard worker who always was dedicated to the high school and the kids and to keeping the program among the best in the state."
Many thought Reid would retire after the 2012 season when a special era in Boulder City softball ended. Although it was the final season for other seniors, it was in particular the final game for a trio of all-state athletes in pitcher Karlee Koopman, catcher Taylor McKeever and first baseman Ali Rants.
Never in school history had there been such a run of success and achievements as those three garnered across their four years of varsity play. Their record as four-year varsity starters was 128 wins and 17 losses — and they never lost a home game. The two losses in the 2012 state tournament were the only losses that season against Nevada teams .
They were state runner-up in 2009, state champions in 2010, and finished third in 2011 and fourth in 2012.
The Lady Eagles ended the 2012 season with a 29-5 record and won 27 games in a row. They went two months between losses, from March 10 until the 5-4 state semifinal loss to Lowry May 11 .
They won the Southern League regular season and postseason championships each of their four seasons. During the four seasons, Boulder City went 45-0 in Southern League play, outscoring opponents 581-54 including 23 shutouts. The closest game was a 9-8 home game against rival Virgin Valley on May 7, 2010.
Koopman broke the single-season RBI school record in 2012. McKeever was the state MVP in 2010.
"Wow, that was a very special time for me as a coach, and it will always bring great memories when I think of that time period," said Reid, who had a career record of 265-104 for a 71.8 winning percentage. "Anytime you win almost 72 percent of all your games, credit has to go out to the all kids that played and the parents that supported them."
His former players said he will be missed.
"One of my highlights as a player was my freshman year when he pulled me aside and said, 'So, I hear you are a big jokester. The next four years are going to be a blast.' And, they were," Koopman said. "My four years playing softball there were the best. It is sad that he will no longer be there.
"He made us all feel comfortable, and we enjoyed playing for him. He let us be ourselves and smart off, but always kept it serious enough to always be working hard and winning."
Reid also recalled a few other cherished memories, such as winning the state championship in 2010 and his teams winning four academic state titles during his tenure. The 2010 team won both titles, on and off the field, with a team GPA of 3.8.
He recalled being an assistant coach when the Lady Eagles won state titles in 1997 and 1999 with his daughter Noel as a player on those teams.
"Through the years as an assistant and as the head coach there were so many great athletes, so many great kids that made me proud to know them," said Reid, who graduated in 1964 from Basic High in Henderson and retired in 1999 from AT&T after 35 years as an employee. "I will always think back to my great memories at Boulder City."
Reid and his wife, Charlene, an English teacher at Boulder City, became grandparents for the second time Aug. 5 when Noel gave birth to a girl.
"We now have two grandchildren: one boy who is 12, and the new girl. We enjoy being a part of their lives," Reid said.
Rants is one former player who was glad that Reid was a part of her life.
"My favorite high school memory is winning the state title in 2010, and it would not have been possible without coach," Rants said. "He always pushed us to be the best.
"In my heart I will always miss playing for him. No one made playing as enjoyable as he did. He really cared about his players, worked us hard and always made sure we had fun.
"It is a loss for the school and the softball program and I don't know how they will ever find another coach like him. Thanks for everything, coach; we love you."