Lone Pine conjures images of old West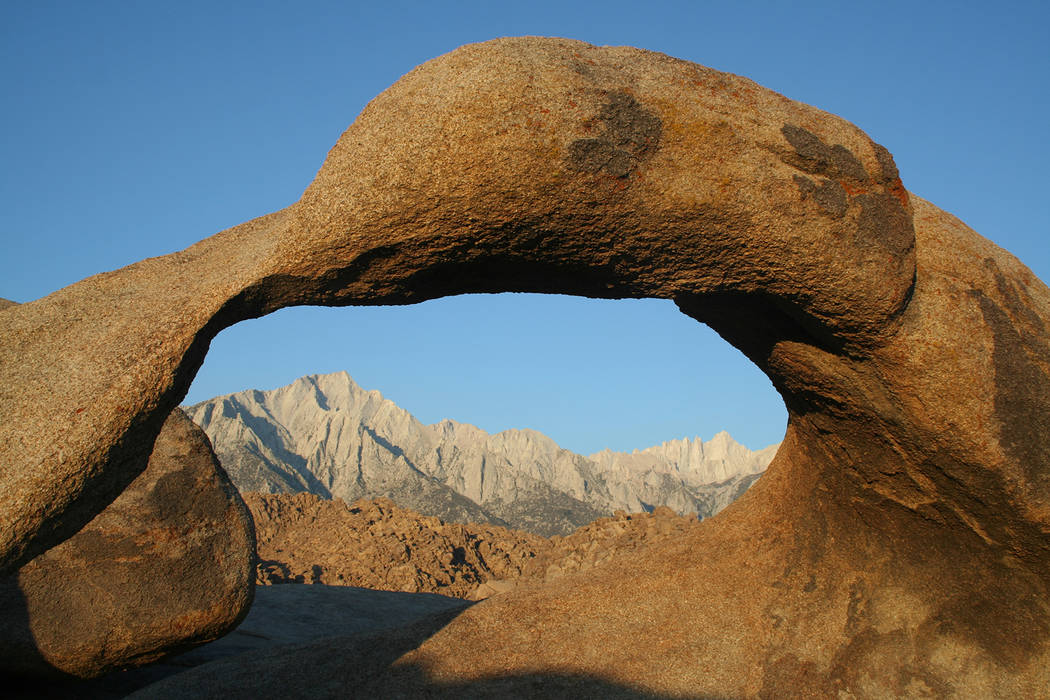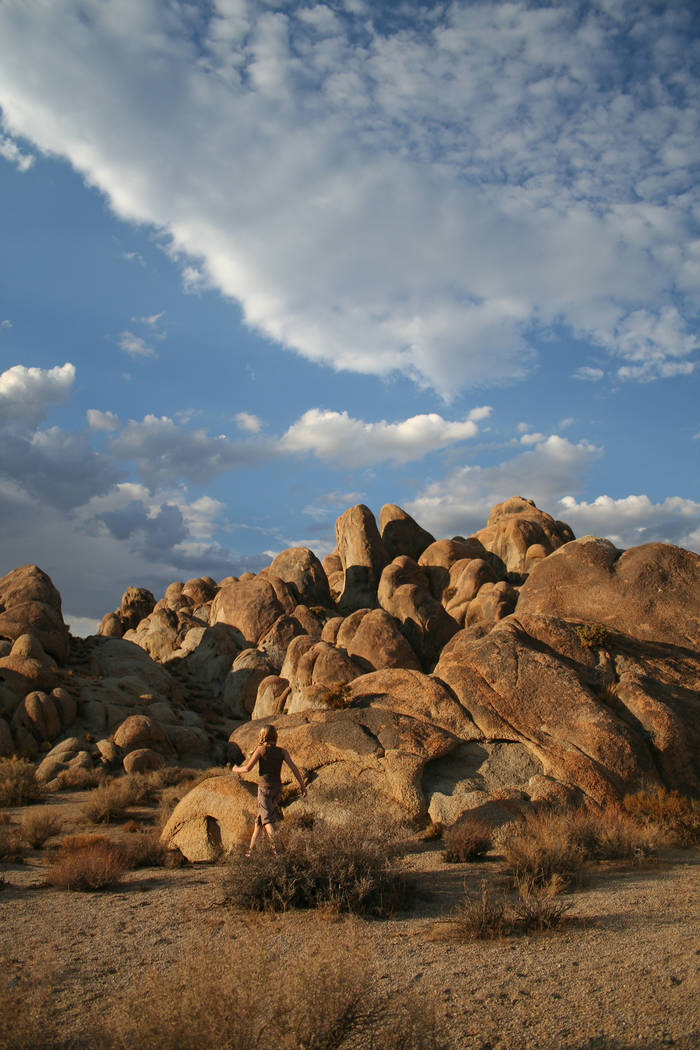 One of the best weekend getaways our region affords is to Lone Pine, California. It's uncrowded — a small town of about 2,000 people — and lies in Owens Valley at the foot of the Sierra Nevadas' spectacular eastern slope. The area is rich in camping, hiking and fishing opportunities, and has the distinction of being the location where many popular films were shot. Even the four-hour plus drive there can be fun, for much of it is via uncrowded highways through open and attractive country.
Just outside of town is the 30,000-acre Alabama Hills Recreation Area, a land of granite boulders in whimsical and unusual formations just awaiting your exploration. The main gravel road through this area is Movie Road, along which you can explore the rock on short strolls, hike into hidden canyons, or find one of the many arches in the area.
One of the best, Mobius Arch, is found by hiking along a 0.8-mile loop; the trailhead is about 1.5 miles northwest on Movie Road from Whitney Portal Road. Go right at the fork and the parking area is on your left. From the parking area, located at about 4,666 feet, follow either the east or west trailhead through the formations to reach the arch and then continue back to make a loop hike. It is easy hiking but undulates over the terrain. This hike is best done early in the day, when you can catch the morning glow on Lone Pine Peak and Mount Whitney, framed within the arch.
Hundreds of commercials, television shows and movies have been filmed in the Alabama Hills, ever since Hollywood discovered the area more than 90 years ago. Remember all those scenes of gunfights among the boulders? Chances are they were shot here. Many of the sites can be found, without too much effort directly off Movie Road. It is a gravel road but unless there has been heavy rain it is suitable for passenger cars.
You can pick up a copy of the Movie Road Self-Guided Tour booklet at the Lone Pine Chamber of Commerce and Tourist Information Center, 126 S. Main St., 760-876-4444. Or download it at www.lonepinechamber.org to help you locate all the sites you wish to see. Some of the highlights include sites that represented the Himalaya mountains of Asia in the 1939 film "Gunga Din," starring Cary Grant, Victor McLaglen, Douglas Fairbanks Jr. and Sam Jaffe.
While in Lone Pine be sure to visit the Museum of Western Film History at 701 S. Main St. Here you'll see a great collection of movie props, costumes, saddles and other memorabilia including some from the more recent films "Iron Man" and "Tremors," besides hundreds of items from the most famous old Western films and television shows. There is also an entertaining 15-minute orientation film.
Through October, the museum is open 10 a.m. to 6 p.m. Mondays through Saturdays, and 10 a.m. to 4 p.m. Sundays. It closes an hour earlier in winter, and is closed on major holidays. For more information, call 760-876-9909 or visit www.lonepinefilmhistorymuseum.org.
Lone Pine has been accommodating to visitors since the 19th century, and campgrounds, motels, restaurants and other tourist services are listed on the aforesaid chamber of commerce website. Also there you'll find a listing of the upbeat and offbeat special events of the region. One of the most unusual is Mule Days, May 23-28 in nearby Bishop, which celebrates the usually underappreciated hybrid and its importance to the West. This year's Lone Pine Film Festival, saluting the sort of westerns typically made here, will be Oct. 6-8.
Many of Deborah Wall's columns have been compiled in the book "Base Camp Las Vegas, Hiking the Southwestern States." She is also the author of "Great Hikes, a Cerca Country Guide" and a co-author of the book "Access For All, Seeing the Southwest With Limited Mobility." Wall can be reached at Deborabus@aol.com.
Directions
From Boulder City take U.S. Highway 93/95 north 11 miles and merge onto the 215 Beltway heading west. Drive 11 miles and exit to Interstate 15 south. Follow I-15 south about 2 miles to Nevada Route 160. Drive west for 56 miles, traveling through Pahrump, and turn left at Bella Vista Avenue. Drive west 20.5 miles to Death Valley Junction, California. Go right onto California Route 127 for 0.2 miles and go left onto California Route 190. Drive 133 miles (the road becomes California Route 136 just before Keeler) to U.S. Route 395. Turn right and drive less than 2 miles to Lone Pine.
Directions to Movie Road: From Lone Pine, drive west up Whitney Portal Road, 2.7 miles and look for Movie Road on your right.