Local girls anchor Henderson all-star team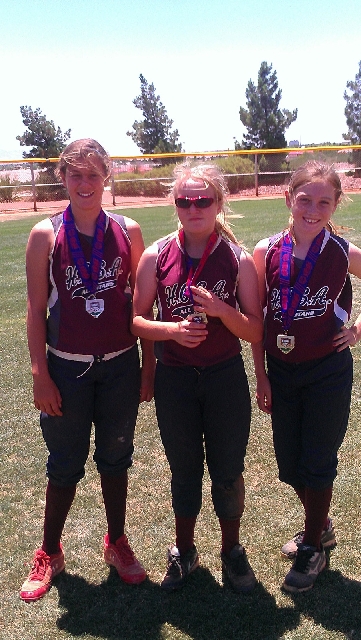 The Henderson Havoc, a 10-under all-star softball team, has qualified for age-group nationals after its second-place finish June 16 in the American Softball Association's Nevada State Tournament at Majestic Park in Las Vegas.
The Havoc is anchored by three Boulder City girls ­­­­— Ashley Wishard, Luca Ford and Raegan Herr. The three are 10 years old and will be entering sixth grade at Garrett Junior High in August.
The Havoc has qualified for the national tournament July 30-Aug. 4 in Peoria, Ariz.
The trio was selected for the 12-member all-star squad from among 50 girls who tried out in early May. They played for the Boulder City Diamondbacks as part of the nine-team 12-under division of the Henderson Girls' Softball Association. The Diamondbacks were coached by Angelica "Teca" and Bill Moorhead.
"It is such an honor to play with all these talented girls from Henderson and Boulder City and to qualify for a national tournament," said Wishard, who mainly plays catcher. "We will always remember this summer."
Wishard also plays shortstop and is hitting for a .563 batting average, with two home runs, six doubles and two triples.
It is the second consecutive exciting summer for Wishard, who can throw a softball farther than most children her age — 108 feet. That distance was good enough last summer to earn her a berth in the Hershey North American Track & Field Games in Hershey, Pa. She competed in the national softball throw and finished ninth in the 9-10 age division.
Her strong arm helps her excel at her two positions.
Since the end of May the Havoc has been practicing three hours a day Monday through Thursday, and then competing in weekend tournaments in Utah and California where they play as many as seven games in two days. The Havoc's record is 17-9.
"It has been a lot of hard work, but it is worth it," said Ford, who plays first base, shortstop and does some pitching. "It is exciting to qualify for a national tournament. We are all looking forward to it."
Herr agreed.
"All the work is worth it when we do well in tournaments," Herr said. "We are really excited to know that we will be playing in a national tournament next month."
Ford is batting for a .554 average and has three doubles. Herr, an outfielder and second baseman, is hitting .434.
The Havoc is coached by Hermie Romero.
"Everyone on this team has practiced very hard and, because of their excellent efforts, they have reached a national tournament," Romero said. "It is quite an accomplishment for 10-year-olds and I know they will do well at nationals."