Little League team ends postseason with 2-2 record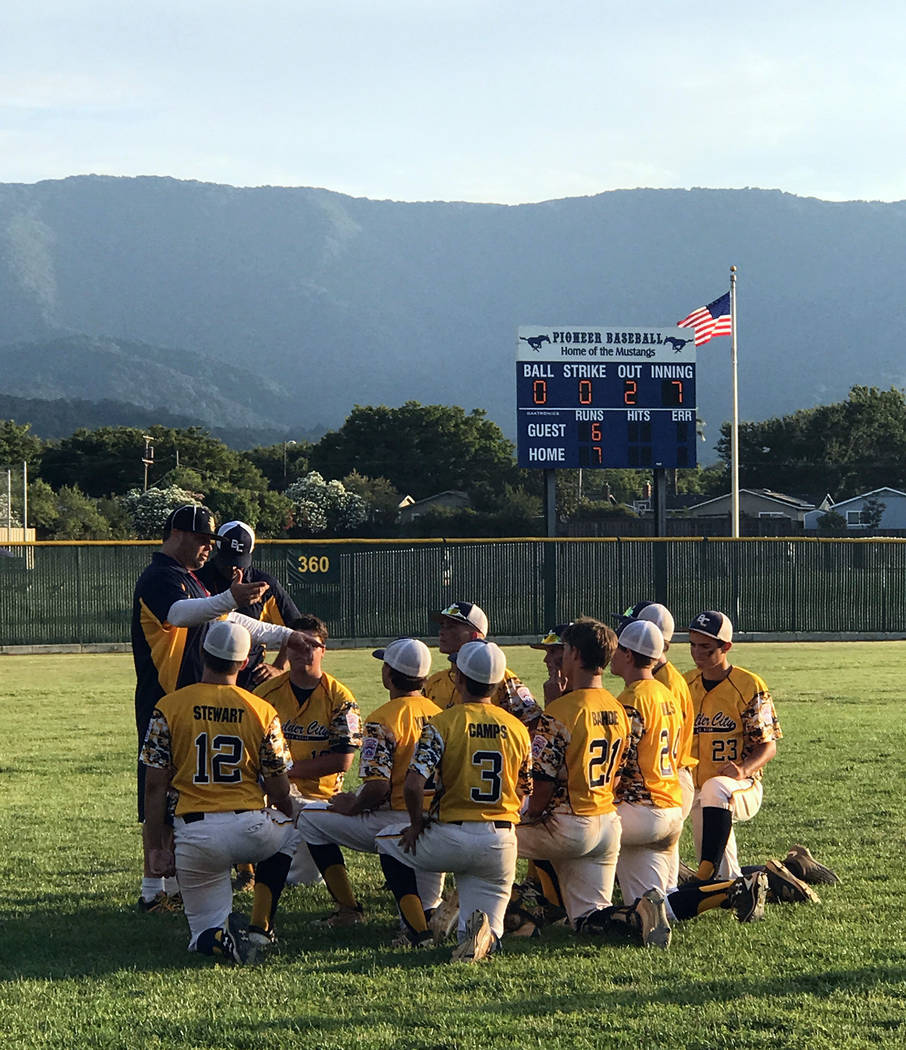 Concluding its postseason Aug. 3 with a 2-2 record in the Western Regional tournament, Nevada Division II state champions Boulder City Junior Little League wasn't able to get past Northern California, losing 9-0 at Ida Price Field in San Jose, California.
With four hits against Northern California, Scott Sicklebaugh led the way with a 2-for-2 performance at the plate, while Joey Camps and Troy Connell each finished 1-for-3.
"We gave it our all," said Boulder City head coach Don Trumble. "I believe we could have played better team ball in both of our losses, but it's comforting knowing both of our losses came to the championship game representatives."
Boulder City lost its first contest to host San Jose 14-3.
Logjamming a 15-1 win over Idaho on Aug. 1 and a 7-6 victory against Snow City, Utah, on Aug. 2 to stay competitive throughout the tournament, Boulder City managed to break .500 against the top competition in the region.
"Honestly, this experience is something I can't describe," said Matthew Felsenfeld. "To hold our own against a lot of great teams from other states was a special feeling. We got to play against a lot of great players and experience the talent level from different parts of the regional. I wouldn't trade this experience for anything."
Joey Giunta broke the Utah game open with a three-run double in the fourth inning, while Scott Bahde and Camps each finished 1-for-3 with an RBI.
Connell was awarded the victory after throwing two scoreless innings of relief, striking out three while allowing one hit. Starter Blaze Trumble threw four innings, allowing four runs on four hits with three strikeouts, while Sicklebaugh allowed two runs on one hit in his lone inning of work.
"I'm very proud of the success we were able to achieve," Sicklebaugh said. "Boulder City is a very small team with limited players to chose from. I'm happy we went 2-2 against teams with a lot more players to chose from. I had a blast with my teammates."
Putting in a complete team effort at regionals, Blaze Trumble led Boulder City's run production with four hits and eight runs batted in, followed by Camps (four hits and three RBIs), Connell (five hits and one RBI), Bahde (two hits and two RBIs) and Giunta (one hit and four RBIs).
Finding contributions from everyone in the batting order, Sicklebaugh generated three hits and one RBI, while Felsenfeld collected two hits and one RBI. RJ Kilar generated two hits as well, while Ian Mills drove in a RBI while scoring two runs against Idaho. Bret Stewart scored a run against San Jose.
"I'm very proud of this group being the first Boulder City Little League team to win a state title and manage to go .500 in the regional tournament against teams from San Jose and Oakland whose populations are so much larger," said Katie Kilar, Boulder City Little League president. "This was a total team effort. You can't win a ballgame with four or five star players, it took all 10 of them to win the 20 games and get to regionals."
On the mound for Boulder City, Blaze Trumble earned a victory against Idaho, throwing 1.2 innings, allowing two hits with three strikeouts. For the tournament, Trumble started two games, pitching 7.1 innings, allowing four runs on four hits, while striking out five batters.
Earning the victory against Utah while serving as a relief pitcher, Connell threw 3.2 innings, allowing three runs on four hits with five strikeouts.
Bringing back just two players from this season's team (Kilar and Sicklebaugh), the future of the junior program will have a new identity moving forward with a majority of the team's star heading to play high school ball. Confident they'll be able to keep the winning tradition alive, RJ Kilar said he's going to miss the older players, but looks forward to playing with the next group of incoming players.
"Our team chemistry was great this season," RJ Kilar said. "Everyone got along on and off the field. Whenever someone would struggle the next guy picked up the slack. I'm going to miss this team, but I'm looking to repeating as district champs next season. I'm hopeful the incoming players are ready to compete because everyone will be gunning for us next season."
Contact Robert Vendettoli at BCRsports@gmail.com.