Little League All-Stars fall short in state tourney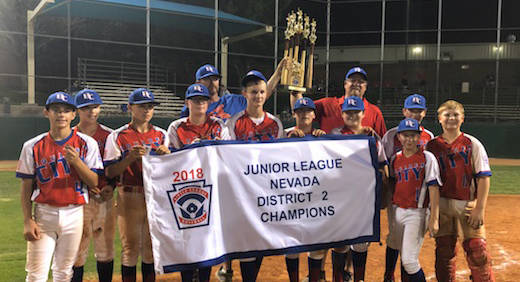 Boulder City Little League Junior All-Stars finished the state tournament with a 1-2 record, ending the season just short of their goal but with numerous memorable highlights.
"Obviously, we would have liked to go to there and win the state championship, but I'm proud of these boys for the way they played," head coach Clint Spencer said. "They've had a great season and they played hard. We couldn't have asked more of them."
Traveling to Reno for the tournament, Boulder City won its first matchup against Pahrump 8-7 on July 19 in a dramatic come-from-behind victory, before falling to Northern Nevada challengers Reno America 10-5 and Walker River 11-1.
"The first game was such a great win for us," Spencer said. "The intensity of those final innings against Pahrump (was) amazing.
We had a small crowd that traveled, but it was very loud. Gave us some momentum. Against our northern opponents, it was more of a numbers game. We tried to make adjustments, but it was difficult with only 10 players. Offensively, I felt like we got some nice hits, but they just didn't hit gaps."
Trailing 7-6 following a four-run bottom-of-the-sixth-inning effort by Pahrump, Brayden Cook tied the game for Boulder City with a double to center field, scoring Caleb Brown.
"I was so excited after getting that hit," Cook said. "We had taken an early lead and then they came back, so the momentum was on their side. To be able to tie the game and put the momentum back to our team was great. Being able to contribute to our team was awesome, and especially in state, when everything is on the line."
Advancing to third on the play, Dylan Spencer scored the game-winning run courtesy of a sacrifice fly from Hunter Moore.
Cook finished 1-for-3, also saving a potential game-tying run in the bottom of the eighth inning by throwing a runner out from right field.
R.J. Kilar led the way with a pair of runs batted in and a triple for a 2-for-4 performance at the plate, while picking up the victory after throwing an inning of relief.
Chase Calvez finished 2-for-3 with an RBI, while Connor Solberg (2-for-3) and Brown (1-for-3) each hit a double.
Against Reno America, Cook finished 2-for-4 with and double and three RBIs, while Brown finished 2-for-4 with an RBI double. Izec Easter finished 2-for-4 with an RBI.
Against Walker River, Dylan Spencer finished 1-for-2 with an RBI, while Easter and Solberg each finished 1-for-2. Calvez finished 1-for-3 with a double.
Contact Robert Vendettoli at BCRsports@gmail.com.