Lava tube easy to access, explore
February 28, 2018 - 4:01 pm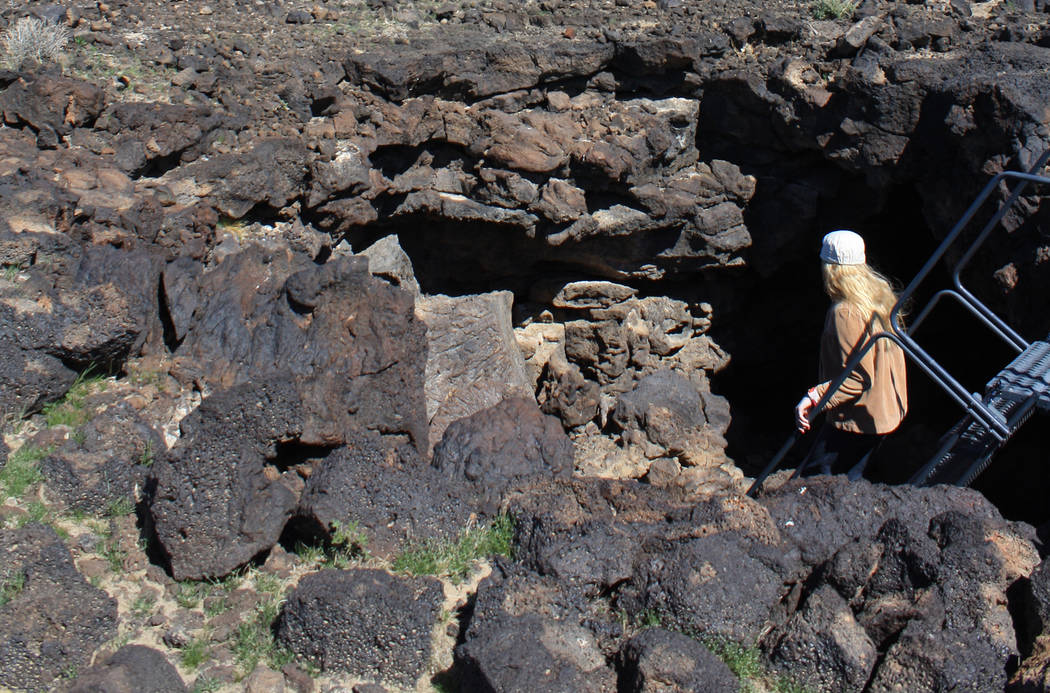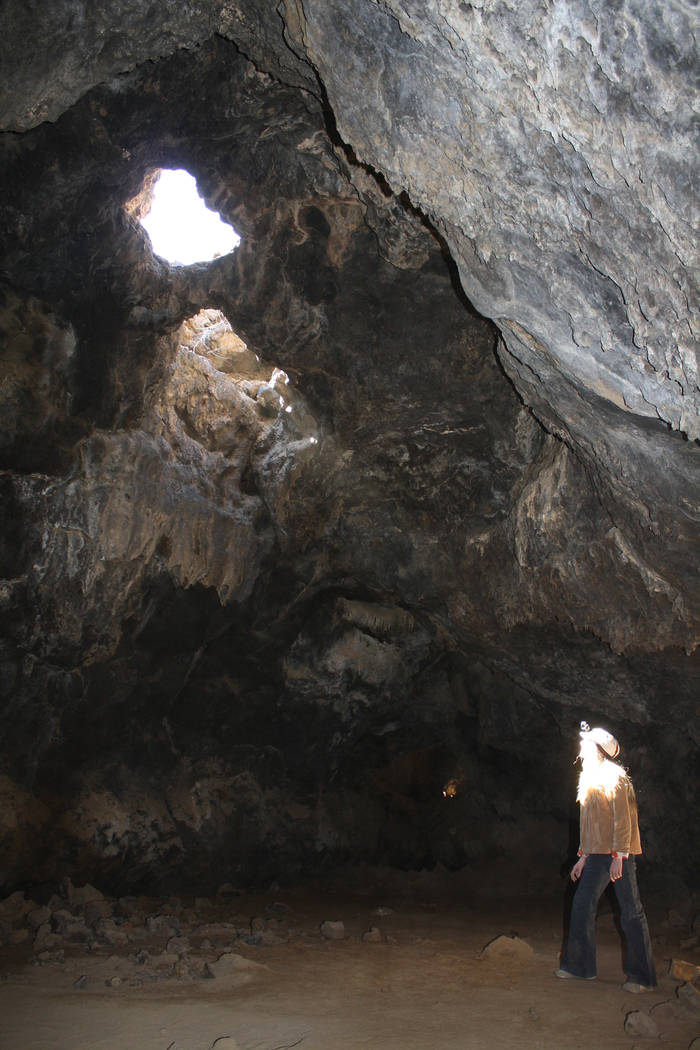 For an unusual one-day family adventure, try exploring a natural lava tube, only two hours from Las Vegas, just across the California line.
A lava tube is a type of cave formed where molten lava once flowed. Lava cooled and hardened on the exterior of the flow, while remaining liquid on the inside. When the liquid continued to flow, it left behind the hardened exterior tube or tunnel.
This lava tube is in Cinder Cone National Natural Landmark, which was designated in 1973, and sprawls across about 57 square miles, now part of the larger Mojave National Preserve.
There are a few other lava tubes I have been into in the Southwest, all longer and deeper, but this one is the most suitable to visit if you have people of different ages and abilities in your group. With a little help on the stairs and accessing the lava tube, even small children can enjoy it.
From the trailhead, located at about 3,560 feet in elevation, follow the old jeep trail north for about 300 yards or so. The vegetation is pretty sparse here except for some creosote and yucca. Keep an eye out for some human-placed rocks in a row and a worn spur trail on your right. Take this path for about a minute or so and you will find the entrance to the lava tube on your left.
Enter the lava tube by taking the metal stairs. At the bottom of the stairs, go left into the tube. Terrain initially is rocky, with uneven footing. Although it appears you can't go very far, you'll see the way if you look closer. Just duck way down and crawl through the opening — watch your head — and you will emerge into the lava tube itself, where there is plenty of room to stand and walk around, on a relatively flat floor. There are a few small holes in the top, about 15-20 feet above you, that provide some light.
Of course, you'll want to bring your own light as well. The best kind is a headlamp, because it leaves your hands free for crawling. Also, because you may have to crawl to enter the main room, be sure to wear long pants of durable fabric.
I would recommend starting this, or any excursion to the park, with a stop at the Kelso Depot Visitor Center. The Mission Revival-style structure was built in 1924 as a train station on the Union Pacific. Trains still thunder by frequently on the nearby tracks, now separated from the former station by a safety fence.
In the center you can pick up some detailed maps and get any relevant updates on weather or road conditions. If you can, allow some extra time to see the small but worthwhile museum, with its exhibits on the Chemehuevi and Mojave Indian tribes, as well as the mining, ranching and railroad history of this park.There's also a gift shop and bookstore specializing in lore of the Eastern Mojave desert. It is open from 10 a.m. to 5 p.m. Thursdays to Mondays.
There are no other services in the park, so come prepared with food, water and a full gas tank. Gas and food are available in Primm, Nevada, or Baker, California.
Cellphones are unreliable in the park, so figure out your directions before embarking. There are a couple of different routes you can take into the park. The directions below are what I think is the most scenic route, but downloading the simple map from the park's website, https://www.nps.gov/moja/index.htm, before you set out, will be useful in any case.
Many of Deborah Wall's columns have been compiled into books about hiking in the Southwest. She is also the author of "Great Hikes, a Cerca Country Guide" and a co-author of the book "Access For All, Seeing the Southwest With Limited Mobility." Wall can be reached at Deborabus@aol.com.
Directions
From Boulder City drive 2.5 miles north on U.S. Highway 93 and exit onto U.S. Highway 95 south. Drive 34 miles to Searchlight. Go right onto State Route 164 for 26.5 miles through Nipton, California, and then turn left onto Ivanpah Road. Drive 3 miles and go right onto Morning Star Drive about 15 miles to Cima and stay left onto the Kelso-Cima road. Continue about 14 more miles to the Kelso Depot.