Late free throws help Eagles clinch win
January 17, 2018 - 3:24 pm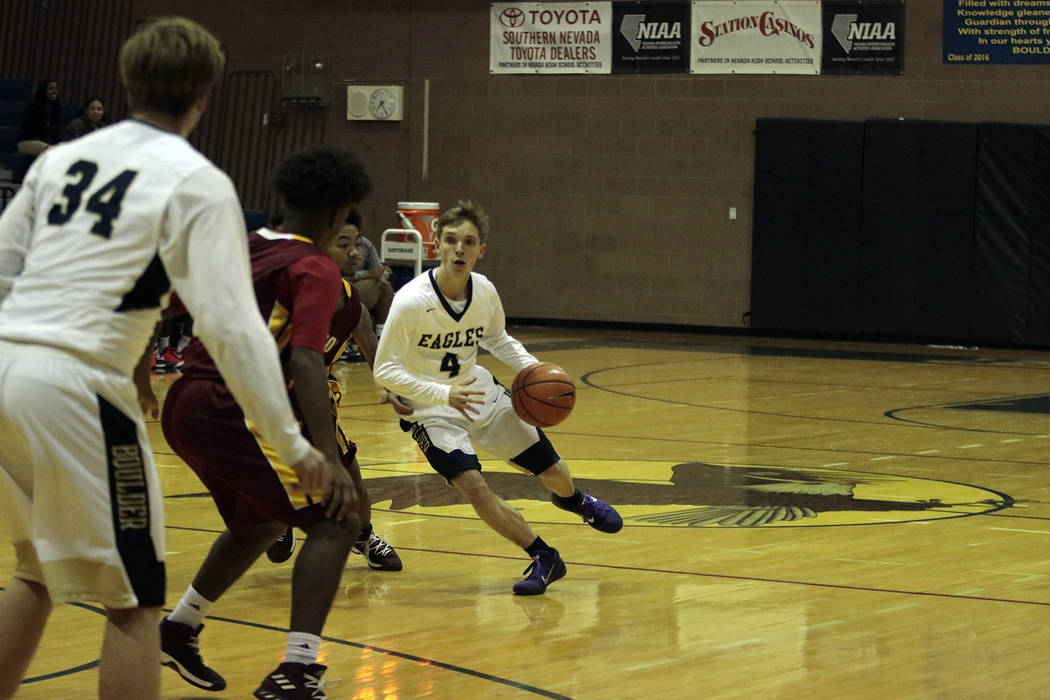 Ahead 51-50 with just over a minute to go in the game Jan. 16 against Del Sol, junior forward Derrick Thomas drove baseline for Boulder City High School boys basketball program, hitting an off-balanced contested layup to put the Eagles ahead 53-50.
Sinking four game-clinching free throws seconds later, senior guard Billy Ferrence provided the dagger after Thomas' heroics, escaping past the Dragons with a thrilling 57-52 league victory.
"Honestly, this is about as good a win we've had in about the last four or five years," head coach John Balistere said. "I'm excited about how the boys played, the way they rallied back, the heart they showed out there. We came into the locker room at halftime and made adjusts and the boys executed them."
The main halftime adjustment made: Play with toughness.
Keeping coach Balistere's halftime speech in the back of his mind, Thomas scored 8 crucial points in the fourth quarter, twice battling through defenders for put-back layups, before dicing through defenders for a game-deciding layup.
Thomas finished the match with a game-high 17 points.
"Heading back out into the second half, I just kept remembering coach said play with toughness, be aggressive out there," Thomas said. "In the fourth quarter, I was really trying to muscle my way through and just make plays for the team. On that last drive I saw the help side defender backing off so I just took what I wanted and made my way to the rim."
Helping set up Thomas late game heroics, freshman forward Matt Morton went on a scoring rampage of his own between the end of the third and beginning of the fourth quarter, scoring 7 consecutive points for the Eagles to knot the game at 41-41 apiece with six minutes remaining.
"Honestly, all the credit goes to my teammates for getting me the ball in space and trusting me to make the right play," Morton said. "We were down a few times in the third so I really tried to make my way inside and get easy looks at the basket. It gives me confidence knowing the team trusts me in a big-game situation."
Morton finished the game with 8 points, along with senior guard Carson Balistere, while Ferrence finished with 7 points. Senior forward Bailey Gossard and junior forward Karson Bailey each scored 6 points.
Picking up a crucial 53-45 victory on the road against Moapa on Jan. 12 as well, the Eagles have now positioned themselves for a run at first place, with current 3A Sunrise League leader Chaparral coming to town tonight for a potential league-deciding matchup.
"I've told the boys, finish what you started and put yourself in the driver seat," John Balistere said. "They won out this week against both Moapa Valley and Del Sol and earned the right to face Chaparral again for what we hope is the league title. I told them this matchup isn't going to be easy, but I think we're ready."
Finishing their Jan. 12 contest against the Pirates with a victory, Ferrence and Bailey fueled the effort with 13 and 11 points, respectively, while senior forward Clayton Pendleton added 7 points.
Now they'll turn their attention to tonight in hopes of avenging their Dec. 6 56-53 loss on the road to Chaparral.
"Coach motivated us to be in the driver seat and now we are," Thomas said. "We control our own destiny heading into this matchup. We know if we can win out the rest of the season, we'll finish as league champions. That's our focus right now."
The Eagles' last league championship came in 2012.
Contact Robert Vendettoli at BCRsports@gmail.com.
Upcoming games
Today, vs. Chaparral, 5 p.m. junior varsity, 6:30 p.m. varsity