Lani Potter named golfer of year
November 9, 2016 - 1:27 pm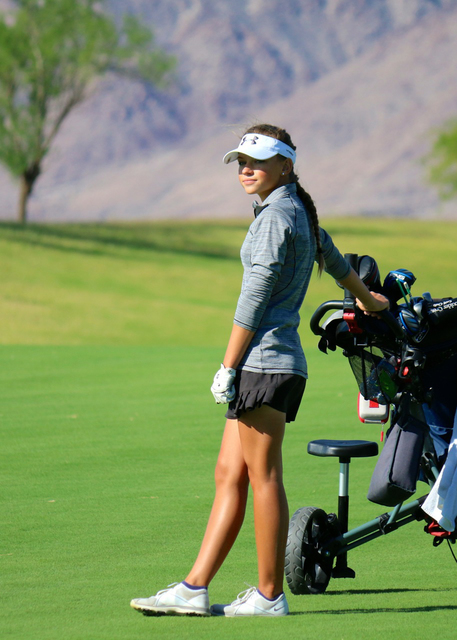 Boulder City High School golf star junior Lani Potter was named 3A Southern Region player of the year for the second consecutive season following her first-place finish at state with an overall score of 147 on the par-144 course, 20 strokes lower then her next competitor.
"It feels great to be named golfer of the year again this season," Potter said. "I worked hard and improved quite a bit from last season, so it's nice to see results."
Finishing as the Lady Eagles' first individual state champion since Randi Lewis accomplished the feat in 2010, Potter also was named to the All-Southern Region first team, representing the top six golfers in the 3A classification. That followed her 10 first-place finishes this season.
"I was incredibly happy after winning the individual state title," she said. "That had been my goal since the beginning of the season and it felt great to accomplish it."
Potter was one of six members of the Lady Eagles' golf team to receive All-League honors.
"I am very excited for all of our girls and the accolades they've received," Boulder City head coach Andy Schaper said. "This season has been a great one for us and I couldn't be more proud of them. They've all put in so much time and dedication throughout this season to get better every day. Their accomplishments are truly deserved."
Earning an award himself, Schaper was named the 3A Southern Region coach of the year for his efforts in guiding the Lady Eagles to their second consecutive state meet appearance and a runner-up finish this season.
"It's an honor to be recognized by my peers as the region's coach of the year, but honestly the credit goes to all of my golfers," Schaper said. "Their play on the golf course is the reason why I'm being recognized and it's an award I get to share with them. As a golf coach all I can do is work hard to prepare them for their next match; they're the ones that need to go out and execute. I'm thankful that they make me look good."
Also earning a place on the All-Southern Region first team with Potter was sophomore Madisan Walker, who was one of the key standouts for the Lady Eagles this season with five top-three finishes during the regular season, along with a 10th-place finish during the 3A state championship with an overall score of 202.
"One of the main girls to step up her game this season was Madisan," Schaper said. "I can't tell you how proud I am to see how far she has come. Her efforts, along with everyone else's, are the key reason why we've been successful this season."
Sophomore Ryann Reese and freshman Sydney Krumm were named to the All-Southern Region second team, giving the Lady Eagles a strong returning foundation for next season. Improving in year two under Schaper, Reese tallied a third-, fifth—and four sixth place finishes during the regular season, along with a 13th-place finish at state with a score of 205. Starting out strong as a freshman, Krumm earned three seventh-place finishes and an eighth- and 10th-place finish throughout the regular season, while taking 16th at state with a score of 216 out of 45 golfers.
Rounding out the Lady Eagles' talented roster were senior Lauryn Norris and freshman Makaela Perkin. They earned second team All-Sunrise League honors for their contributions in turning Boulder City into a 3A juggernaut. Norris finished the regular season with two third-place finishes and a fourth- and fifth-place finish each, while Perkins finished with one eighth-, ninth- and 10th-place finish each during the regular season.
"Playing with this group, it was always competitive during the qualifying rounds to see who would play in each week's match," Potter said. "Seeing everyone motivated and wanting so badly to get better each week was inspiring. I am beyond proud of everyone on this team and all of our accomplishments."
Returning everyone next season except Norris, Schaper, although very pleased with this season's success, is still eager to see just how good this core group really can be next season.
"We had a fine season, one that everyone is proud of," Schaper said. "We're not satisfied though with being the state champion runner-up. I expect everyone on this team to put in the work this off-season and I'm confident in everyone's ability to come back better next season. I'm lucky to have a highly motivated group. I'm very excited to see how they continue to progress."
Contact Robert Vendettoli at BCRsports@gmail.com.