Lagan wins gold in national pistol event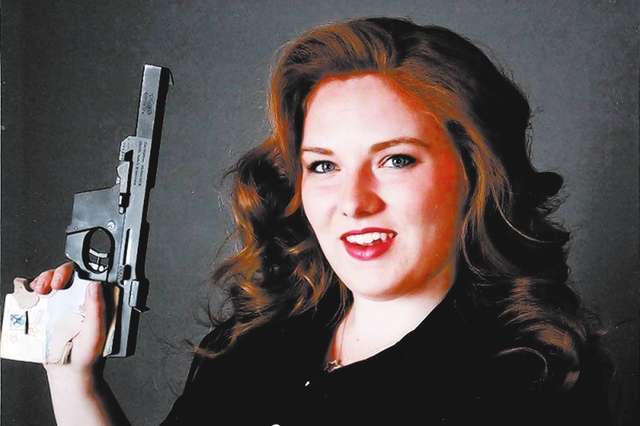 Alexis Lagan of Boulder City claimed her first gold medal at the USA Shooting National Championships in Fort Benning, Georgia in the women's sport pistol competition.
Lagan, a 2020 Olympic hopeful for Tokyo, Japan, edged out 2008 Olympian Brenda Silva to claim the women's sport pistol title with an overall score of 1,154. Silva finished with a score of 1,153.
"This is my first time winning gold in this event at the USA Shooting Nationals," said Lagan, a 2011 graduate of Boulder City High School. "I cannot explain how incredibly proud and grateful I am to claim this medal. I owe this moment to my coaches, Matt DeLong, Libby Callahan and Elwood Powell for all they do to prepare me."
"I couldn't be more proud of Lexi's efforts," Callahan said. "The dedication I've seen her put into the sport the last few months is second to none and, after winning a national championship, I think she's put herself on the map with the top shooters in the world."
Finishing strong at the national championships, held June 28-30, Lagan also won silver in women's air pistol competition, finishing with a score of 754 behind 2012 Olympian Sandra Uptagrafft, who finished with a score of 765.
"It is always an amazing experience to be able to compete along side previous Olympians such as Brenda and Sandra," Lagan said. "They provide such a great opportunity to learn from them and improve. The USA Shooting Nationals always has a diverse group of shooters with quite the wide range of backgrounds. It is a privilege to consider so many of them as my friends and teammates."
Claiming a pair of medals, Lagan said she felt relieved after her performance, but noted that there's still plenty of work to be done in order to reach her future goals.
"Overall, I think nationals went very well for me," she said. "I'm happy I can take this week off to relax and enjoy my win. I learned a lot while I was in Georgia. I know I have a lot to work on in the upcoming months leading to the selection matches for world championships in South Korea next summer."
Though she plans to take a brief rest, her parents said Lagan is steadfast in her desire to improve her skills.
"Alexis has the mindset of a champion and the resolve to train every day to reach her goals," said her father, Barry Lagan.
"Lexi has been a perfectionist since the day she began to walk and talk. She is passionate about the art of precision shooting and the physicist in her loves the science behind her sport," added her mother, Jill Rowland-Lagan. "I have seen Lex dig deep in very challenging moments and know that she has the ability to go far in her shooting sport and in life."
With her national championship performance, Lagan also received an appointment to the USA Shooting National Team, pending approval of her performance standard scores.
"Being on the national team would mean so much to me," Lagan said. "It would mean I am a representative of my country doing the thing I love the most. How could I not be grateful for such an amazing blessing?"
"As a recent University of Utah graduate and an amazing citizen that loves her country, Lexi is sure to represent Boulder City and the USA very well in her future competitions," Barry Lagan said.
Set to take a few weeks off to celebrate her recent graduation from the University of Utah where she earned her bachelor's degree in physics, Lagan said she'd like to enjoy the next few weeks before moving to the Olympic Training Center in Colorado Springs, Colorado, to train for next summer's world championships in Korea.
"I'm hopeful this will be my second time heading to Korea," Lagan said. "I have a few more competitions before I can qualify for the team going, but I have confidence that these upcoming matches will go very well for me. I'm really hoping to claim my first international medal."
Contact Robert Vendettoli at BCRsports@gmail.com.