Lagan aims for Olympics: BC native rises among ranks as top marksman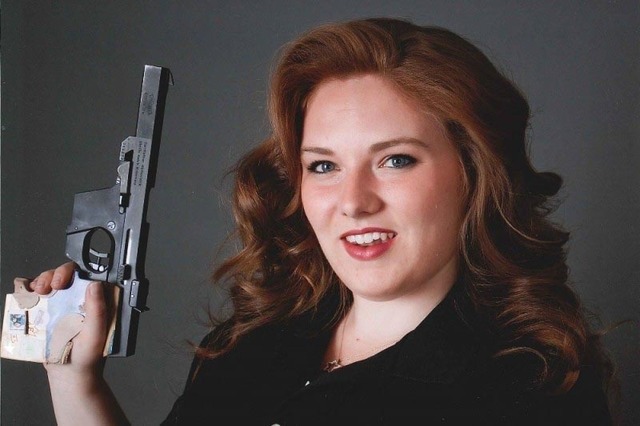 Be on the lookout for a Boulder City native in the Olympics in the coming years, with Alexis Lagan, the daughter of Chamber of Commerce CEO Jill Rowland-Lagan and Metropolitan Police Department TAC officer Barry Lagan, setting her sights on representing Team USA in the 2020 Olympics in Tokyo, Japan.
An Olympic hopeful in the air pistols competition for the USA Shooting team, Lagan is now more determined than ever following a runner-up finish earlier this month at the U.S. Olympic Team Trials on June 3-5 at Camp Perry, Ohio.
Falling just short of representing Team USA in Rio de Janeiro, Brazil, on Aug. 5-21 to eventual winner Lydia Paterson 1172-1148, Lagan not only finds herself more determined to fulfill her Olympic dreams, but also thankful of the process that has got her here. When Lagan stepped foot on the University of Utah campus she envisioned embarking on a career in law. Set to graduate in the coming year, the Boulder City High 2011 graduate now envisions becoming an Olympic champion.
Stumbling upon the art of shooting accidentally, Lagan joined the shooting club at Utah during her freshman year at the university and said she fell in love with the sport instantly. Now it's her driving passion to succeed.
"I never envisioned becoming an Olympic shooter when I got to Utah," Lagan said. "It was by accident that I found the shooting club, but I'm glad I stayed. It's definitely been a life-changing experience for me."
Having already been familiar with shooting guns from her days as a teenager, Lagan took up the hobby at Utah full-time, where she's become one of the sport's up-and-coming stars, having successfully competed in the USA World Cups in both women's air pistol and women's sport pistol, which allowed her to qualify for the Olympics.
"When I first joined the club, the guns to me looked like they were something out of a 'Star Trek' movie," Lagan said. "These aren't your everyday guns. As I got more comfortable shooting them though, both my coaches told me they saw a lot of potential in me and we talked about making a run possibly at the Olympics. I never would have imagined I'd be able to compete this soon."
Ahead of schedule by both her and her pair of head coaches Matt DeLong and Elwood Powell's original hopes, Lagan is now training harder than ever to meet their goals.
"Obviously, I would have liked to represent our country this year in the Olympics, but coming up just short only makes me want to work harder," Lagan said. "When we first started, we never looked at 2016 as the goal, but we made it one along the way. Now I'm focused on becoming better each day to make in appearance in four years."
Currently living at the USA Olympic training center in Colorado Springs, Colorado, as a media intern for USA Shooting, Lagan is hard at work training for her next opportunity at her Olympic dream.
"My sights are set on Tokyo,"she said. "There's nothing I want more than to represent our country at the Olympic games and I'm going to make sure I do everything I can to achieve my goals. I'm excited to see how the process plays out."
Already putting her runner-up finish earlier in the month in the past, Lagan competed in the USA Shooting National Championship for Rifle/Pistol in Benning, Georgia, from June 22-29, taking home first place in the air pistols competition, after defeating 2012 Olympic silver medalist Sandra Uptagrafft and 2008 bronze medalist Brenda Silva.
Contact Robert Vendettoli at BCRsports@gmail.com.