Lady Eagles' wins in volleyball tourney show promise for coming season
September 6, 2017 - 2:56 pm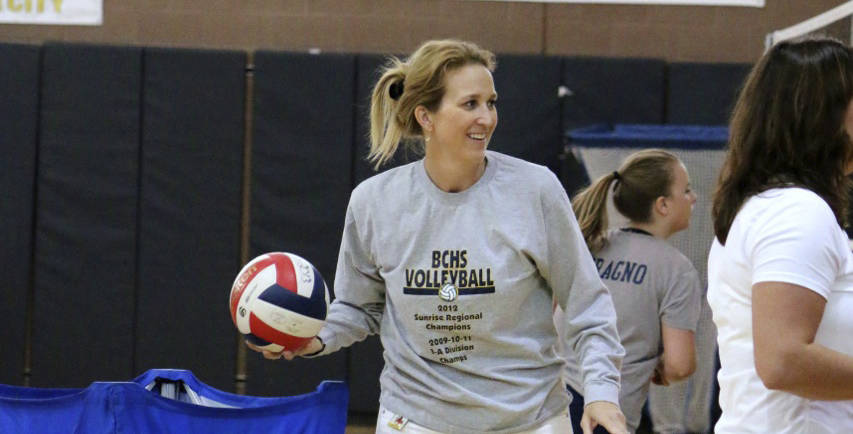 Finishing 3-6 in the 4A-laden Las Vegas Invitational over the weekend, Boulder City High School volleyball coach Cherise Hinman likes the makeup of her team early into the season.
"The biggest highlights for us this weekend was beating Foothill and making it into the championship division of the Las Vegas Invitational," Hinman said. "We struggled against some very talented teams from California on Saturday, but overall this was the best Las Vegas Invitational performance we've had in a long time."
Playing back-to-back against nine higher-classed opponents Friday and Saturday, the Lady Eagles started off strong with a pair of 2-1 victories against Foothill and Rancho before running into perennial state power Shadow Ridge and losing 0-2.
Coming from behind to knock off consistent 4A playoff contender Foothill, which is currently 9-2 on the season, in dramatic fashion 15-25, 26-24, 18-16, the Lady Eagles picked up a signature victory that they can use for momentum heading into league play.
"Playing the faster-paced game that those teams play challenges the girls, especially the less experienced ones, to get better," Hinman said. "Wins like these make us a more prepared team when we face the teams in our league."
Senior Maggie Roe, with her best performance to date, led the way offensively with 19 kills, as well as defensively with 11 digs and four blocked shots.
Teaming with freshman Kamry Bailey (seven digs, five kills, three serving aces and one block) and Ava Wright (22 assists, three serving aces, two digs and one block), the Lady Eagles were able to overcome the experienced Falcons.
"Playing in my first Las Vegas Invitational against higher-ranked opponents was intimidating at first, but once I got the jitters out of me, it started to feel normal," Wright said. "I have learned that it doesn't matter who you play against. If you play your game, you will succeed."
Playing her game strongly in a comeback victory over Rancho 25-27, 25-16, 15-13, Wright tied for the team lead with 11 assists, while adding five digs and two serving aces.
Bringing a more all-around attack against the Rams, Roe led the way with 11 kills and assists, seven digs and two blocks, while Bailey added seven kills and sophomore Ellie Ramsey added four kills.
Strong defensively against the Rams, Bailey added 10 digs. Junior Ashleigh Wood added six digs, while sophomore Raegan Herr and junior Setia Cox added three and two blocks, respectively.
Concluding the Las Vegas Invitational on a high note with a 2-0 win against California program Chatsworth in their weekend finale 25-19, 25-19, Roe led the way with seven kills, four blocks, assists and digs apiece.
Bailey (eight kills and seven digs), Wright (14 assists, three serving aces and two digs) and senior Jerra Hinson (three kills, one assist, block and serving ace) also had strong performances. Ashleigh Wood and freshman Maddie Wood added four digs apiece against Chatsworth.
Gaining momentum heading into the week, the Lady Eagles will host 4A Las Vegas at 5 p.m. Friday, followed by a road game Tuesday at 4A Basic.
Results from the Lady Eagles' league opener against Chaparral on Wednesday will appear in next week's issue.
Contact Robert Vendettoli at BCRsports@gmail.com.
Upcoming games
Friday, Sept. 8, vs. Las Vegas, 5 p.m. varsity, 6 p.m. junior varsity
Tuesday, Sept. 12, at Basic, 5 p.m. junior varsity, 6 p.m. varsity
Wednesday, Sept. 13, at Somerset-Sky Pointe, 5 p.m. junior varsity, 6 p.m. varsity