Lady Eagles volleyball team rallies against Del Sol
October 4, 2017 - 3:13 pm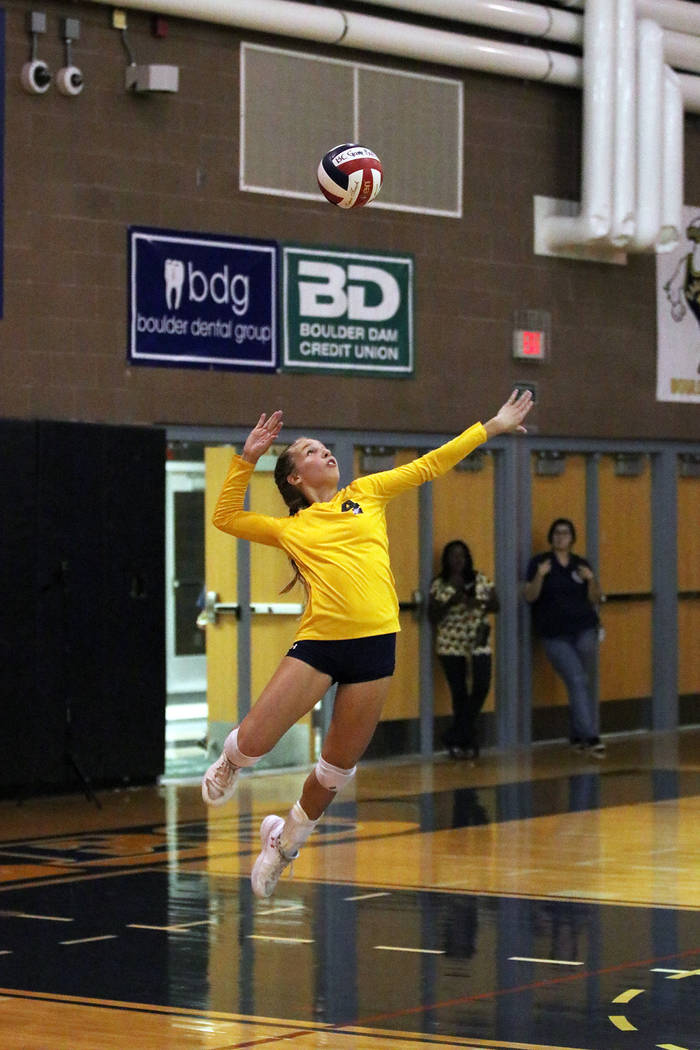 Rallying back from a closer than expected first set against Del Sol 25-22, Boulder City High School girls volleyball team dug deep Tuesday night on the road to earn a dominant 3-0 sweep.
Playing up to their capabilities, the Lady Eagles answered with 25-11, 25-8 victories in the second and third sets, respectively, rebounding quickly against the Dragons, despite playing with a new lineup.
"The first set was kind of a mess because we threw in a new lineup and we didn't have practice on Monday," senior captain Maggie Roe said. "We just had to learn to adjust. Once we did, the team did really well picking up mostly everything on defense."
Missing Monday's practice because of a cancellation by Clark County School District in connection to Sunday's shooting near Mandalay Bay, the Lady Eagles looked sharp throughout Tuesday's match, using a blend of passing and serving to down the Dragons.
Roe, who had her best game of the season against Del Sol, displayed an all-around performance leading the team with 12 kills and five serving aces, while also chipping in 10 assists to give the Lady Eagles' offense a new look.
Rebounding from the team's 3-1 defeat to Moapa Valley on Sept. 27, freshman Ava Wright and sophomore Raegan Herr were also serving with authority, collecting four aces apiece. Wright led all players with 14 assists, constantly giving the Lady Eagles good ball placement in a much-needed win to boost the team's confidence following their first league loss.
"Our win over Del Sol proves we can bounce back in dominant fashion after an unfortunate loss," senior captain Jerra Hinson said. "The Moapa game as a whole was one of our better ones this season in my opinion. I'm very proud of how the team has been playing and the incredible improvement we've made thus far throughout the season."
Slipping just slightly against the rival Pirates, the statistics were in the Lady Eagles' favor, before crashing in the fourth set. Hanging tough 23-25, 26-24, 20-25, 14-25, Boulder City might have dropped down a game behind Moapa Valley in the 3A Sunrise standings but are certainly not out.
"Losing to Moapa Valley was tough, but we have been working hard and are ready to come back stronger than ever," Wright said. "I think we proved that we can hang with Moapa, we just need to keep a positive mindset at all times out on the court."
Supplying 30 assists against the Pirates, Wright continued her strong connection with freshman Kamry Bailey, who led the way with 18 kills, while Roe had 14.
Duplicating each other's production, Roe and Bailey each had 12 digs; Roe blocked two shots and had two serving aces, while Bailey blocked one shot and had one ace.
Blocking nine shots against the Pirates, Hinson also had a pair of blocks, along with junior Setia Cox.
Back in the win column in league play, the Lady Eagles will continue their slate on the road tonight against Chaparral, before traveling to 4A Green Valley on Friday for a much needed mid-season test.
Contact Robert Vendettoli at BCRsports@gmail.com.
Upcoming games
■ Today, Oct. 5, at Chaparral, 5 p.m. junior varsity, 6 p.m. varsity
■ Friday, Oct. 6, at Green Valley, 5 p.m. junior varsity, 6 p.m. varsity
■ Wednesday, Oct. 11, vs. Somerset-Sky Pointe, 5 p.m. junior varsity, 6 p.m. varsity