Lady Eagles volleyball team beats Moapa Valley
October 24, 2013 - 11:02 am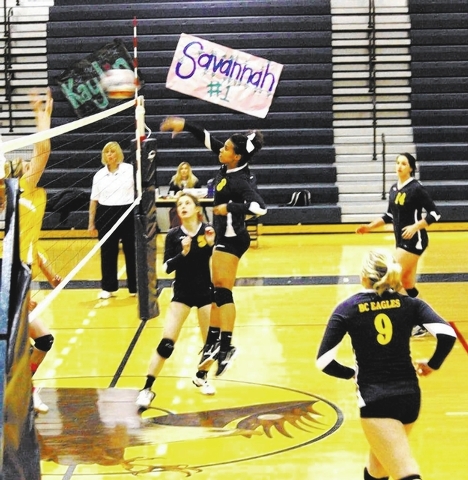 The Boulder City girls' volleyball team defeated visiting Moapa Valley 25-20, 25-14, 25-22 on Monday to remain unbeaten and in first place in the Sunrise League.
Senior hitter Whitney Barlow had 15 kills and five aces and hitter Kendall Miller had four kills and 12 assists. Hitter Kinsey Smyth contributed four kills and two blocks, while server Kaylin Koltyerhan had four aces.
The Lady Eagles are 17-9 overall and 9-0 in the league — two games ahead of second-place Moapa Valley (16-14 overall, 8-2 in league).
"Our team is really doing well," Barlow said. "Kinsey has really gained some strength in the middle and Alyssa (Ybarra) is playing real well on the back line. Kendall is so consistent in the middle. They are part of why the team is doing so well."
The Lady Eagles also played Wednesday, Oct. 23, at Sunrise Mountain (7-7, 5-4).
On Oct. 17, the Lady Eagles won at Tech 25-5, 25-13, 25-7.
On Oct. 15, Koltyerhan had 10 digs and four aces to lead the Lady Eagles to a 25-8, 25-7, 25-12 victory at home over Desert Pines. Tara Cox helped Boulder City with 10 assists and eight aces, and teammates Savannah Morris (four kills) and Lauren Pocius (three kills) also contributed.
Barlow had 35 kills to help the Lady Eagles to a 17-25, 25-20, 25-23, 25-18 win over Pahrump Valley on Oct. 14. Jaden Wood had eight kills and Smyth added five kills.
"The entire team is coming together," Miller said. "Players like Kinsey, Alyssa and Whitney are taking the lead and everyone is following them and playing so good. We are in first place in our league and gaining momentum heading into the playoffs."
Girls golf
Boulder City's Jordyn Syler shot a 12-over-par 84 at Boulder Creek Golf Club on Oct. 17 to finish in fourth place at Division I-A Southern Region girls tournament and qualify for the state championship.
The state tournament began Monday at Canyons Golf Club in Mesquite and concluded Tuesday at The Palms Golf Club in Mesquite.
Faith Lutheran's Alexis Becker shot 3-over-par 75 to win region medalist honors at Boulder Creek Golf Club.
Faith Lutheran won the regional team title with a 332 score. The Lady Eagles did not qualify as a team.
Syler's results in the state tournament occurred after deadline and will appear in the Oct. 31 issue.
Baseball fundraiser
The Eagles baseball team will hold its second annual Texas Hold 'Em Poker Tournament at 6:30 p.m. Nov. 15 at the Hacienda. A $50 buy-in will get each player $2,000 in tournament chips.
"Last year, we had over 70 players and this year we are hoping to max out the tournament field of 100," said Eagles varsity coach Bobby Reese, whose team reached the state final last May. "The Hacienda has graciously donated some of its poker dealers and is allowing us to use the banquet room."
There will be reduced rates for drinks and free finger foods, hats and T-shirts. There are special prizes for any player who knocks out a baseball coach (Reese, Alex Moore, Tim O'Neill, Chris Morelli and Johnny Nelson) from the competition.
For more information, contact Reese at 702-218-5866 or at RWR941@interact.ccsd.net. Aaron Wrightsman is the tournament director.
Boys' soccer
The Eagles lost 5-0 to Sunrise Mountain on Oct. 17 to fall to 4-9-1 overall and 1-7-0 in the Sunrise League. They had a match Monday at home against Desert Pines. They also had a scheduled match Wednesday against Virgin Valley in Mesquite.
Girls' soccer
Striker Vilde Svendsen scored two goals and teammate Lauren Axelson added one goal and two assists as the Lady Eagles routed the Miners on Oct. 17. Coral Leon-Wilson had one goal and an assist. Jana Williams, Mackenzie Pluta, Paige Buettner, Jeanne Carmell and Alexus Pohe also scored for Boulder City. Ali Rovacchi, Pluta and Williams combined to record the shutout.
The Lady Eagles (4-8-0 overall, 3-6-0 in league) had a match Monday at Desert Pines and Wednesday against Virgin Valley.