Lady Eagles tennis team has sights set on title
August 15, 2018 - 4:10 pm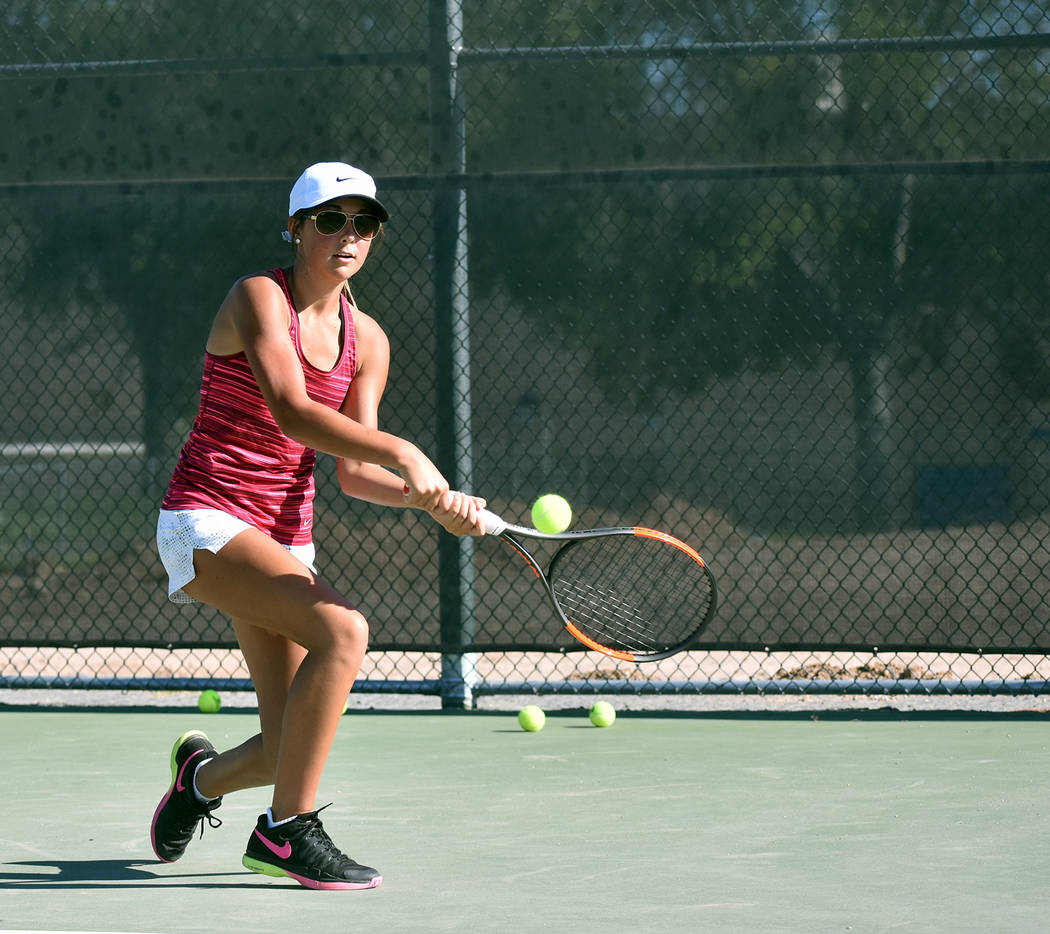 Members of Boulder City High School's girls tennis team are excited to begin a new season with one goal in mind: a state championship.
"As far as this coming season goes, the team is very pumped and confident," junior Tegan Pappas said. "We believe that we can go in and play hard and end up as champions."
Confident in her team's ability to push forward as a program, second-year head coach Jami Pappas said she believes this is the year the Lady Eagles claim their first state championship in school history. Last season, they were the 3A champion runner-up.
"I truly believe if were going to win a championship, this will be the year," Jami Pappas said. "We have 12 returners coming back from last season's team and a few incoming players who should really help us out. I feel like this year we have a lot of talented players. Now, it's about figuring out where to put them so we have a well-rounded team."
Junior Olivia Mikkelson is certain to lead the singles unit after claiming the 3A individual singles state title last season.
"Having a player like Olivia return is really great for us," Jami Pappas said. "Knowing that we have her on our team, we know that she'll win all of her matches, which means we need less matches from other players. She an automatic win for us every time she goes out and I expect her to have another great season."
Also returning will be Tegan Pappas and senior Olivia Goodfellow, who were the No. 2 and 3 seeds, respectively, in last year's Sunrise individual singles regional tournament and should give the Lady Eagles two strong players to rely on.
Returning in doubles play, the tandem of senior Natalie Bowman and junior Katelyn Fox will also give the Lady Eagles a pair of reliable players after making the 3A individual state tournament last season.
"Natalie and Katelyn really improved together as the season went on," Jami Pappas said.
"When they're playing together, they have great chemistry and really get in sync. They've been practicing together all summer and I expect them to continue to grow and get better."
Also returning is doubles players seniors Heather Patterson and Kali Martin and juniors Olivia Leavitt and Sophia Morris. Junior newcomers Sarah Oberweis and Eugenia Kryshchuk and freshman Reggi Gibbs are also expected to make contributions.
The Lady Eagles will host The Meadows in their season opener Aug. 23, followed by matches at 4A opponents Basic on Aug. 24 and at home against Foothill on Aug. 28.
Contact Robert Vendettoli at BCRsports@gmail.com.
Upcoming games
Tuesday, Aug. 21, vs. Eldorado, 3:30 p.m.varsity
Thursday, Aug. 23, vs. The Meadows, 3 p.m., varsity
Friday, Aug. 24, at Basic, 3:30 p.m. varsity